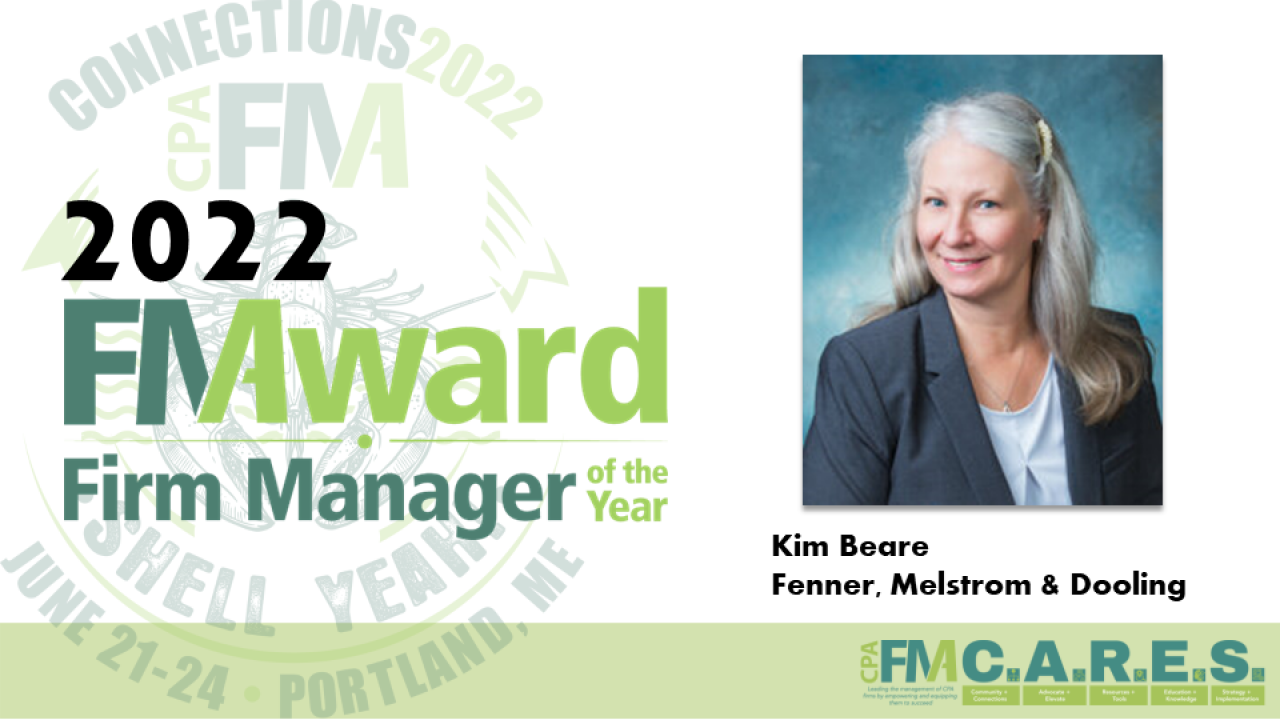 CPAFMA Recognizes 2022 Firm Manager of the Year in Portland
This annual award is presented by the CPA Firm Management Association and has been awarded to some of North America's most experienced and respected firm managers since its 1989 inception. It's a Hall of Fame of sorts, recognizing outstanding and successful careers and firms that have embraced the role of the firm manager with successful results, exceeding expectations.

The Firm Manager of the Year Award stands for Achievement, Commitment and Excellence and is awarded to CPA firm managers carrying such titles as firm administrator, director of administration, chief operating officer, chief financial officer, chief executive officer, principal and partner.
Regardless of the title, recipients hold a senior-level administration and operations position for a public accounting firm. Criteria the judges use for the selection process focus on leadership and the individual's strategic impact on the firm's profit and growth over an extended period of time. Candidates for the award have made major contributions to their firms by implementing and overseeing programs that contribute to the firm's long-term growth; help the firm meet its strategic goals; improve firm profitability; help create an employee-friendly culture that encourages long-term staff retention; and emphasize the value of entrepreneurship, leadership, continuous learning, marketing and client service skills.
The Association presented the 2022 Firm Manager of the Year Award to Kim Beare, Firm Administrator with Fenner, Melstrom & Dooling, PLC in Birmingham, Michigan.
As Partner, Brian Hunter, CPA noted in the nomination, "while the managing partner is constantly focused on best practices, firm culture and vision, Kim consistently shows interest in what other firms are doing and is willing to share or recommend best practices. Together they share a common passion for continuous learning in order to create the best firm for both clients and employees."
Kim, who has been with the firm for 24 years, is looked at as another member of the partner group. She has a deep understanding of the issues critical to the business and the profession via her network interactions and maintaining an awareness of business issues facing the firm, clients and staff. She is involved in all aspects of firm management including HR, insurance, facility, and marketing activities. Her goal is to ensure the firm is appropriately allocating resources to achieve firm growth and consistently improve the firm's culture. She is dependable and enthusiastic and a positive role model.
On behalf of CPAFMA and the entire profession, congratulations to Kim Beare and Fenner, Melstrom & Dooling, PLC for receiving the 2022 Firm Manager of the Year Award.