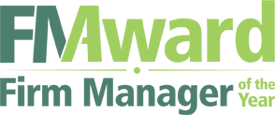 The FMAward honors a firm manager holding a senior-level management position for a public accounting firm. Criteria for selection focus on leadership and the individual's strategic impact on the firm's profit and growth. Strong candidates will have made major contributions to their firms by implementing and overseeing programs that:
contribute to the firm's long-term growth;
help the firm meet its strategic goals;
improve firm profitability;
help create an employee-friendly culture; and
emphasize the value of firm management, operations and leadership
The 2020 FMAward will be presented at CPAFMA's National Accelerator Workshop, November 9-10, 2020 in Sarasota. Recipients receive a one-year complimentary CPAFMA membership, free attendance at the next year's CPAFMA National Practice Management Conference, a handsome plaque and promotion for both the individual and the firm.
Previous Recipients of the FMAward
2019
Robert Biddle, Jr., PAFM
Bowman & Company LLP
Voorhees, New Jersey

2018
Kimberly Fitzgerald, PAFM
Squire, Lemkin + Company, LLP
Rockville, Maryland

2017
Norman D. Saale, PAFM
Lutz
Grand Island, Nebraska

2016
Jeanie Price, PAFM
DeLeon & Stang
Gaithersburg, Maryland

2015
Christine Golz, PAFM
Weltman Bernfield, LLC
Buffalo Grove, Illinois

2014
Ronda Lawson, PAFM
Bregante + Company LLP
San Francisco, California

2013
Sarah Galley, PAFM
Pholman & Talmage CPAs
Dayton, Ohio

2012
Ginny Fedrich, PAFM
HBLA Certified Public Accountants
Irvine, California

2011
Dawn Hanna Bell, PAFM
Rehmann
Ann Arbor, Michigan

2010
David A. Peneycad
Grant Thornton LLP
Toronto, Ontario

2009
Susan Groszkiewicz
Accountable for
Change, LLC
Atlanta, Georgia

2008
John Magee #
The Bonadio Group
Pittsford, New York

2007
Rita Keller, PAFM #
Brady Ware & Schoenfeld
Dayton, Ohio

2007
Annabella Green, PAFM
PKF Texas
Houston, Texas

2006
Arlene Ciroula, PAFM
KAWG&F
Timonium, Maryland

2005
Janine Zirrith, PAFM
Wilkin & Guttenplan, P.C.
East Brunswick, New Jersey

2004
Nigel Jacobs, PAFM
Taylor Leibow, LLP
Hamilton, Ontario

2003
Bellann Morales
Travis, Wolff & Co.
Dallas, Texas

2002
Kathy Anthony #
O'Sullivan Creel, LLP
Pensacola, Florida

2001
Elvis Mizzau #
North York, Ontario

2000
Geanne Yohn #
Brown, Schultz, Sheridan & Fritz
Harrisburg, Pennsylvania

1999
David Charnock *
Alpern, Rosenthal & Co.
Pittsburgh, Pennsylvania<< /p>
1998
Janet K. Wolff
Kula, Cowan & Barnes, P.C.
Springfield, Illinois

1997
Virginia Lowery
Illinois Agricultural Auditing Association
Bloomington, Illinois

1996
Paul Nadolny #
Malone & Bailey PC
Houston, Texas
1995
William Leach #
Katz, Sapper & Miller
Indianapolis, Indiana

1994
Joe S. Gale #
Warren, Averett, Kimbrough & Marino, P.C.
Birmingham, Alabama

1993
H. Maureen Collins #
Biscotti, Grassi & Co.
Valley Stream, New York

1992
Cindy Bong
Suby, Von Haden & Associates
Madison, Wisconsin

1991
Gerald Ohe #
Eide Helmeke & Co.
Fargo, North Dakota

1990
Donna S. Cunningham
BDO USA, LLP
St. Louis, Missouri


1989
Linda A. Pappajohn
SantoraBaffone CPA Group
Newark, Delaware