Total Members: 1953 (7 online)
Total Posts: 9792

Join the Q&A FMA Discussions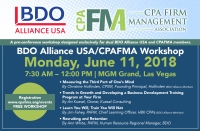 BDO Alliance and CPAFMA Workshop
June 11, 2018
More Details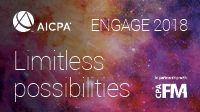 2018 CPA Firm Management Association's National Practice Management Conference in partnership with AICPA ENGAGE
June 11 - 14, 2018
More Details
MAPCast: BDO Alliance USA and CPAFMA Connection: Using Natural Instincts to Improve Team Synergy
May 24, 2018
More Details
MAPCast: Accounting Firm IT Department in the Future
May 30, 2018
More Details
MAPCast: Do Your Homework Before Choosing Health Care for Your Firm: Employee Benefit Strategies for Offsetting Health Care Cost
June 19, 2018
More Details
MAPCast: Where are You Exposed? Mitigating Your Firm's Risk of Litigation
June 26, 2018
More Details
New Jersey Chapter Meeting
June 27, 2018
More Details
Michigan Chapter Meeting - National Conference Highlights
July 12, 2018
More Details
MAPCast: Hot Topics for HR
July 18, 2018
More Details
Ohio Chapter: Freedom to Fail
July 20, 2018
More Details
MAPCast: BDO Alliance USA and CPAFMA Connection: Is There a Business Developer Hidden in Your Firm?
July 26, 2018
More Details
Northeast Chapter Boston Harbor Cruise Outing
July 27, 2018
More Details
MAPCast: Beyond Technology: What Your Team Needs to Thrive as a Firm of the Future
August 15, 2018
More Details
Missed a MAPCast?
PODCast archives are available.
Order Now
Did you Miss the 2017 Conference?