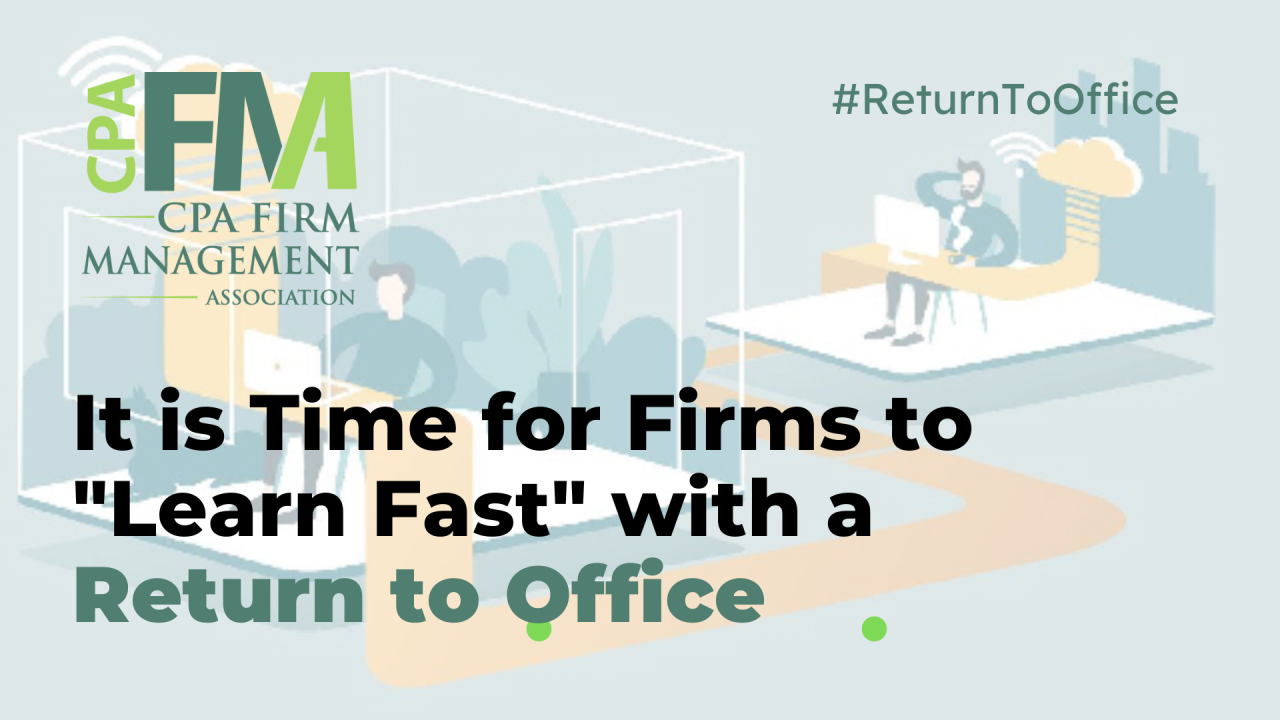 It is Time for Firms to "Learn Fast" with a Return to Office
The Struggle to Preserve Culture
One thing almost all advisory and accounting firms agree on is that working in person has huge benefits toward building culture, collaboration and mentoring junior members of the firm. To that end, there's a growing sentiment among leaders that fully remote working will not have a long term positive effective on the success of their organization.
In fact, according to a recent survey of 500 managers, executives, and senior leadership in banking, accounting, and financial services, almost three quarters (74.1%) of leaders expect to have their staff back in the office full-time or in a hybrid capacity this year. In the same survey, almost half of all respondents cited team building and in-office collaboration as the most important role of working in office.
The problem is, the longer employees work remotely, the more difficult it becomes to attract them back to the office at all—even on a hybrid schedule. According to studies in Social Psychology, it can take 18 to 254 days for a person to form a new habit, and a median 66 days for a new behavior to become automatic—we are well past the maximum timeframe on both.
Routines based around 'work from home' are calcifying, and face-to-face meetings, collaboration sessions and the feelings of growth by mentorship are fading into distant memory. With each passing week, the challenge to win professionals back into the office increases.
Mandates and Laws of Attraction

Most advisory and accounting firms are learning very quickly that mandating a return to the office is a failing plan. Two-thirds of the work force have indicated they would leave their current organization if mandated to come back to the office full-time.
Once habits and routines are formed, they become hard to break. CPA professionals do not like to be told what to do, and when 83% of accounting firms report that recruiting and retention have become major problems for their firms—it makes sense to avoid policies that increase that risk and expense.
But firm leaders must think about more than what their professionals want, they must also think about what is best for the firm and what is best for clients.

Without a mandate, firms are going to have to earn professional's time in the office by doing something different—they are going to have to, in a word, 'attract' them back in. So far, this attempt has included gimmicks like "Massage Chair Monday" and "Taco Tuesday" (both of which should never go away, either).
However, something more substantial will be required to ease professionals into the idea of breaking the habit of full autonomy. Your professionals will never fall back into an in-office routine without a model focused on making them the best version of themselves while being onsite.
It's now important to innovate in the face of reluctance. In the technology sector, innovators are encouraged to "fail fast" towards their ultimate goal. When it comes to advisory and accounting firms, they may not be amenable to the word 'fail' but instead we could say it is time for firms to "learn fast."
Like innovators, it's time to design and roll out RTO initiatives to attract professionals into the office--and then learn fast. Is the model attractive? Is it promoting the key concepts of culture, relationships and mentorships? Refine, rinse, repeat—and learn.

Pilots and Trials

I have seen a range of firms 'learning fast,' from facilities redesign, technology, amenities, screen sizes, luxury coffee and additional layers of hospitality.
As an example, one forward thinking client could not decide which meeting room configuration would work best, so they implemented all of them. After three months of monitoring utilization, the three most popular designs are now being rolled out nationally. The same client has trialed a wide range of fitness and wellness offerings, including converting a large meeting room into a yoga room.
Not everything has proved to be popular, but the firm has now made informed decisions by leaving it to their professionals to decide.
Another example has been seen in organizations willing to bring a heightened layer of hospitality into the office to compete with the comforts of WFH. The idea is to cater to most every need that a professional may have when visiting the office with a concierge mentality of "is there anything else that I can do for you?"
The model is called Workplace Experience, and it is a hospitality-based, high engagement, white glove service that is transforming offices into an "experience." Whether it is modeling your support structure after the likes of the Ritz Carlton, or simply making sure that your fee earners are taken care of as they return to the office, this highly specialized service is something that is best suited for outsourcing partners who are well-versed in hospitality.
This may sound like adding permanent headcount, but that is not the case. Flexible outsourcing solutions exist to help firms trial new programs like Workplace Experience, and pivot if initiatives are successful…or not.
Learning (or failing) fast is less painful when you can rely on an experienced business partner to do it for you.

Overthinking is Slow

Overthinking is slow and not helping advisory and accounting firms move forward. At the writing of this, we are in day 912 of the remote working experiment. Habits are forming that are difficult to unform. If firms are serious about the importance of in-office culture, networking and mentorship, then it's time to take a page from the book of innovation and learn fast.