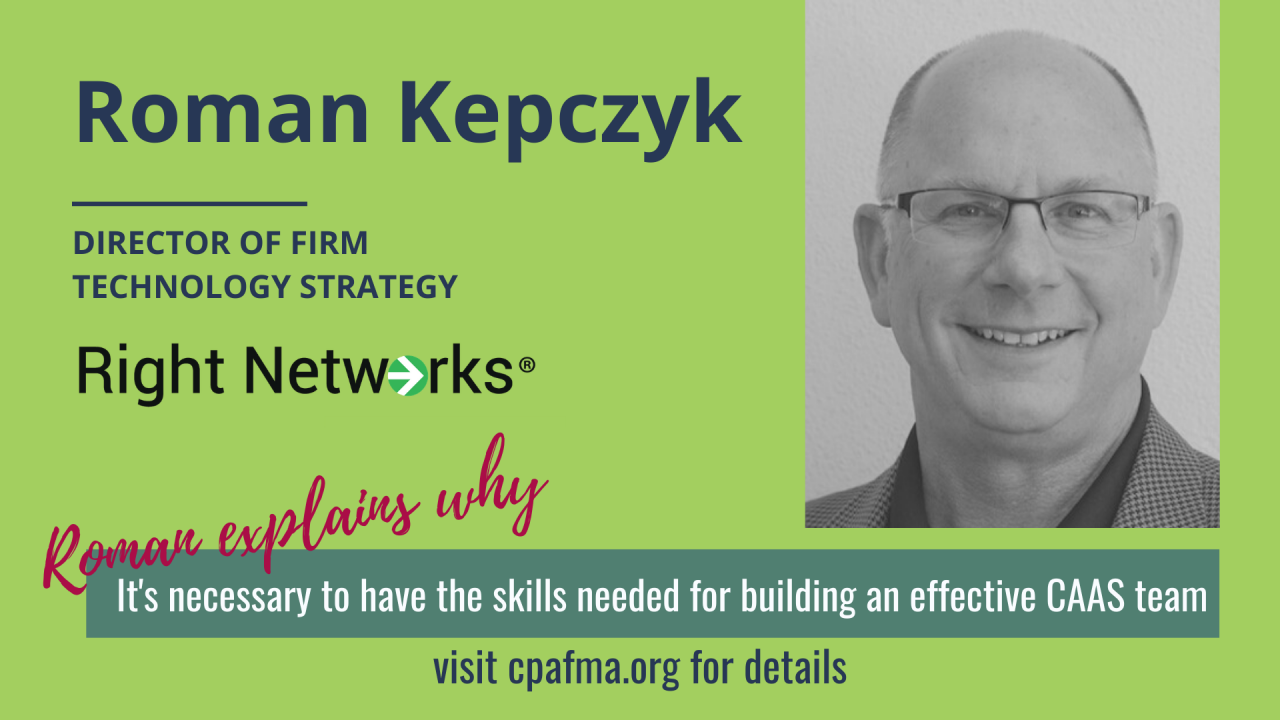 Skills Needed for Building an Effective CAAS Team
With information technology eliminating most geographic boundaries, generalist firms will find it increasingly harder to compete with niche specialists who have differentiated themselves with more expertise and process efficiency, particularly those targeting CAAS (Client Accounting and Advisory Services). Firms will find that there are different skills required to optimize the delivery of advisory services including not only technical and consulting skills but also project management and marketing skills, which requires a team approach. Does your firm have all the necessary skills covered?
Technical Skills: Building a comprehensive technology stack that can be leveraged to multiple clients includes knowing how to customize the integration of APIs to work in a standardized fashion. In this manner, they can be taught and the integration repeated by other firm members. Technical skills will then evolve towards the use of tools for importing data, machine learning/scripting and dashboard creation and then eventually to using machine learning, robotic process automation (RPA) and augmented/artificial intelligence applications (discussed further in the next section).
Advisory Skills: Advising clients can be optimized and repeated by team members by utilizing a structured consulting approach that teaches both facilitation and inquiry/listening skills. There are more than a dozen organizations providing advisory skills training specifically to the accounting profession including providers of Lean Six Sigma Green Belt training which we have personally found to be effective for accounting firm utilization. Advisory skills can be transferred to other firm members by including others in client engagements and regularly debriefing engagements at completion (including the documentation and capturing of lessons learned).
Project Management: Advisory projects are not usually as standardized as many compliance services, but it is just as important to meet deadlines, schedule personnel, and deliver results. Having administrative/managerial personnel that monitor progress and are proficient in the use of workflow and project management tools is critical to the team as they can coordinate efforts and deliverables.
Rainmaking: Marketing and promotion skills are critical to the success of CAAS practices as the specialization we are seeing within the profession is making firms hyper-competitive. Rainmaking skills need to be taught to all firm members, but in particular to the segment leaders to position them as the "famous person" within their chosen segment.

Taking time to assess the different capabilities and skills of your personnel will ensure that your team is well rounded and suited to meet the evolving changes that CAAS services requires. Help your firm by making sure all these critical needs are met.
Roman H. Kepczyk, CPA.CITP, PAFM is Director of Firm Technology Strategy for Right Networks and partners exclusively with accounting firms on production automation, application optimization, and practice transformation. He has been named consistently listed as one of INSIDE Public Accounting's Most Recommenced Consultants, Accounting Today's Top 100 Most Influential People, and CPA Practice Advisor's Top Thought Leader.