The Holidays Are Upon Us!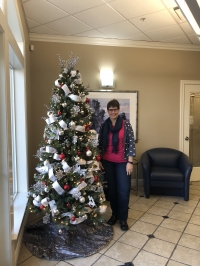 Published on December 22, 2017 by Jane Johnson, MBA, PAFM, ACMPE, Grimbleby Coleman
The holidays are upon us! Christmas is a joyous time at my office. We look forward each year to our annual Christmas party, going ice skating as a team with our families and participating in our gingerbread house making/ugly sweater contests. I've included a few pictures to show you the magic that occurs around my fabulous firm. We really "deck the halls" around here!
As you have probably deduced, the theme I've selected for my year as Chair of CPAFMA is leadership. In one of my favorite business books, The Advantage, author Patrick Lencioni details the importance of building a cohesive leadership team. There are several behavioral principals he asserts must be embraced if a team is to be effective: building trust, mastering conflict, achieving commitment, embracing accountability and focusing on results.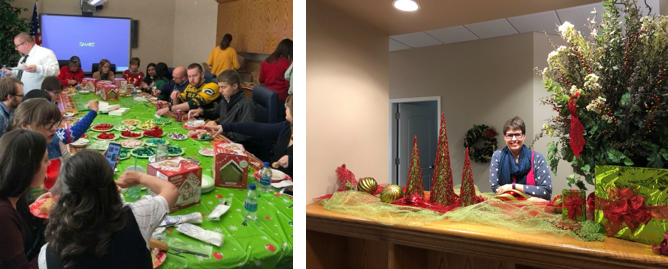 As I reflected on these principals, I realized they apply to each of us individually and not just to our teams. Your CPAFMA board met in Chicago last month to continue progressing CPAFMA. I want to recognize and appreciate my fellow board members for the way they exhibit leadership. The entire group is very committed to the success of CPAFMA. They take on responsibility quickly and easily and get things done (accountability/results). We don't always agree with each other; but we trust one another to master the conflict and know that healthy disagreement makes us better.

Immediately after the board meeting, the Leadership Institute cohort continued their learning and networking. Growing leaders is one aspect of our strategic plan, and the Leadership Institute is a key element of our strategy. We know this powerful and successful group of future leaders will propel us forward into the future.

Much to the dismay of some, we obtained video clips of those in attendance in Chicago. Through these video clips, we hope to further the other elements of our strategic plan: solidifying our PAFM program, developing content, engaging our members and articulating our value proposition. Be on the lookout for these videos!

As I mentioned in the October newsletter, we are excited to be partnering with the AICPA to develop the robust offerings of the 2018 ENGAGE conference to be held in Las Vegas from June 11-14. We know that our members love to connect and network with one another. To that end, we have ensured daily activities to allow our group to be together: walks, receptions, evening activities, etc. We are going to have a great time of learning and networking. Make plans now to attend!
I am thankful to each of you for your contributions to and involvement with CPAFMA. Wishing you, your families and your firm many blessings this holiday season!