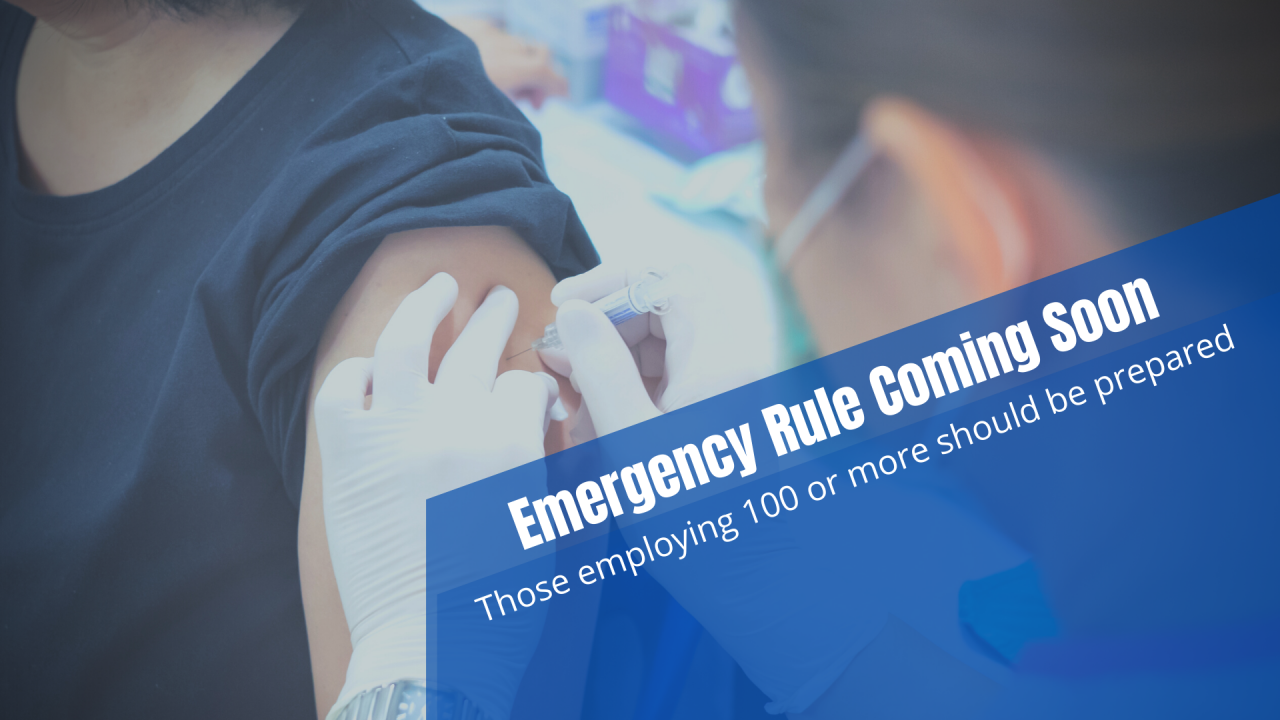 Emergency Vaccine Rule for Large Employers Will Be Issued in "The Coming Days"
The Federal Register will publish within days the Labor Department's rule requiring private businesses with 100 or more employees to vaccinate them or test them weekly, fulfilling an announcement President Joe Biden made in September.
The Office of Management and Budget completed its required review of the emergency rule on Monday. "On November 1, the Office of Management and Budget completed its regulatory review of the emergency temporary standard. The Federal Register will publish the emergency temporary standard in the coming days," a Labor Department spokesman said. "The Occupational Safety and Health Administration has been working expeditiously to develop an emergency temporary standard that covers employers with 100 or more employees, firm- or company-wide, and provides options for compliance." The spokesman added, "Covered employers must develop, implement, and enforce a mandatory COVID-19 vaccination policy, unless they adopt a policy requiring employees to choose either to get vaccinated or to undergo regular COVID-19 testing and wear a face covering at work. The ETS also requires employers to provide paid time to workers to get vaccinated and paid sick leave to recover from any side effects."

Employers and their professional advisers have been eagerly awaiting the specifics of the rules since plans for the mandate were announced Sept. 9. The initial announcement left several critical questions for employers unanswered – including specifics around how the 100-employee threshold for large employers will be defined and who will be responsible for paying for testing. Employment attorneys say they are fielding a significant number of questions from companies looking to get ahead of the federal requirement. Even with the federal mandate looming, many industries are facing stiff resistance from employees, and experts are anticipating legal challenges. While OSHA did not provide a specific timeline for publication of the emergency temporary standard or a deadline for compliance, experts say there are several steps employers can already take.

What employers can do now to prepare for mandates

One of the biggest areas of concern for businesses is how to handle requests for medical or religious accommodations. The vaccine mandate will put many managers in situations they haven't been formally trained for and haven't experienced. The remote-work environment many businesses are in — with some new hires having never worked in the office with their managers — could add another degree of difficulty.

At this point, experts believe the mandate's rules for accommodations won't be substantially different from what is already in place. That presents a need for employers to educate managers and develop a plan to comply with the mandate without running afoul of the Equal Employment Opportunity Commission or civil rights law, said Christopher Feudo, partner and co-chair of law firm Foley Hoag LLP's Covid-19 task force. "If employers' processes for receiving accommodation requests or engaging in the process for reaching a determination on those are not well-organized or well-staffed, you may want to think about that now," Feudo said.

Religious requests may prove particularly thorny

Feudo said companies should also think about their plan for religious-exemption requests, as many businesses might be more experienced with medical or disability accommodations than religious ones. "People are used to doing disability-related accommodations. They're used to asking a lot of information and getting a doctor's note and going through and figuring out what can we accommodate and what we can't," he said. "But there are limits on your ability to delve into an employee's religious beliefs." Feudo can foresee employers getting into trouble when they push back on religious requests or ask questions they shouldn't ask.

He said managers should be trained specifically on the reasonable-accommodation process, including questions that should and shouldn't be asked and when a situation needs to be elevated to higher-level managers.

"They need to make sure [managers] understand that people receiving accommodations cannot be subject to retaliation and make sure that they're not treated differently," Feudo said. As we've noted, employers have always been free to ask employees or job candidates about their vaccine status. Attorneys say businesses should tread carefully with follow-up questions and follow protocols for assessing accommodation requests. They should also take steps to keep medical information confidential.

Employers' new burden? Tracking vaccination status

Additionally, Feudo said employers should work on a process for tracking vaccination status. Even before the mandate, third-party vendors were ramping up services to help employers track workers' status. It's an area experts say could become more complicated as booster shots enter the mix, which could change the definition of a fully vaccinated employee. Denise Keyser, the New Jersey-based leader of the labor and employment practice group at law firm Ballard Spahr LLP, said potential developments like booster requirements illustrate why employers should be clear with workers that requirements are likely to evolve.

"The key thing is to be open and clear," Keyser said. "You want to make sure that you are clear about what you're doing now, and that some of those policies might change in the future or might be revised or revisited." For companies that don't want to mandate the vaccine and would prefer to focus on testing, Feudo said it's a good idea to take steps to set that plan in motion — with potential to make tweaks when OSHA unveils the final rule. Attorneys anticipate the mandate will spawn employer litigation, which makes it important for companies to consistently enforce their rules around vaccines and Covid-19 testing.

As we've reported, Covid-19-related employment litigation is already on the rise, and it has often been small businesses in the crosshairs. Attorneys say the employment law headaches, such as accommodation requests, that will accompany the federal mandate or testing requirement pose a threat for additional litigation. "I think we're seeing the cutting edge of vaccine-related lawsuits," James Glunt, a partner at law firm Fisher Phillips LLP.

Advice from the front lines

Companies seeking guidance about how to approach a vaccine mandate can learn from businesses that adopted one prior to the Biden administration's requirement. Jen Grant's company, Campbell, California-based Appify, is one of those businesses. Grant said the decision to mandate the vaccine came down to making sure all employees were comfortable being in the office as the company transitioned to a hybrid model. Her advice to those who will be implementing a mandate after the federal guidance? Try to take a team-based, collaborative approach.

She said taking the time to have an earnest conversation with those who are hesitant about the vaccine and understand their concerns was valuable. "That seemed to work for us. If we just said, 'We're throwing the hammer down and you must,' it wouldn't have felt as collaborative as it did," Grant said. "I would encourage any leader to turn it into more of a teamwork kind of thing." The new emergency temporary standard will require large employers to give their workers paid time off to get vaccinated. If businesses don't comply, the government will "take enforcement actions," which could include "substantial fines" of up to nearly $14,000 per violation, according to officials.

Officials have said the standard was a "minimum" and that some companies may choose to go further, including by mandating the vaccine instead of offering a testing alternative.

More than 191 million people, or 58% of the total US population, are fully vaccinated. The US Food and Drug Administration on Friday issued emergency use authorization for Pfizer's Covid-19 vaccine for kids ages 5-11, which could pave the way for millions more Americans getting vaccinated, pending CDC approval.