Download Your Firm Management New Year's Checklist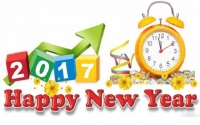 Published on December 29, 2016 by CPAFMA Leadership
Let us begin by congratulating you all on your achievements and successes this year. Our special thanks to each of you for your continued support of CPA Firm Management Association, your firm and the profession.
As we move into the New Year, we must continue to play our role in advocating for our firms, our teams, our clients and the communities we serve. The start of a new calendar year seems like an obvious time to talk about new beginnings. We are sure some of you have a New Year's resolution or two and each of us are hoping for a smooth and successful busy season! CPAFMA has several new initiatives lined up for 2017 and your leadership team is anxious for your feedback and participation.
These are exciting times for the Association and the accounting profession as a whole. Our ultimate aim is to create a professional association experience that provides frequent opportunities for you to feel invigorated and validated, and gives you full access to knowledge and networks that help you advance.
We wish you and your loved ones a terrific start to the New Year!
Download a copy of our interactive New Years Resolution Checklist - 2017!