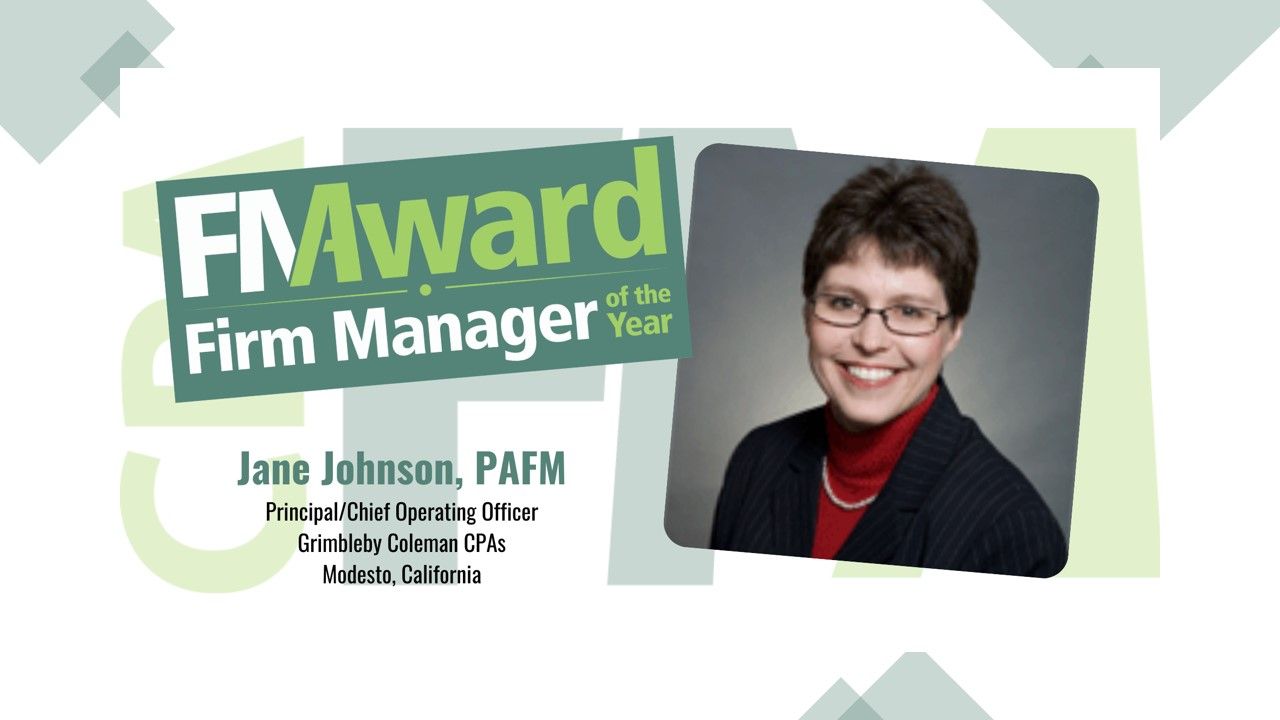 CPAFMA Announces 2021 Firm Manager of the Year
July 29, 2021 -- During the CPA Firm Management Association's National Practice Management Conference, held in partnership with the AICPA & CIMA ENGAGE 2021 event, July 26-29, CPAFMA announced the recipient of it's 2021 Firm Manager of the Year Award. The award will be presented in-person during the Association's CONNECTIONS2022 event, June 21-24 in Portland, Maine when everyone is able to be together in-person.
This year's recipient along with the firm were told of the award in advance of the announcement and true to character, the day of the presentation, the recipient could be found moving more than a dozen members of her firm's newly acquired firm to their new home and continuing to build upon the firm's success but more importantly continuing to nurture a culture that current and future team members cherish.
CPAFMA outgoing chair, Jeanie Price, PAFM announced this year's recipient to the in-person and virtual audiences stating, "One of my greatest honors as I wind my term down is having the opportunity to introduce this year's Firm Manager of the Year recipient. As a past honoree, this award means a great deal . It was so humbling to be recognized by my partners for all the hard work, passion and dedication I had put into the firm."
This annual award is presented by the CPA Firm Management Association and it has been awarded to some of North America's most experienced and respected firm managers since its 1989 inception. It's a Hall of Fame of sorts, recognizing outstanding and successful careers and firms that have embraced the role of the firm manager with successful results.
The award exemplifies our mission and vision and is awarded to CPA firm managers carrying such titles as firm administrator, director of administration, chief operating officer, chief financial officer and chief executive officer. Regardless of the title, recipients hold a senior-level administration and operations position for a public accounting firm. Criteria the judges use for the selection process focus on leadership and the individual's strategic impact on the firm's growth and success over an extended period of time. Candidates for the award have made major contributions to their firms by implementing and overseeing programs that contribute to the firm's long-term growth; help the firm meet its strategic goals; improve firm profitability; help create an employee-friendly culture that encourages long-term staff retention; and emphasize the value of entrepreneurship, leadership, continuous learning, marketing and client service skills. Candidates exemplify Achievement, Commitment and Excellence. Achievement is hard work, choices and persistence. Commitment is the foundation of our accomplishments and excellence is an attitude – always striving to be better.
The 2021 CPAFMA Firm Manager of the Year Award was presented to Ms. Jane Johnson, Principal and Chief Operating Officer from Grimbleby Coleman CPAs out of Modesto, California. Jane is also former Chair of CPA Firm Management Association and has been a member of the Association since Jeanie provided several examples that members of the Grimbleby Coleman staff had shared amongst members in the profession throughout the last 12-16 months as to why Jane was so deserving. Jeanie noted that last year has been a challenge like no other and that Jane has not only exceeded all expectations but has ensured the long-term success of her firm through dedication and resilience.
Thanks to her foresight and strategic implementations like anytime/anywhere policies the firm was able to move a team of 62 to a remote work-from-home status within a matter of days at the onset of COVID-19 and never missed a beat in maintaining excellence and the internal transparency was off the charts throughout the past 16 months.
Jane also led the development of the firm's Advisory and CAS practice areas, shifting the firm and its staffs' mindsets from a transactional accounting firm to a more client-focused firm; resulting in growth and a culture of a "client-centric, forward-thinking" practice. She oversaw the implementation of the firm's advanced pricing model called Choice Pricing – continually promoting the firm's coined term of "transfairency" that coincides with their core values.
Jane has continually used the firm's niches to increase profitability by enhancing relationships, developing partnerships and proactively executing ongoing marketing initiatives. "If our president is the head of our firm, then she is the backbone. She is the glue that holds us in place and supports us in reaching and exceeding our individual and firm-wide goals."
It was determined to keep many of the accolades and examples of how Jane Johnson has exceeded the expectations of both those within and outside of her firm until the in-person presentation next June and when CPAFMA's leadership is able to welcome her to the exclusive group of Firm Managers of the Year in-person.
Congratulations to Jane Johnson, PAFM along with everyone at Grimbleby Coleman. In addition to the recognition, Jane will receive a plaque, a complimentary registration to CONNECTIONS2022, a complimentary annual membership for her firm as well a listing on the exclusive list of award recipients.
Nominations for the 2022 Firm Manager of the Year are open, click here.