Take the Challenge and Save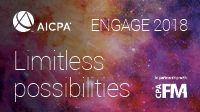 Published on April 17, 2018
Define a clear path to your firm's future, no matter your practice size, with the combined benefits of the 2018 CPAFMA National Practice Management Conference and AICPA ENGAGE. Build a long-term plan for sustainable business development with sessions such as:
In addition, look for breakout sessions geared to various firm sizes, business development techniques and multiple networking opportunities to spur innovative ideas. Gain the latest learning, tools and tech information to elevate your role as an accounting firm manager. Invest in your firm's greatest asset - human capital - and reap the benefits of a stronger culture and increased profitability.
Take the CPAFMA Practice Management Quiz as part of the AICPA ENGAGE challenge. Put your skills to the test and see how you stack up against your peers with questions like this one:
Some major reasons change is stymied in CPA firms include:
Regulations and workload compression
Selfish interest; Fear of losing control; Lack of leadership
Audit quality and impending effects of blockchain and artificial intelligence
Think you know the answer? Find out here.
Victory is yours for the taking.