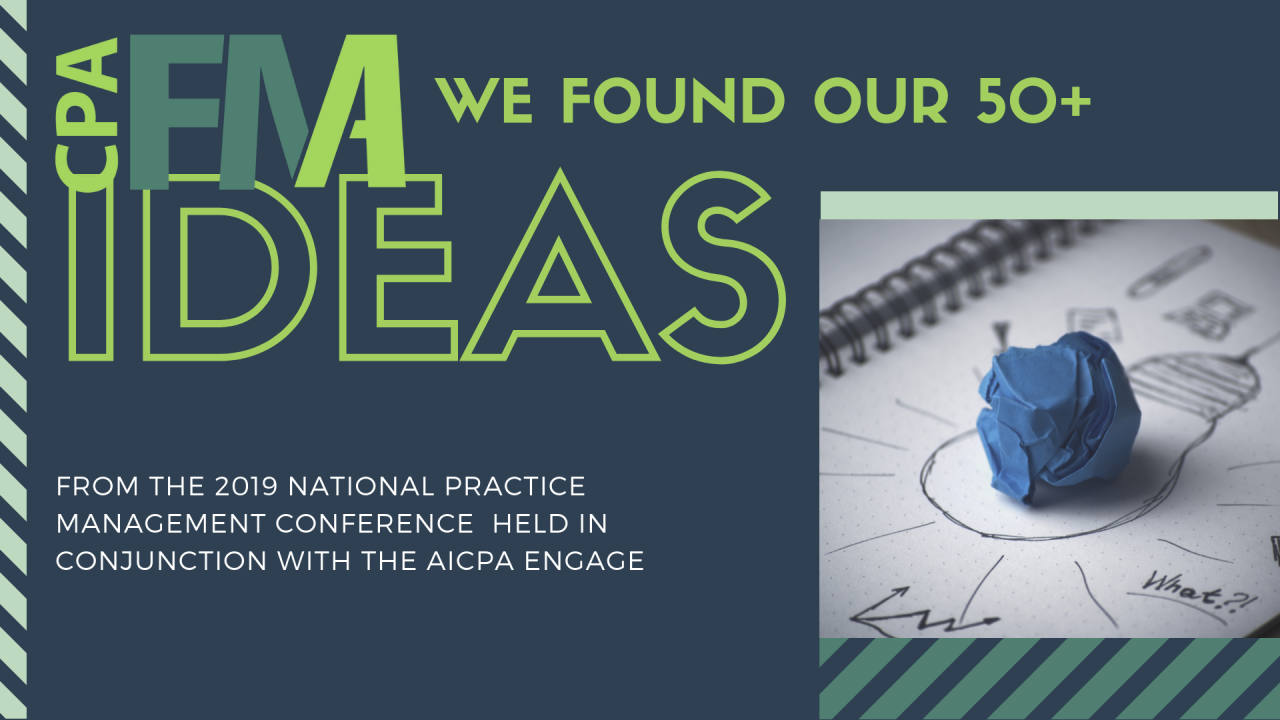 50 Ideas in 50 Minutes from the 2019 National Practice Management Conference
2019 National Practice Management Conference
50 Innovative Ideas in 50 Minutes
Thank you to all AICPA ENGAGE/CPA National Practice Management Conference participants who contributed to our 50 Ideas in 50 Minutes session which actually generated 57 ideas. Special thanks to our facilitator, Bob Biddle, PAFM and company. If you are interested in learning more about these ideas, contact CPAFMA HQ.
"There are lots of great ideas – the key is to implement them." - Bill Reeb
#1 – Engaging administrative professionals is important. Use full-day offsite events and activities to help create mission statements, update logos and make or design t-shirts.
#2 – Change your office vibe to help encourage employee feedback.
#3 – The firm brought in a coach/psychiatrist during busy season to help with stress. Wellness scores actually increased and the firm continued to engage the coach beyond busy season.
#4 – Implement a book club. This idea brought the firm together and nearly everyone participates. The members of the club choose the book.
#5 – A firm uses betterbookclub.com. This is a good tool/reward for employees and encourages reading as points turn into dollars. Everyone reads what they want and gets rewarded for attending book club.
#6 – Several firms allow time for reading and involve the managing partner.
#7 – Delegate the task of billing to staff to free up partner time.
#8 – In a 130-person firm a former Toastmaster Club leader does training on active listening and communication.
#9 – Standing/adjustable desks.
#10 – Firm members walk the stairwells on breaks and they bring everyone along.
#11 – The firm established an advisory board comprised of participants from each department and each level. The tenure is two years and the group is committed to attend. The board focuses on cultural idea challenges and generates consensus.
#12 – Cultural discussions happen regularly, giving all 55 team members a voice.
#13 – The firm hosts a two-day intern candidate summer experience. Last year the firm provided a progressive lunch at four locations with different groups sponsoring.
#14 – The firm focuses on onboarding processes where the new hire spends time with each department head
#15 – The firm hosts an all-day firm event for two offices. This event provides a better understanding of what everyone at the firm does. This past year they incorporated a science fair theme to showcase providing the various groups an innovative way to educate others. The event helped to build relationships and connections.
#16 – A firm of 500 provides for gamification with videos on service lines. There is a leader board on each floor.
#17 – The firm provides for a yoga break each day during busy season.
#18 – The firm was stuck in an "email communication" mode so the firm started scheduling a Monday morning stand up meeting with time for announcements and appreciation.
#19 – Very small firm and they spend 30 minutes a week watching and discussing various Ted Talks.
#20 – Participate in fantasy sports. Each year there is a sports theme – fantasy football, NCAA, etc. There is a traveling trophy that goes around the office with food and hype.
#21 – A new hire let the firm know that they would like to see birthdays and work anniversaries celebrated more heavily. They now send messages through Xcentric and the champion makes cakes for everyone. Firm is about 100 people.
#22 – The first Friday of every month is "Festive Friday" and they celebrate birthdays, anniversaries, and have a theme at the end of the day. The entire office signs cards.
#23 – The firm hosts a food drive competition between departments/teams.
#24 – The firm hosts a monthly celebration with food and a quarterly town hall type event with transparent financials, shared accolades and compliments on individuals.
#25 – The firm has Monday morning knowledge sharing as a stand-up meeting.
#26 – The firm pays for lunches on team members' birthdays. They have a variety of gift cards the team member can select from.
#27 – The firm's "Culture Council" started an employee appreciation week. Every year is a different theme and the council does an appreciation wall with individual gratitude notes and employees are expected to send a gratitude note to someone outside of the firm.
#28 – Job shadowing program where employees can spend a half-day shadowing someone else outside of their discipline at varying levels. Helps to see what others are doing and develops better communications.
#29 – The firm gives 25% of the first year's collections to an employee who brings in new business. In three years the firm has paid out $100K.
#30 – The firm goes beyond the "one team, one dream" and they perform community service work and the firm matches any charitable contributions. This has increased teamwork as you work with those you don't always work with.
#31 – The firm closed all eight locations one day for community service day.
#32 – the firm added a personal preference sheet to their onboarding process so that gifts for birthdays or anniversaries can be more personalized.
#33 – The firm manager sent handwritten notes to spouses or parents in mid-March with a $100 gift card.
#34 – May to September the firm hosts a BBQ monthly and invites family members and friends. This is about 2.5 hours of the day and includes games for the kids and a great way to get to know each other.
#35 – Principals contact spouses/family members with a personal thank you call during busy season.
#36 – Added unlimited PTO and changed family leave to 12 fully paid weeks for primary parental leave and 6 fully paid weeks for the secondary.
#37 – On April 15 the firm has a party with xbox and dancing type activity and they put together one-minute videos into a collage.
#38 – On Tax Day the firm has a food truck come in and then close out the day with margaritas.
#39 – The firm hosts an annual wii bowling tournament throughout busy season with the finals on Tax Day.
#40 – The firm hosts an international lunch each year and bring in foods native to the country/area selected.
#41 – The firm moved to the Cloud and now provides flexibility and the ability to work from home on their own schedule.
#42 – The firm is part of a health insurance captive and they incentivize their staff to take wellness questionnaires, annual biometrics, etc. They are beginning to schedule lunch and learns around wellness topics.
#43 – Every Friday the firm hosts a "Drink of the Week" and brings it in to share; the alcoholic and non-alcoholic versions. These are spontaneous happy hours with music and healthy snacks.
#44 – The firm provides a two-hour block of "non-interrupted" time three days a week; no calls and no meetings.
#45 – The firm hosts town hall type meetings without principals or partners to discuss areas for improvement and success.
#46 – The firm's four offices provide care packages for interns for exams, graduations.
#47 – The firm closes the office the first Friday of the month after March 15.
#48 – The firm offers single day job shadowing for potential interns during busy season and the summer months.
#49 – The firm promotes a weekend away in February where the office is closed on Saturday and everyone is provided $150 for an activity of their choosing.
#50 – The firm has a local animal shelter bring in puppies during busy season.
#51 – The firm plays movies during lunch and provides sack lunches. Each movie is shown over a two-day period.
#52 – A staff member brings their service pet to work on Fridays.
#53 – Everyone is encouraged to share their post vacation pictures after busy season. They couple this with a photo contest that has a pre-determined theme. They gave everyone iPhone attachments for easy sharing of the photos and voted for their top 13. Using social media, the firm had their followers select their favorite.
#54 – The firm had a photo scavenger hunt with competing teams.
#55 – The firm has a wellness program and they brand it with a laminated photo of the firm's managing partner doing some type of healthy activity
#56 – As a diversity initiative, the firm would specifically on Memorial Day host a pack party for an adopted platoon or family members in the service.
#57 – April 15 is tax relief day; in addition, the firm closes the office the Friday after March 15.
A question for the group . . . who at the firm coordinates some of these activities? Most firms have a "fun committee" or something similar.
If you would like to see the 2018 version of 50 Ideas in 50 Minutes, click here.