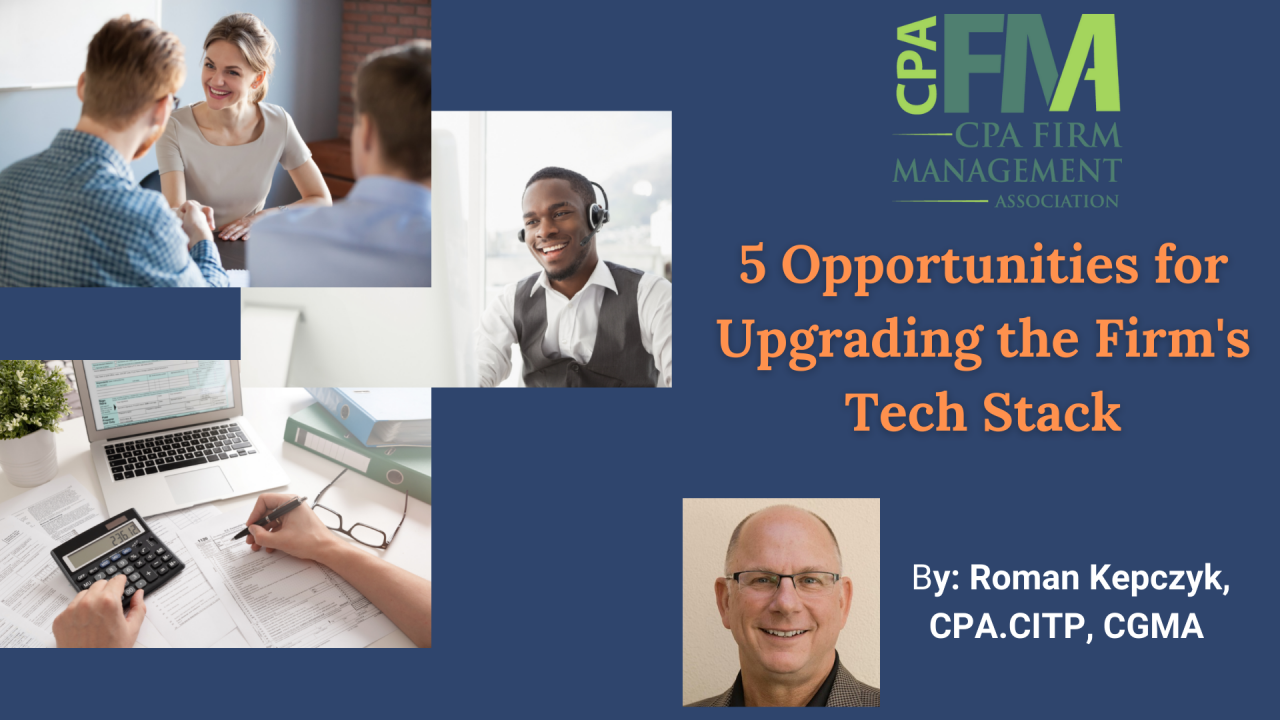 5 Opportunities for Upgrading the Firm's Tech Stack
One of the top strategic priorities in every firm I have worked with in the past year is the development of their CAAS (Client Accountant and Advisory Services) service capabilities. In addition to identifying niche expertise and segments to deliver targeted future services, these firms are actively learning advisory, facilitation, and marketing skills with a focus on directing their clients towards improving their businesses.
Much of each firm's CAAS practice will be built upon automating the various components of their client's businesses through the adoption and integration of a business "suite" of applications which is being referred to as the CAAS Technology Stack or "tech stack." Whether using APIs (application program interfaces), data transfer and machine learning (ML) applications, RPA (robotic process automation), and/or dashboarding tools, the firm will need to develop expertise in the use of such tools and integrating them into the firm's own tech stack is one of the best ways to gain first-hand expertise.
So YES, we are asking you to volunteer the firm as a proving ground for building a comprehensive tech stack, which your firm will be able to learn from and to showcase CAAS capabilities to your clients.
Most firms have built their tech stack around either their tax or assurance practice, focusing on integration of the tax program to practice management, workflow, document management, portals, marketing tools, etc. or tying their audit work programs to their engagement binder and managing client interactions through a portal. Beyond practice management, the administrative tech stack has focused more on accounting, human resources and practice management, many components of which are standalone applications or manual processes. This is exactly where firm managers should ask to pilot and adopt the appropriate components of the firm's CAAS tech stack. There is a logical progression of applications that firms should consider based on those that clients will most likely require, along with the most popular accounting products that clients select. Today, QuickBooks Desktop, QuickBooks Online, and Sage Intacct are the leading products to build a tech stack around and hosting QuickBooks Desktop through companies such as Right Networks provides cloud capabilities so Desktop users can stick with the application they know and are proficient at.
First and foremost, the most likely candidate for starting your CAAS tech stack is accounts payable. The firm and every client has payables, with many having a weekly or daily process to capture invoices, get approval, properly age, pay, and archive payables information. There are a number of A/P applications such as Bill.com, Stampli or Tipalti that can automate and integrate those transactions directly with the firm's accounting program via an API. One of the keys for successful firm and CAAS selection is identifying unique needs that the firm and clients might have (i.e. trust payments, detailed coding requirements, multiple approvers/signers, etc.) and selecting the product that integrates natively with the firm's (and client's) accounting product. Another payables option that many clients utilize is automatic credit card payments for recurring, "trusted" vendors. Selecting a bank that has an API that automatically transfers entries into your accounting product or a tool that can scan and pre-code accounts are components of today's tech stack that help capture data timely and minimize input errors.
The second most likely process to automate integration with is payroll. Firms should again evaluate products based on their unique clientele and firm needs, including native integration with the firm's accounting product. The majority of firms today utilize an external payroll service provider rather than being responsible for running "live" payrolls (which comes with significantly more risk and liability than working with an external payroll processor). Services such as ADP Run, Paychex, Intuit, and Gusto can be configured to integrate with the most popular accounting products through APIs and ML, so that practicing the importing of that data on the firm will help with developing CAAS tech stack experience.
Expense reports and reimbursement offer a third opportunity to integrate additional components of the tech stack. Products such as Expensify, Tallie and Concur can be utilized for the creation, submission and approval of expenses which can then be reimbursed through either the accounts payable system or payroll system depending on which products integrate with the firm's accounting tools and the specific needs of clients.
Accounts receivable provides a fourth chance to build the firm's technology stack and providers such as CPACharge, QuickFee and Kotopay have the ability to accept client payments (credit card or ACH) and post those transactions directly to either the firm's accounting application or their practice management application, so no data need be re-keyed.
Firm reporting is the fifth opportunity where the firm can benefit internally from piloting components of their CAAS tech stack. Most accounting products have basic reporting capability so having an expert on staff to produce those reports directly rather than creating a spreadsheet is be a good place to start. A more advanced step is using the next generation of business reporting tools such as Tableau, Domo and Microsoft Power BI (Business Intelligence) to automatically generate those custom reports into a dashboard on a daily (or near real time) basis. This step is somewhat more complex and may require that internal personnel coordinate with CAAS personnel to optimize reporting.
Working with your CAAS team to identity and select products that will benefit both the firm and clients is one of the fastest ways to get first-hand experience and also promote your tech stack. Talk about these five opportunities with your CAAS team and you will be on your way on streamlining your own production!
Roman H. Kepczyk, CPA.CITP is the Director of Firm Technology Strategy for Right Networks and works exclusively with CPA firms to implement today's leading best practices and technologies incorporating Lean Six Sigma methodologies to optimize firm production workflows. Roman is a CPAFMA Advisory Board Member and been consistently listed as one of Accounting Today's Top 100 Most Influential People in Accounting, INSIDE Public Accounting's Most Recommended Consultants, and CPA Practice Advisors Top Thought Leaders to the profession.