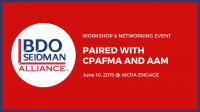 Published on March 13, 2019
BDO Alliance USA, paired with the CPA Firm Management Association and the Association for Accounting Marketing, will be hosting a workshop for their members on June 10th at the MGM Grand Las Vegas just prior to the start of the AAM Summit and CPAFMA National Practice Management Conference, which have partnered this year with the AICPA's ENGAGE Conference.
Exclusively designed for BDO Alliance USA members attending these events, this half-day session will offer presentations and roundtable discussions on a variety of topics specific to marketers and firm administrators. Cost of attendance is $20, which includes the lunch, workshop and cocktail reception.
Read More >>