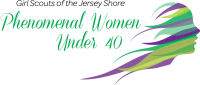 Published on August 27, 2018
On Thursday, September 13, the Girl Scouts of the Jersey Shore will celebrate its third annual Phenomenal Women Under 40 recognizing the emerging women leaders of our community. One of those to be recognized is CPAFMA member and recent CPAFMA Leadership Institute graduate, Sarah Snell, CPA, PAFM, Firm Administrator with Holman Frenia Allison, P.C. Honorees include:
Michelle J. Casserly with Hackensack Meridian Health/Meridian Health Foundation
Erin Chiaravalloti with The Rumson Country Day School
Kimberly Clark with Pinelands Regional School District
Jessica Easton with St. Denis D.O.V.E.S & Seabrook
Laura Grunin with The Jay & Linda Grunin Foundation
Meghan Kane with Clean Cheats LLC
Shani Love with YMCA of Western Monmouth County
Samara Porter O'Neill with PorterPlus Realty
Kelly Servodio with CG Healthcare Solutions
Jamie L. Sheridan with UBS Financial Services
Sarah Snell with Holman Frenia Allison, P.C.
Read More >>