Save $150 through January 31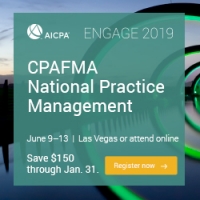 Published on January 14, 2019
Save $150 through January 31 - Business strategy. Global economics and politics. Inspiring leadership. Every part of your day is touched by some aspect of these big-picture issues. Explore the impact during the CPAFMA National Practice Management Conference with access to AICPA ENGAGE keynote sessions -
Monday, June 10
The Fat Tail: The Power of Political Knowledge for Strategic Investing by Ian Bremmer, President and Founder, Eurasia Group
Ian is the creator of Wall Street's first global political risk index (GPRI), author of New York Times best-selling books, foreign affairs columnist at Time and professor at New York University.

Meet Ian
Wednesday, June 12
Professional Update by Barry Melancon, President and CEO, American Institute of CPAs and Bill Reeb, Incoming Chair American Institute of CPAs, CEO, The Succession Institute and Advisory Board Member, CPA Firm Management Association
Barry is the head of the largest body of CPAs in the world, the AICPA's longest-serving CEO and a champion of the profession at state, national and international levels.
Bill is an advocate for the accounting profession's strategic planning, governance and staff development, and as a prolific author of books and hundreds of articles and columns.

Meet Barry and Meet Bill
Wednesday, June 12
Leading Through Organizational Transformation by Simon Sinek, Visionary Thinker and Self-Described Optimist
Simon is an enormously popular TED speaker and author of best-selling books, including Start With Why and Leaders Eat Last.

Meet Simon
Thursday, June 13
Stress-Testing America's Prosperity by Zanny Minton Beddoes, Editor in Chief, The Economist

Zanny is the first female editor in her publication's 170-year history, one of Forbes' "Most Powerful Women in the World" and a renowned global economics expert.
Save $150 by registering before January 31. For a special CPAFMA Promo Code that will save an additional $100, email CPAFMA HQ at info@cpafma.org and ask for the Conference promo code!