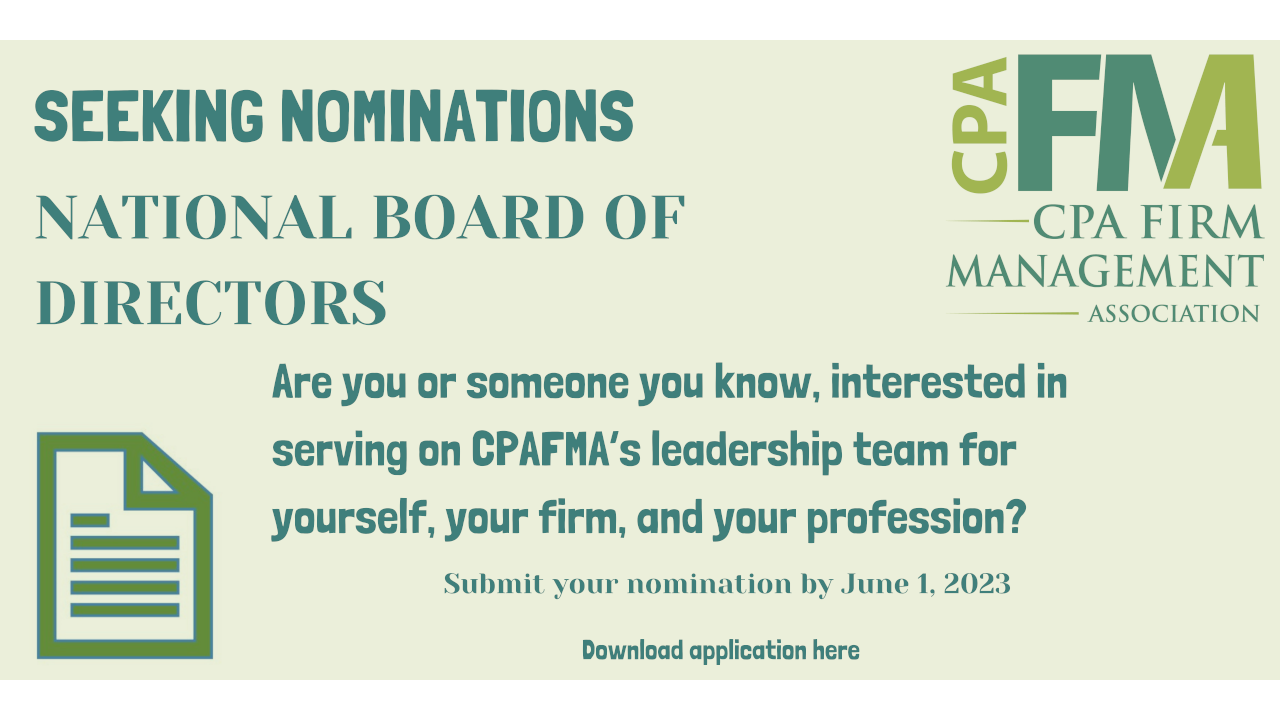 Seeking Nominations: National Board of Directors
Are you a candidate for the CPAFMA Board of Directors?
Submit your application by June 1
CPAFMA is always looking for leaders to serve as members of the Board of Directors. Such leaders should:
Have a vision for CPAFMA
Share a dedication to the professionalism of CPAFMA
Be willing to invest the extra time necessary to serve CPAFMA
Demonstrate prior service and contribution to CPAFMA and the profession
Be supported in this service to CPAFMA by their firm
Profile of a Board member
What does a national board member of CPAFMA look like?
Adheres to the highest ethical and professional standards and promotes a positive image of the accounting profession.
Has leadership and management experience as a firm manager for a CPAFMA firm member for at least three years.
Understands the organization's mission.
Maintains an appropriate level of professional competence and continually enhances existing skillsets.
Regularly attends the CPAFMA CONNECTIONS and CPAFMA Chapter meetings (if applicable).
Is a team player, takes responsibility and demonstrates accountability.
Is open and honest in all situations and relationships.
May have experience working with a work group or committee of CPAFMA.
May have previous leadership service experience.
Meet the expectations of a board member - see below
National leaders of CPAFMA are expected to:
Be professional and act with integrity and honesty at all Board sanctioned activities and in all situations in the best interests of the board and organization.
Be prepared for and attend all board meetings and huddles so as to actively participate knowledgeably and meaningfully in discussions, deliberations and decisions while exercising his/her best judgment.
Be accountable for and support decisions that are made collectively by the Board.
Be knowledgeable of and have a commitment to the fiduciary responsibilities and standards of care, including confidentiality obligations, due diligence, and loyalty.
Understand the organization's mission and all roles and responsibilities of the Board and committees.
Ensure the Executive Director and staff provide the leadership with timely and comprehensive information so that the Board can effectively carry out its duties.
Ensure key policies are in writing, clearly articulated and adopted.
Ensure CPAFMA has the capacity to carry out its programs and purpose effectively.
Comply with the values established by the CPAFMA for Firm Managers.
Keep abreast of trends and factors that impact the field of professional accounting firm management.
Be (or become within six months) a PAFM.
Promote diversity and inclusiveness with respect to the organization's Board of Directors, management team, membership, and volunteer leaders.
NOMINEE INFORMATION
Anyone interested in a position as a Director on the National Board of Directors of the CPA Firm Management Association must complete this Nominee Resume and submit it to the association's headquarters prior to the end of the day on June 1, 2023. Those desiring a position will be contacted by the Nominating Committee Chairperson and/or members of the committee with additional questions and will be required to participate in an interview process.
The term of office begins on January 1, 2024, however as of July 1, 2023, those elected will serve in an incoming capacity alongside the 2023 leadership team. Newly elected officers and directors will be expected to attend the November 2023 Board of Directors meeting.