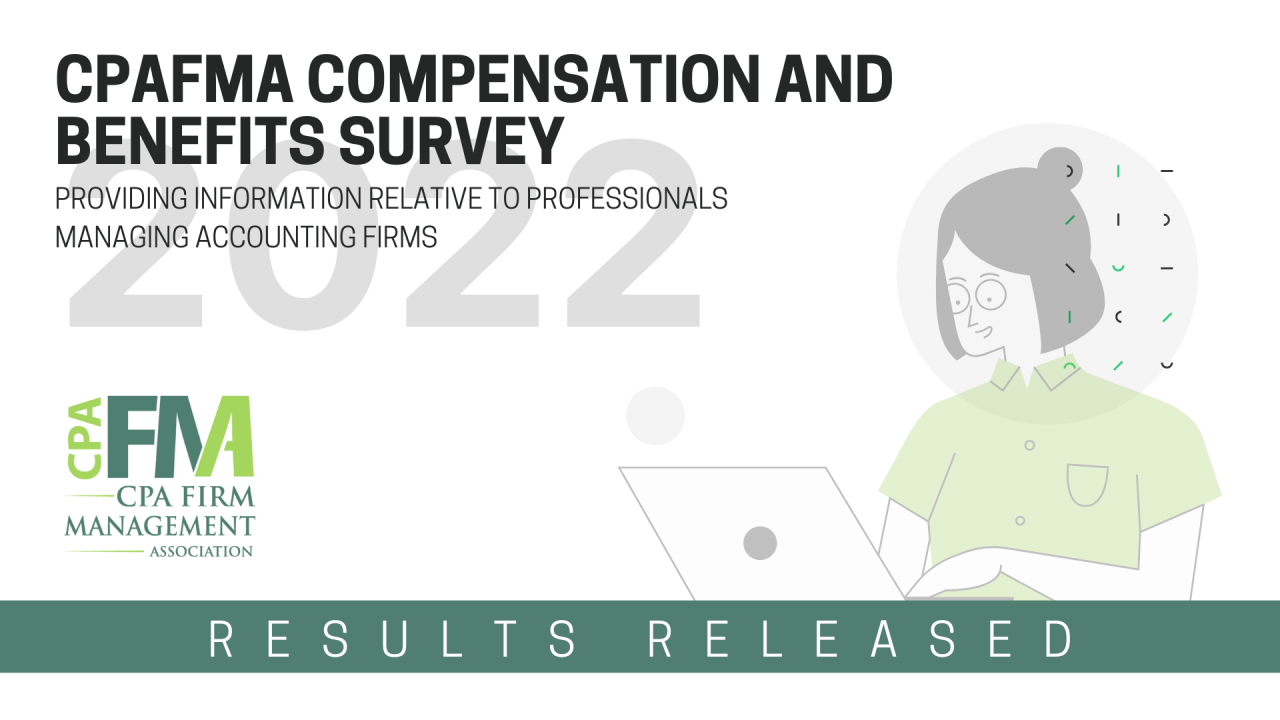 CPAFMA 2022 Firm Manager Compensation & Benefits Survey Results Released
The 2022 CPAFMA Firm Manager Compensation Survey is a tool that firms can use to help those in the firm manager role reach their career path goals. This survey was designed as a quick reference tool providing information relative to professionals managing accounting firms such as firm managers, directors of administration and chief operating officers. Each CPAFMA member firm received the survey and the response rate was 20%. The survey addresses gross billings for firms, firm size, compensation and benefits, hours worked, years of practice management experience, firm manager billable hours and location, retirement plans and partner transitions
The responses received were essential to the Association producing the most accurate survey possible. The results indicate the spirit of a profession whose future continues to grow and evolve as the accounting profession continually changes.
Some key findings include -
More than 40% of the firms use a human resources management application
More than 50% of the respondents have more than 10 years of firm management experience
More than 25% of the respondents are a partner, shareholder or principal with their firm in addition to serving as the firm manager
Those working more than 2600 hours a year has increased by 7% since 2020
The use of unlimited PTO has increased 6% since 2020
The Association hosted an online conversation with Lauren Fitch, JD, Chief Financial Officer and Claire Harrell, SHRM-CP, HR Manager of Hannis T. Bourgeois, LLP to discuss trends and challenges when it comes to compensation and benefits.
Members can find the survey results in Connect. If your firm is interested in membership, click here.