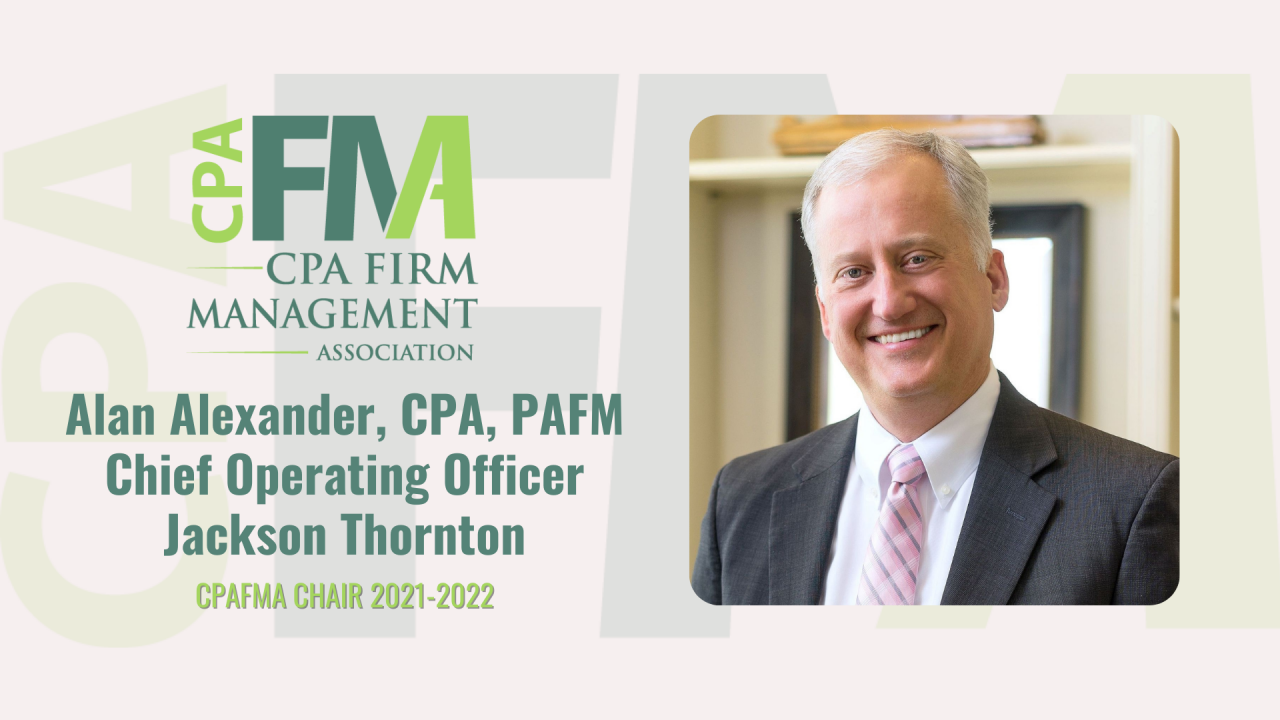 Jackson Thornton's Alexander Named Chair of CPA Firm Management Association
Montgomery, AL -- Jackson Thornton, a certified public accounting and consulting firm headquartered in Montgomery, AL, is pleased to announce that Alan Alexander, CPA, PAFM has been named Chair of the CPA Firm Management Association (CPAFMA).
Alexander, who serves as Jackson Thornton's Chief Operating Officer (COO), was recently installed as Chair at the CPAFMA's National Practice Management Conference, held in partnership with the AICPA ENGAGE 2021 event. Founded in 1984, the Association was created to enable accounting firm managers to communicate with one another as well as serve as one representative voice of the profession. Alexander came to Jackson Thornton from RSM US where he was a Strategic Project Director/Senior Manager. He had served as the COO for Sellers, Richardson, Holman & West prior to their acquisition by RSM US. Alexander is a graduate of Auburn University and the University of Alabama Birmingham and holds a Master of Accounting with a tax concentration. In addition to the CPAFMA, he maintains professional membership in the American Institute of Certified Public Accountants and the Alabama Society of Certified Public Accountants.
Alexander helped to concluded the Conference by serving as a presenter with the event's "Top Issues Firm Managers are Dealing With" session where he discussed the New Work Model and Wellness and spent several minutes reviewing his vision for the association as well as the profession for 2021 and 2022.
About Jackson Thornton
Founded in 1919, Jackson Thornton is a certified public accounting and consulting firm with more than 200 professionals and associates in six offices located in Alabama and Tennessee. In addition to accounting services, the firm offers wealth management, strategic planning, business consulting services, technology consulting, and specialized industry services. Learn more at www.jacksonthornton.com.