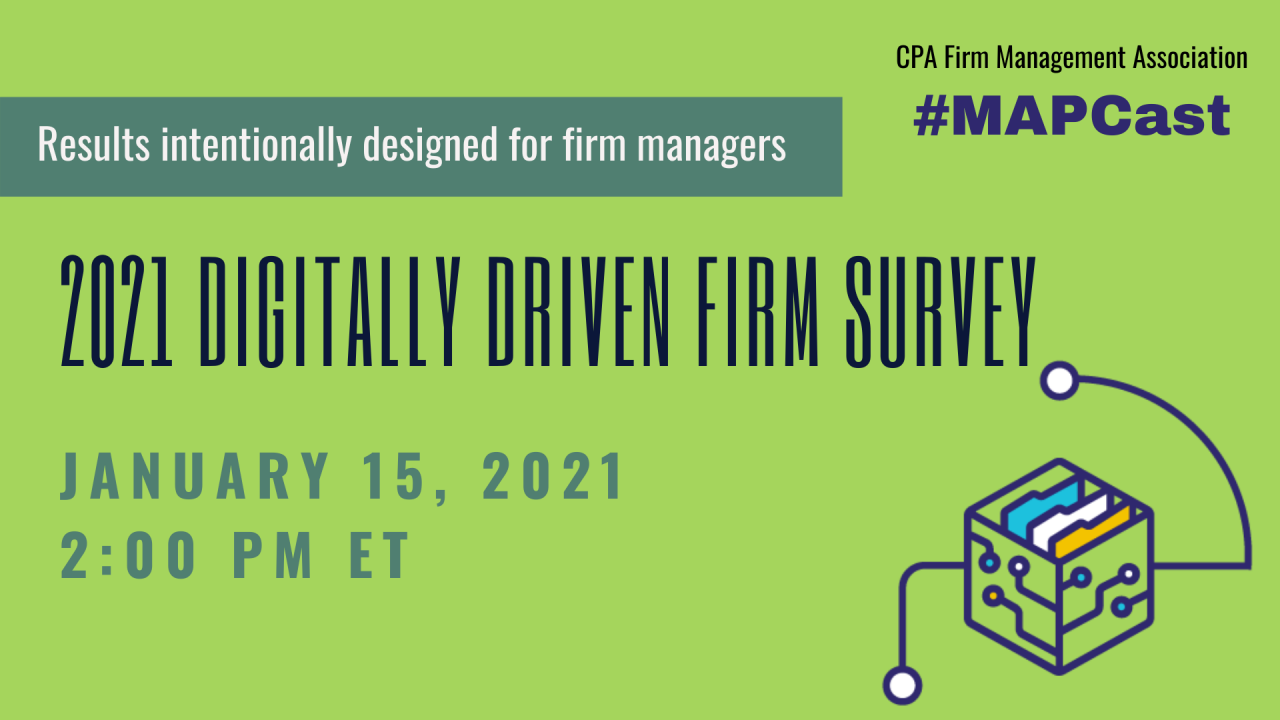 2021 Digitally Driven Firm Survey Results
January 15, 2021 2:00pm - 2:45pm
Location Information:
Online

Cost(s): $0.00 Members / $0.00 PCPS Members / $25.00 Non-Members
Is your firm on the "bleeding" or stable edge of being a digitally driven firm? ...Or is your technology always lagging? Find out what digital technologies and evolving trends your peer firms are utilizing this upcoming busy season from CPAFMA Advisory Board Member and Right Network's very own Roman H. Kepczyk as he presents the findings of the 2021 CPAFMA Digitally Driven Firm Survey - formerly the CPAFMA Paperless Benchmarking Survey, the longest running paperless benchmarking survey in the accounting profession.
This update, completed in December of 2020, will provide you and your firm with the valuable, consistent benchmarking this survey is known to provide. Roman will not only discuss tax department findings that firms are using this year, but will also cover audit and accounting, administration, and information technology benchmarks, as well as recommendations on trends and products he is predicting will impact the year ahead!
All MAPCast participants will receive a copy of the results following the MAPCast to use when finishing your busy season technology plans and putting together your technology plan and budget for the balance of 2021 and beyond.
Roman H. Kepczyk, CPA.CITP, CGMA, PAFM is Director of Firm Technology Strategy for Right Networks. His primary focus is helping firms throughout North America effectively use information technology and accounting applications by optimizing their tax, audit and administrative production workflows. He has spent the past twenty-two years consulting exclusively with CPA firms and prior to that, ten years with the CPA firm of Henry & Horne, (Arizona's largest regional firm) where he was the partner in charge of the firm's Management Advisory Services and Consulting practices. Roman also served as the firm's Administrative partner where he oversaw Internal Accounting, Marketing, Human Resources, and was responsible for the creation and implementation of the firm's technology plan and budget. He is member of AICPA Council, a former member of the AICPA PCPS Executive Committee and a former Chairman of the AICPA's Information Technology Executive Committee. He has served as a member of other AICPA initiatives, including the Special Committee on Enhanced Business Reporting, eBusiness Task Force, IT Best Practices, IT Research, IT Practices Committees, and Group of 100 projects. In addition, he is a former Chairman of the AICPA Top Technologies Task Force. Roman was named by INSIDE Public Accounting as one of the profession's Most Recommended Consultants for each of the years from 2005 through 2017, CPA Practice Advisors "Top 25 Thought Leaders" from 2011 through 2019, and Accounting Today's "Most Influential People in Accounting" thirteen times. Roman is also an Advisory Board Member to the CPA Firm Management Association and has served on the Board of Directors of the Arizona Society of CPAs. He also authored "Quantum of Paperless: Partners Guide to CPA Firm Optimization" which outlines 32 key CPA best practices. On a technical level, Roman is an AICPA Certified Information Technology Professional (CITP) and a Certified Lean Six Sigma Black Belt (LSS BB). He authored technology chapters for the PPC MAP Handbook, PPC Guide to Paperless Engagements, and sections of the AICPA MAP Handbook. He is also a regular contributor of articles to the AICPA PCPS, CPA Practice Advisor, Thomson Reuters Audit and Accounting publications and the CPA Firm Management Association's newsletters.
As a member of CPAFMA, you have the opportunity to participate in this MAPCast without charge and ask Roman questions about the survey data and results. For more information about membership and benefits, contact CPAFMA.