View Previous MapCasts here

What is an CPAFMA MAPCast?
An CPAFMA MAPCast is a live, interactive 30 or 60-minute conference presented over the Internet. You can attend from any location that has Internet access from any device. You pay just one registration fee for as many participants as you wish at each location.

Note that high-speed Internet access is not mandatory.

Who presents at an CPAFMA MAPCast?
Your MAPCast will have one or more speakers who are recognized experts on the topic. MAPCasts typically include a Q&A session; you can ask questions by audio or chat options.

CPE Credits
CPAFMA is registered with the National Association of State Boards of Accountancy (NASBA) as a sponsor of continuing professional education on the National Registry of CPE Sponsors. State boards of accountancy have final authority on the acceptance of individual courses for CPE credit. Complaints regarding registered sponsors may be submitted to the National Registry of CPE Sponsors through its website: www.learningmarket.org.


MAPCasts with an HR focus have been approved for recertification credit hours toward PHR and SPHR recertification through the Human Resources Certification Institute (HRCI). For more information about certification or recertification, please visit the HRCI homepage at www.hrci.org.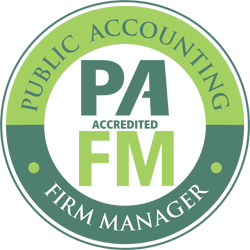 MAPCasts qualify for Public Accounting Firm Manager (PAFM) continuing education credit through the CPA Firm Management Association (CPAFMA). For more information about certification or recertification, please visit the PAFM section of this website.

Why CPAFMA MAPCasts?

Fast.
No wasted time. Get right to the heart of the matter in a 30 or 60-minute session designed to easily fit into your busy schedule.

Convenient.
No airlines. No travel. No time out of the office. Listen and follow along from the comfort and convenience of your own device or conference room.

Easy.
A device with an Internet connection is all you need. If your device does not have sound capabilities, the ability to dial in from a telephone is available.

Ideal for multiple attendees.
Use a speakerphone and projector/monitor and invite as many people as you want to participate - at no extra cost to you.

Affordable.
CPAFMA MAPCasts are a fraction of the cost of travel and attendance fees for other high-priced conferences or seminars. PAFMs attend for free.

PCPS members are able to register at the CPAFMA member rate.
Leveraging Talent - MAPCast
Date: Friday, November 02, 2018
Time: 01:00 PM ET / 12:00 PM CT / 11:00 AM MT / 10:00 AM PT [Prevailing Time]
Presenter(s): Jeremy S. Wortman, PhD, HRD Initiatives
Objective: Leveraging talent with the implementation of firm-wide initiatives to build the firm's future leaders.
Field of Study: Personnel/Human Resources
Program Level: Basic
CPE Credit: 1 Credit Hour

Watching at least the first two sessions of this series is recommended before this 60-minute course.

Course Description
Leveraging Talent, best practices to create an infrastructure to maximize each individualís potential so that the firm builds it talent pipeline for the future. Leveraging talent activities are larger scale programs and discussions about your firmís talent needs now and in the future.

Topics to be discussed include: Succession planning; High potential assessment; Career pathing; Building competency models; Implementing your own internal leadership development program; Building an effective coaching/mentoring program

Presenter Bio(s)
With a strong passion for, and a commitment to, the positive development of individuals and organizations, Jeremy Wortman is the Owner of HRD Initiatives which specializes in Organizational Development and Talent Management Solutions. In this capacity he works with client partnersí executive teams in determining talent management strategies, building leadership talent, the implementation of relevant solutions and the coaching of individual leaders.

Wortman has over seventeen years of experience in organization and leadership development with a significant amount of his time, early in his career, at TD Ameritrade where he was the Director of Organizational Effectiveness. There he was responsible for enterprise-wide talent management initiatives as well as partnering with senior executives across the organization to determine business unit and department-level talent management strategies, needs, and solutions that drive their performance goals. He has extensive knowledge of organizational psychology and has had great success in developing strategies and programs that build better individuals and organizations using a strengths-based approach.

Wortman has also focused his expertise within the accounting profession since 2004. He is a frequent speaker at various Regional, National and International conferences on the topics of Ethical Decision-Making, Leadership Development and Talent Management. As a consultant to the profession his clients include a range of small firms to the top ten largest in the United States, many of whom are found on the Accounting Todayís Best Firms to Work for list.

Wortman attended the University of Nebraska where he earned his Ph.D. in Organizational Behavior, Leadership and Organizational Development as well as a Masters in Business Administration. His undergraduate degrees are in Economics and Human Resources. He is a member of the American Psychological Association, the Society of Industrial and Organizational Psychology, and the Academy of Management. He is also active in his local community as the former President for the Young Alumni Board for the College of Business Administration at the University of Nebraska where he has also been an adjunct professor since 1999.

Cost
$25.00 for CPAFMA Members / $40.00 for Non-Members / Free for PAFMs

This mapcast is part of the following series:
Audit Your Firm's Talent Management Efforts and Create a Plan of Action
This is a series of seven sessions packed with talent management strategies any firm manager can use. Each session will be presented by Jeremy Wortman - Owner of HRD Initiatives - a specialist in organization development and talent management solutions. Sessions 1 and 2 are core sessions for this series. If you miss either one, you will want to watch the recordings before the next session. Anyone registering for the full series after the series start will receive links to the recordings for the past sessions. •Session 1: What is Talent Management and Why is it Important to an Accounting Firm? 9/17/18 •Session 2: Explore the Primary Tool You Need to Effectively Execute Your Firm's Talent Management Plan 9/19/18 •Session 3: Talent Acquisition - How to Hire the Right Person Who is Both a Technical AND Cultural Fit 9/24/18 •Session 4: Engaging Talent - How to Get Employees Fully Committed to Your Firm and Working Effectively Together 10/4/18 •Session 5: Building Talent - Helping Employees Identify their Unique Contribution to the Firm 10/26/18 •Session 6: Leveraging Talent - The Implementation of Firm-wide Initiatives to Build the Firm's Future Leaders 11/2/18 •Session 7: Retaining Talent - Engaging in Activities that Help Keep Your Talented Employees 11/13/18
The entire series can be purchased at a discount for:
$95.00 for Members / $145.00 for Non-Members / Free for PAFMS
Delivery System
All programs will be delivered using Adobe Connect. Participants may start logging in 20 minutes prior to start time. Participants must call the toll-free conference phone number to access the audio portion of the presentation. Participants' phone lines are automatically muted upon connection to the call.
All participants should have Internet access (high speed access recommended but not required), a land-line based telephone and be in a private setting. For more than one participant per participant location, a quiet conference room with a large monitor/screen and speaker phone is suggested.
There will be assistance available to assist with procedural, downloading or connection issues 5 minutes prior to the start of the presentation.
System requirements to use Adobe Connect:
Adobe Connect only requires that you have an internet connection, a web browser, and Adobe Flash Player version 10.1 or greater to attend a webinar. Adobe Connect supports nearly any operating system including Windows, Macintosh, Linux and Solaris, as well as the most widely used browsers including Internet Explorer, Firefox, Safari, and Chrome.