View Previous MapCasts here

What is an CPAFMA MAPCast?
An CPAFMA MAPCast is a live, interactive 30 or 60-minute conference presented over the Internet. You can attend from any location that has Internet access from any device. You pay just one registration fee for as many participants as you wish at each location.

Note that high-speed Internet access is not mandatory.

Who presents at an CPAFMA MAPCast?
Your MAPCast will have one or more speakers who are recognized experts on the topic. MAPCasts typically include a Q&A session; you can ask questions by audio or chat options.

CPE Credits
CPAFMA is registered with the National Association of State Boards of Accountancy (NASBA) as a sponsor of continuing professional education on the National Registry of CPE Sponsors. State boards of accountancy have final authority on the acceptance of individual courses for CPE credit. Complaints regarding registered sponsors may be submitted to the National Registry of CPE Sponsors through its website: www.learningmarket.org.


MAPCasts with an HR focus have been approved for recertification credit hours toward PHR and SPHR recertification through the Human Resources Certification Institute (HRCI). For more information about certification or recertification, please visit the HRCI homepage at www.hrci.org.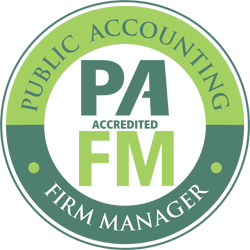 MAPCasts qualify for Public Accounting Firm Manager (PAFM) continuing education credit through the CPA Firm Management Association (CPAFMA). For more information about certification or recertification, please visit the PAFM section of this website.

Why CPAFMA MAPCasts?

Fast.
No wasted time. Get right to the heart of the matter in a 30 or 60-minute session designed to easily fit into your busy schedule.

Convenient.
No airlines. No travel. No time out of the office. Listen and follow along from the comfort and convenience of your own device or conference room.

Easy.
A device with an Internet connection is all you need. If your device does not have sound capabilities, the ability to dial in from a telephone is available.

Ideal for multiple attendees.
Use a speakerphone and projector/monitor and invite as many people as you want to participate - at no extra cost to you.

Affordable.
CPAFMA MAPCasts are a fraction of the cost of travel and attendance fees for other high-priced conferences or seminars. PAFMs attend for free.


Get Un-Stuck: By Learning the Secret Behind CHANGE - MAPCast
Date: Thursday, October 18, 2018
Time: 01:15 PM ET / 12:15 PM CT / 11:15 AM MT / 10:15 AM PT [Prevailing Time]
Presenter(s): Lisa Tierney, Tierney Coaching & Consulting, Inc.
Objective: By understanding how our brains operate and process our thoughts and beliefs, we can help recognize - and release – the limiting beliefs and pre-suppositions, in ourselves and others, that keep us from thriving through change and growth.
Field of Study: Personal Development
Program Level: Basic
CPE Credit: 0.50 Credit Hour

No advanced preparation or prerequisites are required for this 30 minute course.

Course Description
Change is tricky for everyone. Some manage it better than others and resilience is a trait that is coveted as one of the most important attributes of successful people. How does someone finally stop engaging in behavior that is no longer wanted and/or clearly no longer serving them? How can someone start doing something they know, deep down, they really should do but simply cannot seem to get started – or stick with it? What happens when we shut down? How does it affect us when we simply can't understand WHY he did that or WHAT she was thinking when she SAID that?

This 30-minute MAPCat will unlock the keys to all the answers to these questions – and so much more. The brain holds the answers to understanding the motivation of others (and ourselves) which dictates actions and behavior. Unlocking this key is the way to true CHANGE.

Presenter Bio(s)
Lisa Tierney, CLSC is an award-winning marketing consultant and a certified life strategies coach with nearly twenty years of experience in serving multi-partner professional services providers across the U.S. She has provided webinars, teleconferences, workshops and keynote presentations for such organizations as the Association for Accounting Marketing, the International Coach Federation, the PICPA, the CPA Firm Management Association, the Institute of Management Accountants, to name just a few. She is a member of the CPA Leadership Institute's Leadership Panel and an active member of the International Coach Federation. She has been published in numerous publications, including Accounting Today, Legal Intelligencer, and the Philadelphia Business Journal.

Cost
$12.00 for CPAFMA Members / $17.00 for Non-Members / Free for PAFMs

This mapcast is part of the following series:
Get Unstuck
What is holding you back from reaching your next goal in your firm/career? This series will cover 5 areas that many people get stuck on that halts or hinders their progress. You will learn practical methods that you can apply today to help you get UNstuck! If you buy the series after it has already started, you will receive links to view the recordings of the sessions you have missed. • 10/18/18 Get Un-Stuck: By Learning the Secret Behind CHANGE • 10/24/18 Get Un-Stuck: Learn the "Tricks of the Trade" from a Life Coach • 10/30/18 Get Un-Stuck: By Understanding Dynamics of Shareholder Groups • 11/7/18 Get Un-Stuck: Start Closing the Gender Gap at your Firm • 11/12/18 Get Un-Stuck: Overcome the Fear of Public Speaking
The entire series can be purchased at a discount for:
$50.00 for Members / $70.00 for Non-Members / Free for PAFMS
Delivery System
All programs will be delivered using Adobe Connect. Participants may start logging in 20 minutes prior to start time. Participants must call the toll-free conference phone number to access the audio portion of the presentation. Participants' phone lines are automatically muted upon connection to the call.
All participants should have Internet access (high speed access recommended but not required), a land-line based telephone and be in a private setting. For more than one participant per participant location, a quiet conference room with a large monitor/screen and speaker phone is suggested.
There will be assistance available to assist with procedural, downloading or connection issues 5 minutes prior to the start of the presentation.
System requirements to use Adobe Connect:
Adobe Connect only requires that you have an internet connection, a web browser, and Adobe Flash Player version 10.1 or greater to attend a webinar. Adobe Connect supports nearly any operating system including Windows, Macintosh, Linux and Solaris, as well as the most widely used browsers including Internet Explorer, Firefox, Safari, and Chrome.