View Previous MapCasts here

What is an CPAFMA MAPCast?
An CPAFMA MAPCast is a live, interactive 30 or 60-minute conference presented over the Internet. You can attend from any location that has Internet access from any device. You pay just one registration fee for as many participants as you wish at each location.

Note that high-speed Internet access is not mandatory.

Who presents at an CPAFMA MAPCast?
Your MAPCast will have one or more speakers who are recognized experts on the topic. MAPCasts typically include a Q&A session; you can ask questions by audio or chat options.

CPE Credits
CPAFMA is registered with the National Association of State Boards of Accountancy (NASBA) as a sponsor of continuing professional education on the National Registry of CPE Sponsors. State boards of accountancy have final authority on the acceptance of individual courses for CPE credit. Complaints regarding registered sponsors may be submitted to the National Registry of CPE Sponsors through its website: www.learningmarket.org.


MAPCasts with an HR focus have been approved for recertification credit hours toward PHR and SPHR recertification through the Human Resources Certification Institute (HRCI). For more information about certification or recertification, please visit the HRCI homepage at www.hrci.org.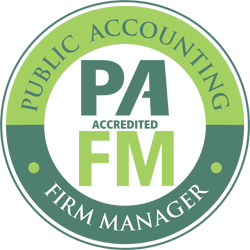 MAPCasts qualify for Public Accounting Firm Manager (PAFM) continuing education credit through the CPA Firm Management Association (CPAFMA). For more information about certification or recertification, please visit the PAFM section of this website.

Why CPAFMA MAPCasts?

Fast.
No wasted time. Get right to the heart of the matter in a 30 or 60-minute session designed to easily fit into your busy schedule.

Convenient.
No airlines. No travel. No time out of the office. Listen and follow along from the comfort and convenience of your own device or conference room.

Easy.
A device with an Internet connection is all you need. If your device does not have sound capabilities, the ability to dial in from a telephone is available.

Ideal for multiple attendees.
Use a speakerphone and projector/monitor and invite as many people as you want to participate - at no extra cost to you.

Affordable.
CPAFMA MAPCasts are a fraction of the cost of travel and attendance fees for other high-priced conferences or seminars. PAFMs attend for free.


BDO Alliance USA and CPAFMA Connection: Using Natural Instincts to Improve Team Synergy - MAPCast
Date: Thursday, May 24, 2018
Time: 11:00 AM ET / 10:00 AM CT / 09:00 AM MT / 08:00 AM PT [Prevailing Time]
Presenter(s): Christine Hollinden, CPSM, Founding Principal, Holinden | marketers + strategists
Objective: Join us for this one-hour MAPCast exclusively prepared for dual BDO Alliance USA and CPAFMA members.
Field of Study: Communication and Marketing
Program Level: Basic
CPE Credit: 1 Credit Hour

No advanced preparation or prerequisites are required for this course.

Course Description
Have you ever had difficulty getting your point across? Do others drone on and on in excruciating detail or worse yet, do you get frustrated because others skim over the most important points? Ever been forced to make a decision without (gasp) all the fats? If any of these scenarios sound familiar, you are not alone. We continuously tell professionals that they must stand out from the crowd, but the result is often increased stress and frustration.

A key component of leadership is the ability to bring people together as a team to produce excellent results on time and on budget. We all work in teams - some are great, and well, some of those teams are . . . not so great.

Articulating your firm's differentiators is no simple task but trying to sound or act like someone else isn't the answer. It's time to trust your natural instincts and be yourself. In this one-hour webinar, Using Natural Instincts to Improve Team Synergy, marketer and Certified Kolbe Consultant, Christine M. Hollinden, CPSM, will present a case study about an actual team and how their natural instincts contributed to or detracted from their success.

At the end of this MAPCast, participants will be able to: identify the role of the four natural instincts; understand how their own natural instincts impact communication, decision-making, and interactions; learn to trust their instincts; and understand how individual instincts impact team dynamics.

Presenter Bio(s)
Growing up in a family of six kids, Christine M. Hollinden, CPSM knew how to stand out at an early age. As the founding principal of Hollinden | marketers + strategists, she's passionate about helping professional services firms distinguish themselves from the pack. Her energetic and forward-thinking approach has earned her industry recognition and status as a sought-after strategist and speaker on marketing topics.

Prior to founding Hollinden in 1993, Christine's career included Director of Marketing for KPMG in Houston, Regional Communications Manager for Coopers & Lybrand, and Marketing Coordinator for Grant Thornton. She holds a Bachelor of Science in Business Administration from the University of Houston at Victoria, and a Master of Business Administration from Texas A&M University. She also holds the prestigious CPSM designation.

Christine is an active member and supporter of several professional organizations, and serves as a regular guest lecturer at Texas A&M University and many Houston-area universities. When not helping firms build their brands ad drive business development, Christine enjoys building her skills on the fairways and greens, cooking a gourmet dinner for friends, or playing fetch with her three Bengal cats.

Cost
Free for CPAFMA Members / Free for Non-Members / Free for PAFMs


Delivery System
All programs will be delivered using Adobe Connect. Participants may start logging in 20 minutes prior to start time. Participants must call the toll-free conference phone number to access the audio portion of the presentation. Participants' phone lines are automatically muted upon connection to the call.
All participants should have Internet access (high speed access recommended but not required), a land-line based telephone and be in a private setting. For more than one participant per participant location, a quiet conference room with a large monitor/screen and speaker phone is suggested.
There will be assistance available to assist with procedural, downloading or connection issues 5 minutes prior to the start of the presentation.
System requirements to use Adobe Connect:
Adobe Connect only requires that you have an internet connection, a web browser, and Adobe Flash Player version 10.1 or greater to attend a webinar. Adobe Connect supports nearly any operating system including Windows, Macintosh, Linux and Solaris, as well as the most widely used browsers including Internet Explorer, Firefox, Safari, and Chrome.