View Previous MapCasts here

What is an CPAFMA MAPCast?
An CPAFMA MAPCast is a live, interactive 30 or 60-minute conference presented over the Internet. You can attend from any location that has Internet access from any device. You pay just one registration fee for as many participants as you wish at each location.

Note that high-speed Internet access is not mandatory.

Who presents at an CPAFMA MAPCast?
Your MAPCast will have one or more speakers who are recognized experts on the topic. MAPCasts typically include a Q&A session; you can ask questions by audio or chat options.

CPE Credits
CPAFMA is registered with the National Association of State Boards of Accountancy (NASBA) as a sponsor of continuing professional education on the National Registry of CPE Sponsors. State boards of accountancy have final authority on the acceptance of individual courses for CPE credit. Complaints regarding registered sponsors may be submitted to the National Registry of CPE Sponsors through its website: www.learningmarket.org.


MAPCasts with an HR focus have been approved for recertification credit hours toward PHR and SPHR recertification through the Human Resources Certification Institute (HRCI). For more information about certification or recertification, please visit the HRCI homepage at www.hrci.org.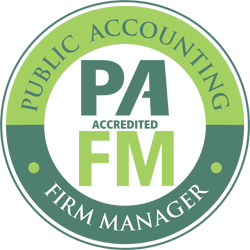 MAPCasts qualify for Public Accounting Firm Manager (PAFM) continuing education credit through the CPA Firm Management Association (CPAFMA). For more information about certification or recertification, please visit the PAFM section of this website.

Why CPAFMA MAPCasts?

Fast.
No wasted time. Get right to the heart of the matter in a 30 or 60-minute session designed to easily fit into your busy schedule.

Convenient.
No airlines. No travel. No time out of the office. Listen and follow along from the comfort and convenience of your own device or conference room.

Easy.
A device with an Internet connection is all you need. If your device does not have sound capabilities, the ability to dial in from a telephone is available.

Ideal for multiple attendees.
Use a speakerphone and projector/monitor and invite as many people as you want to participate - at no extra cost to you.

Affordable.
CPAFMA MAPCasts are a fraction of the cost of travel and attendance fees for other high-priced conferences or seminars. PAFMs attend for free.


Upcoming MAPCasts
The CPA Firm Management Association has specifically designed their MAPCasts for today's busy professional. In just 30 or 60 minutes, you have access to in-depth coverage of an ever-changing array of current practice management topics, issues and the latest trends, best practices and developments. We cover topics falling in all areas of responsibility for COOs, Directors of Administration, Firm Administrators, Controllers, Directors of Operation, Human Resource Managers, and Administrative and Managing Partners.
For one low price, you can attend these sessions in the convenience of your own office – or in your conference room with your entire staff - and immediately put what you've learned to work in your department and/or organization. Please review the following list for CPAFMA's upcoming MAPCasts – and register today!

Click here to watch a short video on how to navigate the MAPCast interface (Windows Media).
---
Date:
Thursday, March 21, 2019
Time:
02:00 PM EST / 01:00 PM CST / 12:00 PM MST / 11:00 AM PST
Presenter(s):
Stephen Vono, Senior VP, McGowanPRO; Professional Liability Insurance and Risk Management Services
Objective:
Failure to detect fraud claims continue to happen against accounting firms and claims go beyond the scope of audit services. This session will discuss in an overview fashion what fraud is and steps you can take to hopefully mitigate this exposure. We will look at claim scenarios and discuss what could have been done to head off such claims.
Field of Study:
Business Management & Organization
Program Level:
Basic
CPE Credit:
1 Credit Hour
No advanced preparation or prerequisites are required for this course.
Details
Register
Date:
Tuesday, May 07, 2019
Time:
02:00 PM EST / 01:00 PM CST / 12:00 PM MST / 11:00 AM PST
Presenter(s):
Harvey R. Herman, Partner, Clausen Miller, P.C.
Objective:
Depositions are very important in the defense of Malpractice claims. This course describes the process of depositions, when they are used, and what to expect when being deposed. Throughout the webinar, you will gain advice on how to prepare for a deposition and how to conduct yourself during the deposition process including behavioral tips and how to respond to certain types of questions. Our presenters will describe the role of counsel and what to avoid during a deposition.
Field of Study:
Specialized Knowledge
Program Level:
Basic
CPE Credit:
1.5 Credit Hour
No advanced preparation or prerequisites are required for this course.
Details
Register
Date:
Wednesday, May 15, 2019
Time:
01:00 PM EST / 12:00 PM CST / 11:00 AM MST / 10:00 AM PST
Presenter(s):
Lee Frederiksen Ph.D - Hinge Marketing
Objective:
1. Learn how high-growth and average-growth accounting firms budget marketing expenses
2. Learn which marketing techniques are more effective for accounting firms
3. Benchmark you firm's marketing budget against high-growth and average-growth firms
Field of Study:
Communication & Marketing
Program Level:
Basic
CPE Credit:
1 Credit Hour
No advanced preparation or prerequisites are required for this course.
Details
Register
All registration is done on-line. Include the name(s) of the session(s) for which you would like to register and the email address to which program information should be forwarded – the primary registrant. Log-in details will be emailed to all primary registrants approximately 1-2 days prior to each session.
The fee for each participant location is normally $40.00 (for locations with an CPAFMA member, deduct $15). All PAFMs may register for free. For sites with more than one participant, log in must be done in the name of the key contact. A participant sign-in sheet will be sent in advance of all sessions and the names of actual participants can be changed or added at this point.
Invoicing is available to CPAFMA member sites only. Non-members must pay in advance by check or by credit card. All payments will be made directly to CPAFMA.
The CPA Firm Management Association uses the Adobe Connect platform for our MAPCasts. The virtual meeting room will open 20 minutes prior to the MAPCast start time and you will receive login instructions one or two days in advance by email. We recommend you log-in approximately 15 minutes prior to the start of the presentation, allowing you enough time to download and print any documents you wish to have available during the course presentation
System requirements to use Adobe Connect:
You must have an internet connection, a web browser, and Adobe Flash Player version 10.1 or greater to attend a webinar. Adobe Connect supports nearly any operating system including Windows, Macintosh, Linux and Solaris, as well as the most widely used browsers including Internet Explorer, Firefox, Safari, and Chrome.
It is recommended that you test your computer prior to attending a meeting. You can do this by going to:
http://admin.adobeconnect.com/common/help/en/support/meeting_test.htm
CPAFMA will not issue refunds for MAPCasts. If a registrant is unable to participate in the MAPCast and provides email, written, fax or phone notification to the Association 48 hours prior to the session, a credit will be provided for a future MAPCast.
Participants can log in to a session approximately 30 minutes prior to the start time of the session. If you experience difficulty logging in please call our office immediately at 937-222-0030 for technical assistance. For those registrants who may experience difficulty logging in to the video portion of the MAPCast session, please connect to the audio portion for audio participation. A copy of the presentation will be made available to all registrants that participated in the live MAPCast. The audio presentation (live portion) is the portion required for CPE credit.
Please alert the CPAFMA staff member monitoring the MAPCast at the conclusion of the program of your difficulty and technical support will be provided to eliminate problems with future MAPCasts. Credit to a future MAPCast will be provided to those with technical difficulties as long as the registrant participated in at least the audio portion of the call and notified the office immediately following the session.
For more information regarding this series or administrative policies such as complaint and refund, please contact the CPAFMA National offices, 136 S. Keowee St., Dayton, OH 45402, 937-222-0030, email: info@cpafma.org