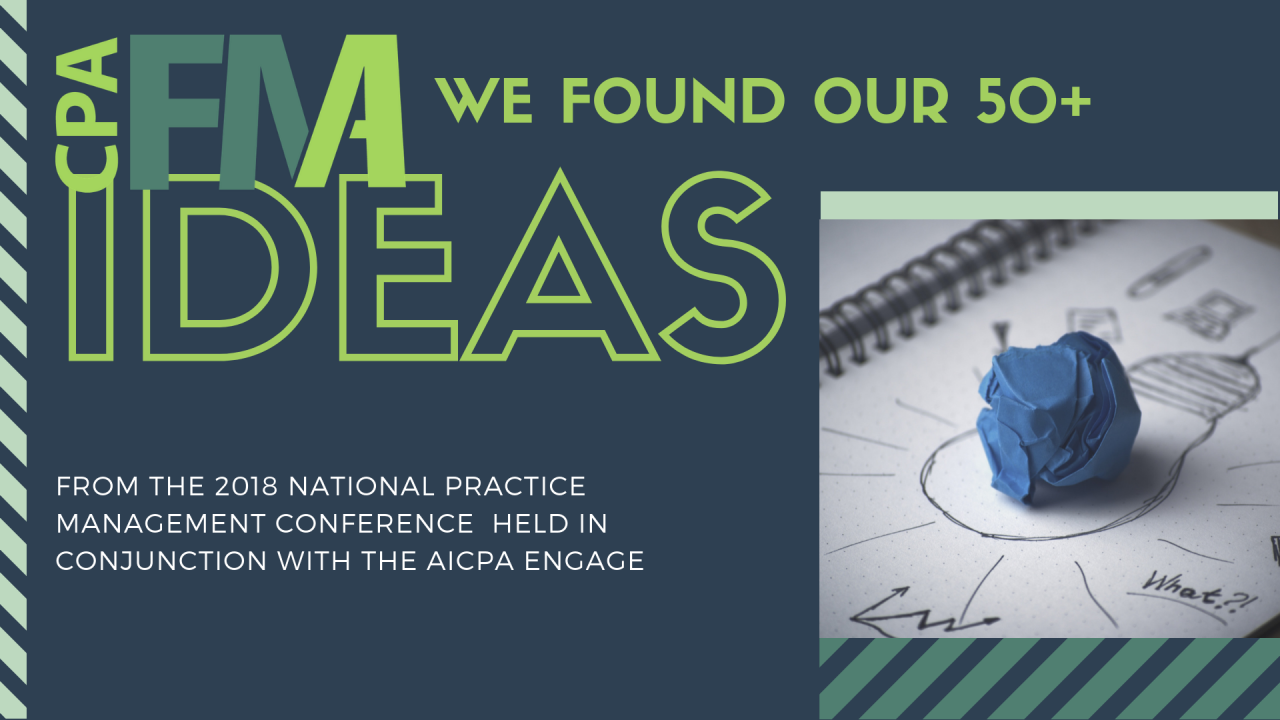 50 Ideas in 50 Minutes from the 2018 National Practice Management Conference
2018 National Practice Management Conference
50 Innovative Ideas in 50 Minutes
Thank you to all AICPA ENGAGE/CPA National Practice Management Conference participants who contributed to our 50 Ideas in 50 Minutes session which actually generated 126 ideas. Special thanks to our facilitator, Bob Biddle, PAFM. If you are interested in learning more about these ideas, contact CPAFMA HQ.
#1 - allow staff to have phantom stock for ownership purposes.
#2 – Use drones for auditing physical inventories.
#3 – Use two different accounts for meals and entertainment expenses for tax purposes.
#4 – Make partner compensation partially dependent on soft skills.
#5 – Use an open/unlimited PTO model.
#6 – One day each month host a vendor lunch so staff can learn more about the services they offer.
#7 – Use text messaging for firm-wide notifications and communications.
#8 – Utilize the book, "5 Languages of appreciation".
#9 – Create an annual yearbook for the firm with anniversaries, milestones and successes of the firm and share via the firm's intranet.

#10 – Creating of a firm-wide training program on the topic of emotional intelligence.
#11 – Use one credit card for all firm purchases and use the miles/points for rewards and appreciation.
#12 – Conduct a strategy meeting for two hours every Friday. During this meeting, keep management from speaking. The idea to be discussed is shared in advance.
#13 – Host a "happy hour" each Friday after work for staff.
#14 – CPA Celebration Day – provides your CPAs with the opportunity for a half day away from the office with activities. This shows that the credential is valued.
#15 – Conduct bingo games for the firm during tax season. For multi-office firms, use video technology to play together.
#16 – Reward staff with health spending account funds for scheduling lunches with clients each month.
#17 – Encourage four hours a week of "no interruptions" – no calls, emails or devices. Provides time for projects and additional focus.
#18 – Mix and match lunches so staff members from different departments and levels get to know each other.
#19 – Partners host anniversary lunches for staff members to celebrate milestones.
#20 – Provide a one-month disconnected sabbatical for partners after 15 years.
#21 – Provide 15-minutes for self-education each day by reading a book or sharing with other staff members. PCPS has a First 15 reading Program tool.
#22 – Reimburse staff for costs associated with the CPA exam once they pass.
#23 – A firm-sponsored charity tournament (golf, corn hole, 3 on 3 basketball, darts, billiards).

#24 – Provide employees with a week to raise funds for a pre-determined non-profit and have the firm match.

#25 – An annual shred party with cookout for clients and vendors.
#26 – Provide up to two paid days for staff members to do charity work.
#27 – Create a charge code for tagalongs for leadership development opportunities.
#28 – Provide the staff with a cut-out star on Monday and ask them to write an accomplishment on it before Friday (an accomplishment by self or someone else). Promote these "stars of accomplishment" on the firm's intranet.
#29 – Set a standard so that the firm no longer accepts original source documents. Instead only accept them electronically.
#30 – Send remote workers gift baskets to keep them engaged.
#31 – Allow staff to wear jeans on Fridays with a donation of $5 to a local charity. Can be a charity of their choosing or the firm could select a charity each week.
#32 – Host a firm open house in the fall for clients and potential clients. A suggestion was to offer the open house three times; in the morning, over lunch and in the evening to accommodate schedules.
#33 – Conduct a daily huddle for 15 minutes for a small operations team. On Fridays, announce "wins for the week".
#34 – Establish a gradual release model; I do, you watch, I do, you help.
#35 – Implement a dress for your day policy with flip flop Friday. Some firms permit shorts and flip flops on Friday during the summer.
#36 – Set up regular meetings with clients and include their bankers and lawyers.
#37 – Conduct firm-wide charity days.
#38 – Provide 2-3 days of bonus vacation and work four 10-hour days between May and December.
#39 – Invite recruits to firm-wide service days.
#40 – Close the office for ½ days on Fridays from April 15 to Labor Day.
#41 – Conduct a photo contest of what staff does on their days off.
#42 – Provide a bonus day off after busy season.
#43 – Provide employee playbooks containing information on each staff member and the results of any personality testing.
#44 – Conduct annual basketball brackets (NCAA) activity and provide gift cards for winners.
#45 – Encourage staff members to bring up problems without solutions.
#46 – Conduct a healthy initiative for 30-days following busy season.
#47 – Provide office lunches and take-home family meals during busy season.
#48 – Conduct a lunch & learn on depression in response to increase in suicide rates.
#49 – Hire an auto mechanic who will come pick up cars for oil changes and routine maintenance.
#50 – Rent a beach or lake house for staff.
#51 – Host a diet/exercise contest during busy season to encourage staff to stay active.
#52 – Host a Wii bowling tournament during bowling season and have the finals of the tournament after busy season ends.
#53 – Have water bottles made with the firm's logo and encourage staff to take pictures and post to the firm's intranet as the bottles travel on vacation, to conferences, etc.
#54 - Provide yoga ball chairs to staff.
#55 – Have a "fun" room in the office with a massage chair, ping pong table, comfortable seating, and television.
#56 – Provide audit awards, providing team members with cash rewards.
#57 – Host a billiards tournament and invite bankers and lawyers.
#58 – Have a birthday prize wheel in the office with gift cards, days off and other fun gifts.
#59 – To go with #58 – have a wheel for those without birthdays with smaller gifts and fun items.
#60 – Have a good cart/better cart that is wheeled around the office with healthy choices and shots of liquor with special treats.
#61 – Implement special awards like unsung hero, rising star, etc.
#62 – Support your local special Olympics by volunteering.
#63 – Survey staff members for their favorite restaurants, interests and hobbies. Use this information to personalize gifts and rewards.
#64 – Host tailgating parties for local team favorites throughout the year.
#65 – Create a firm Superbowl commercial or participate in the social media challenges.
#66 – Bring a ping pong table into the office for fun and stress release.
#67 – Encourage breaks with associated service codes.
#68 – Provide standing desks.
#69 – Provide a Hallmark card station in the office so staff can easily send cards and bring home cards for special occasions.
#70 – Have a perfect return theme song and play the song when someone completes a perfect return.
#71 – Provide sleep pods in the office.
#72 – Make Easter baskets for staff members and host Easter egg hunts for families.
#73 – Give cards to employees and clients for unusual holidays.
#74 – Provide Easter treats for clients.
#75 – At the conclusion of team meetings encourage the sharing of lean ideas and maintain an idea log.
#76 – Host a mini-golf tournament during busy season or as the weather gets nicer.
#77 – At the end of weekly meetings encourage staff members to live by the firm's values. Share how someone on team showed the values during the week.
#78 – For a summer outing have a Goose Chase scavenger hunt in teams. This app (https://www.goosechase.com/) will create videos and photos to share.
#79 – Have a stand up daily huddle sharing good news, work challenges or obstacles, etc. Have these meetings led by someone other than a partner.
#80 – Have the managing partner host monthly coffee conversations with a few members of the staff at a time.
#81 – Participate in the local Toys for Tots program. The Marines will pick up.
#82 – Have your IT person charge $25 for password resets and then raffle off the pot at the annual holiday party.
#83 – Provide staff members with $100 to spend on themselves and give them an hour. When they return to the office, any excess is given back.
#84 – What to do about lost laptops – have a letter put into the person's personnel file with a second offense resulting in termination.
#85 – Connect with the local Autism group and provide a "sensitive" Santa and have staff wrap gifts that are delivered by Santa.
#86 – Ask each staff person to nominate a client to fire on an annual basis.
#87 – Have fun with client awards like neediest client, dumber than dirt client, old school client, etc.
#88 – For Memorial Day have staff pack gifts for our troops.
#89 – Stop billing by the hour and implement value-based billing.
#90 – Provide a gift certificate for the last baby born in the year as they are sometimes ignored.
#91 – Host a "non-profit dash" giving money to staff to give to non-profits.
#92 – Engage someone from Toastmasters for staff training.
#93 – Adopt a woman's shelter and provide with clothing and hygiene products.
#94 – Provide school-like recesses during busy season.
#95 – Match staff member non-profit contributions up to $500 per year.
#96 – Start a book club for staff members to discuss the books read.
#97 – Establish a wildly important firm goal and when it's met, provide a firm-wide outing such as whitewater rafting, a trip to the zoo, etc.
#98 – Call new programs pilot programs instead of initiatives.
#99 – Have the staff visit a local Escape Room as a team building exercise.
#100 – Have ice cream or food trucks visit the firm on a regular basis.
#101 – Provide new hires with a plant tagged "Welcome and Grow With Us".
#102 – Take new hires and their spouses out on the Friday night after they start.
#103 – Decorate cubes/offices for Halloween and have trick or treat parties for families.
#104 – Allow pets to visit the office on a regular (or daily) basis. Consider an office mascot.
#105 – Conduct an ugly sweater contest for the holidays and host a "funny" hat day. Post to social media and solicit voting.
#106 – Host Pi Day on March 14 with pies and card games.
#107 – Take firm pictures all year and have them turned into a firm puzzle as gifts for staff or one oversized puzzle that is done by the staff over a couple of weeks, framed and hung in the office.
#108 – On April 15 and the day prior to the holidays, have hourly giveaways for staff.
#109 – Provide the week between Christmas and New Year's as paid days off.
#110 – Provide boomerang employees with an engraved boomerang.
#111 – Take a picture of each person and do a mashup of all of them.
#112 – Host quarterly happy hours with a theme like a "pedal party".
#113 – Host a painting party.
#114 – Publish a firm cookbook of favorite recipes and share with clients and vendors.
#115 – Host a cook or bake off.
#116 – Have the partner group host a BBQ for the staff on a regular basis.
#117 – Host a meal prep/exchange party before busy season begins.
#118 – invite alumni back for an annual golf outing or other social activity.
#119 – Provide a pot of money for staff caught doing something good.
#120 – Host a fantasy football potluck.
#121 – Establish a fun committee including members from all staff departments and levels.
#122 – Host an evening out at a local cooking school and invite spouses.
#123 – Host an ice cream social with the partners serving ice cream; possibly invite a local pre-school or elementary school.
#124 – Conduct a 50 Ideas sharing session within the firm to generate and improve ideas.
#125 – Host a holiday party in November at a local water park with families invited.
#126 – Take strategic initiatives and set cross-functional teams. Teams should report and host a celebration like a margarita night where folks bring in homemade chip dip.
A question for the group . . . who at the firm coordinates some of these activities? Most firms have a "fun committee" or something similar.