Public Accounting Firm Manager (PAFM)™ Program
Online Certification Application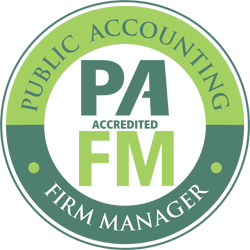 The CPA Firm Management Association has created a process to assess and confirm the expertise level of individuals whose goal it is to attain PAFM Certification by meeting those standards as set forth by the Association. Certification is intended to elevate the status of the Firm Manager profession within the accounting community.
CPAFMA Certification joins a growing trend within accounting and other professions to recognize and create value for those individuals who have achieved a high level of competency within the Firm Accounting Manager community. Competency and skills will be verified by a comprehensive process administered by the CPA Firm Management Association.
If you have already registered, please login with your username (email address) and password below:
Otherwise, click here to start your application registration process.