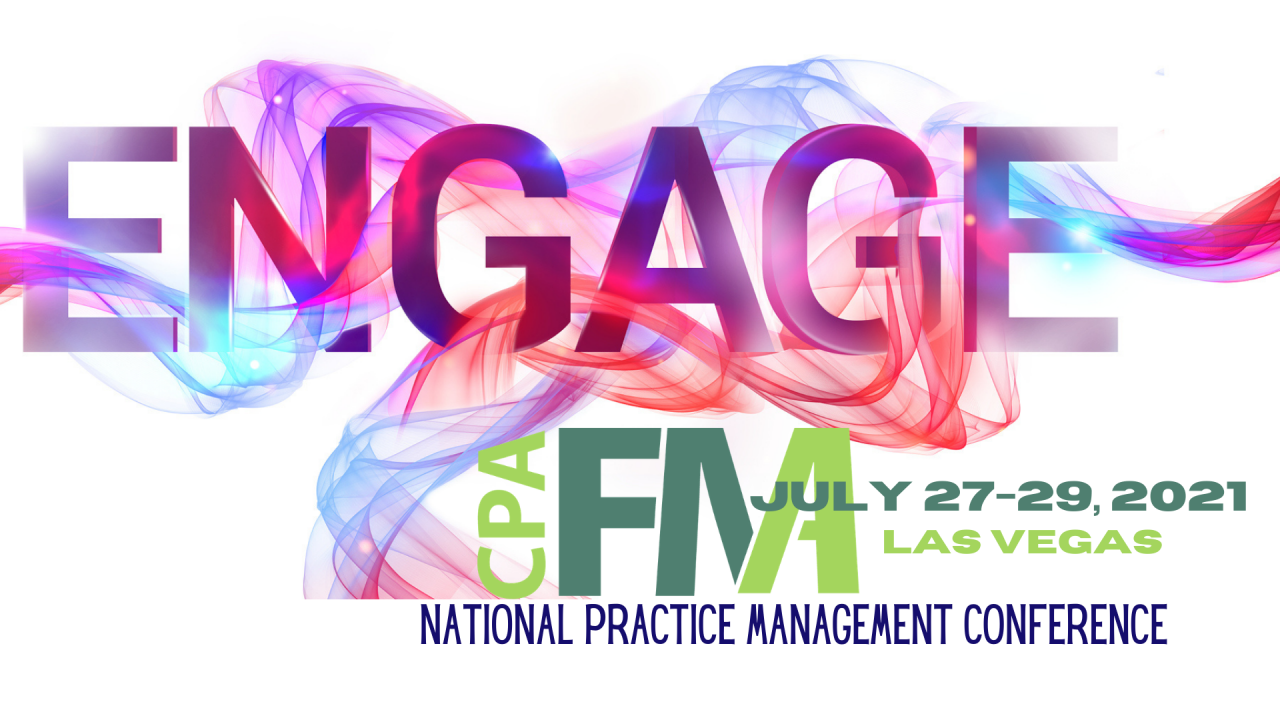 CPAFMA National Practice Management Conference Agenda: Impact Begins with Influence
Are you as excited for
CPAFMA's 2021 National Practice Management Conference
as we are? This year we are partnering with AICPA's ENGAGE, the biggest accounting event of the year and it will be here before you know it,
June 8-10
, and the updated agenda is now available. To reward our early registrants, we're offering a limited-time discount - sign up today and you'll save $100.
ENGAGE brings together ten tracks focused on a variety of next-level programming. Of particular interest to those involved in firm management include:

• CPAFMA's National Practice Management Conference
• Practitioners and TECH+
• Corporate Finance
• Diversity, Equity and Inclusion

From authoritative guidance to the exchange of shared experiences, each session offers invaluable professional opportunities you won't find anywhere else.
Impact begins with influence. What's on the horizon for the profession? That's the multimillion-dollar question, and it's one that our thought leaders think about nonstop.
Tap into their answers, insights and forecast during the CPAFMA National Practice Management Conference. You will learn precise next steps to push your business forward and emerge as an indispensable part of your firm's practice management.
Your advantage during our collaboration with the AICPA ENGAGE:
In-depth coverage of firm managers' top challenges
Take-home deliverables that make your time worthwhile
Conversations with fellow CPAFMA members and accounting firm management peers
We are also excited to announce one of ENGAGE's keynote speakers, Caroline Kennedy. Kennedy is one of the many influencers, experts and thought leaders you'll hear from at ENGAGE 2021.
CPAFMA's can't-miss sessions include:
Leadership and Succession for Firms in the Next New Normal
Building Ideas from the Inside Out to Grow the Way Your Team Wants
Everything Has Changed Including Leadership
Anytime Anywhere Work: A Reality for All in 2020 and a Transformation for Many in 2021
Managing the Health of Your Human Capital
5 Silver Linings in a Pandemic
Skills Needed for Building an Effective CAAS Team
To view CPAFMA's full agenda, click here.
We believe a workplace that is reflective and inclusive of the global communities in which they serve - different people, different cultures, and different perspectives – are greatly positioned to innovatively solve the challenging and complex issues facing clients and the evolving public interest. Attend ENGAGE DEI sessions where you will hear from DEI experts across all areas of focus to learn how your firm or organization can implement or improve initiatives to really move your business forward in this critical area.
Those attending the CPAFMA National Practice Management Conference will have the opportunity to attend DEI sessions where they will learn best practices from others in the profession, understand how to assess progress made in the DE&I space and benchmark your firm or company against other organizations also on the journey, walk-away with resources to help develop or grow your organization's DE&I initiatives and hear what the AICPA can do to help support these initiatives.
In addition, those attending the CPAFMA Conference will have the opportunity to cross-over and attend sessions in the Corporate Finance area of focus that will provide participants with proven strategies which they can implement immediately to transform their organization's finance function and be ready for the "next-normal". Participants will be able to join practitioners who will be leading sessions loaded with fresh thinking and practical application, as the Corporate Finance track provides those looking to cross-over sessions with the vision and the toolkit they need to drive their organization's performance - through operations, data, talent and culture, to create value and deliver a sustainable and profitable finance function.
This focus area will specifically teach participants how the Covid-19 pandemic has affected businesses financially and what steps can be taken to mitigate financial risk, how to coach your team through crisis and establish an environment where innovation and evolution can thrive, and will swap insight on the human impact and planning the organizational design of finance, post Covid-19.
There is something for everyone who manages a CPA firm at the CPAFMA National Practice Management Conference and ENGAGE 2021.

EXHIBIT HALL

In addition, vendors representing the accounting profession's solution providers, latest products, and consultants will be available in-person and virtually to meet for the first time or to continue building those relationships that have proven successful.
If you are interested in exhibiting or sponsoring the CPAFMA National Practice Management Conference and/or ENGAGE, click here for a copy of the prospectus.

REGISTRATION
Registrants do NOT need to make the decision at this point whether they want to attend in-person or virtually. The Conference will be offered as a hybrid event, allowing you to make the decision you and your firm are most comfortable with.
PAFM credential holders save an additional $100.
PCPS, TAX, PFP section members and CITP, PFS, CGMA credential holders save additional $150.
Discounts reflected in section member/credential pricing during checkout.
The following rates are early bird rates and are good thru May 3, 2021.
All-Access Pass
Receive access to both onsite and online sessions four all four days and any pre-conference workshops. Up to 34 CPE Credits available. Includes post-conference virtual events in the fall of 2021 and access to all recorded sessions for up to one year.
Member: $1,895
Nonmember: $2,295
3-Day Pass
Receive access to onsite or online sessions for the three days selected. Up to 25 CPE Credits available. Includes access to selected recorded sessions for up to one year.
Member: $1,495
Nonmember: $1,895
Online 10-Pack Pass
Access to your choice of 10 sessions across four days + keynote sessions. Up to 10-15 CPE Credits available.
Member: $895
There is group pricing available if your firm will be sending 5-9, 10-19 or 20+ people. For more information, reach out groupconference@aicpa-cima.com or 800.634.6780, option 2.

To register, click here.

HOTEL ROOMS
Those attending the 2021 National Practice Management Conference have their choice of two amazing, world-class Vegas hotel choices for ENGAGE 2021. The ARIA Resort is our primary hotel, where the conference will take place, and Park MGM is the second option, close by. You cannot go wrong with either one.
ARIA Resort

3730 South Las Vegas Blvd.
Las Vegas, NV 89158
Reservations: (866) 359-7757
Cutoff: 5/3/21
Special ENGAGE Early Bird Rates: Book by February 28 to receive these new discounted rates (all rates plus taxes)!
6/3/21 - $199
6/4/21 - $199
6/5/21 - $199
6/6/21 - $135
6/7/21 - $199
6/8/21 - $199
6/9/21 - $165
6/10/21 - $135
6/11/21 - $199
Discover a world of illuminating experiences at AAA Five Diamond ARIA Resort and Casino, where world-class dining and five-star service converge with in-room technologies and award-winning rooms and suites. All in the heart of Las Vegas.
Park MGM

3770 Las Vegas Blvd South
Las Vegas, NV 89109
Reservations: (888) 529-4828
Cutoff: 5/3/21
Special ENGAGE Rates: $79 fee per night– Rooms LIMITED so book now!
Rates do not include the reduced $29 resort fee. Resort Fee includes: Property-wide high-speed internet access (public space and in-room), unlimited local and toll free calls, airline boarding pass printing, notary service, daily digital newspaper access and fitness center access for guests 18 years and older.
Steps away from T-Mobile Arena and the Park outdoor entertainment space, Park MGM Las Vegas is in the heart of all there is to do on the Las Vegas Strip. The prime location gives guests the easiest access to the biggest shows that come to Las Vegas.
To book your hotel reservations online, click here.

QUESTIONS
Contact CPAFMA HQ at (937) 222-0030 or info@cpafma.org.