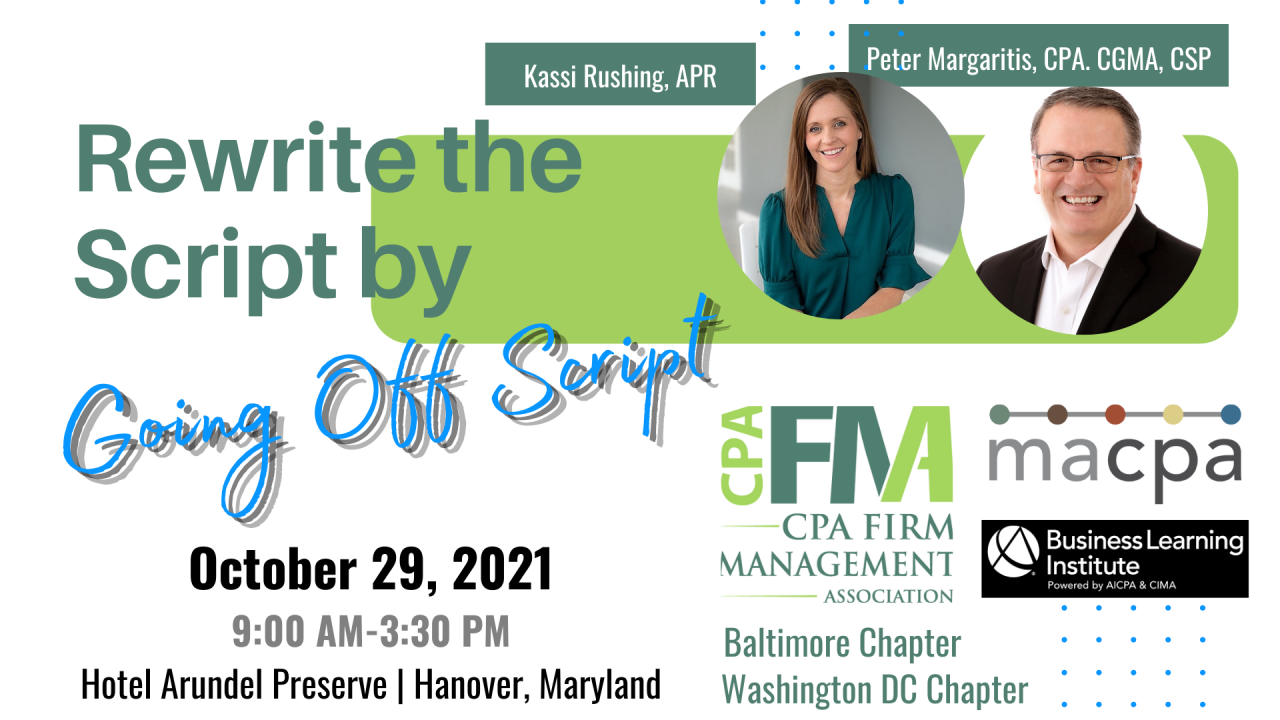 Washington DC and Baltimore Chapters present Rewrite the Script by Going Off Script
October 29, 2021 9:00am - 3:30pm ET
Location Information:
Hotel Arundel Preserve
7795 Arundel Mills Boulevard
Hanover, MD 21076
United States

Cost(s): $89.00 CPAFMA Member / $139.00 CPAFMA Non-Member / $44.50 Bring a Friend
If you are a CPA firm manager, managing partner or HR professional, this in-person event is designed for you. Sponsored by CPAFMA's Washington D.C. Chapter, Baltimore Chapter and MACPA/BLI, sessions have been exclusively developed to help you rewrite the script by actually going off script.
Plus, make it fun and bring a friend or member from your firm for half the price! Social distancing and Covid safety standards will be in place throughout the event.

AGENDA (all times ET)
CPE Credit: 4 Hours
9:00 AM
Registration and Networking Continental Breakfast
9:30 AM
Welcome and Incidentals
10:00 AM
Are You Ready? Anticipating the Future of Work
Kassi Rushing, APR

12:00 PM
Lunch
12:45 PM
Off-Script: Mastering the Art of Business Improv
Peter Margaritis, CPA, CGMA, CSP
2:45 PM
Book Signing, Snacks and Networking
Registrants will receive a copy of "Off Script: Mastering the Art of Business Improv"
3:30 PM
Conclusion

SESSION DESCRIPTIONS
Are You Ready? Anticipating the Future of Work
Course Level: Basic
Field of Study: Business Management & Organization
Credit Hours: Participants can earn up to 2 hours of CPE
Prerequisites: None
Advanced Preparation: None
Delivery Method: Group Live

The future of work is here. Success in this new world requires new mindsets, new skills and asking different questions. In this session, Kassi Rushing, APR, poses five key questions to allow participants to assess their organization's own readiness for this shift while offering insights on emerging trends and ideas for their own preparedness. Each attendee will be able to harness the power of the opportunity and move forward with preparedness and confidence.
Key components of content include an understanding of the fundamental shifts taking place within the workforce, an awareness of the impact of these shifts on recruiting and retention and moving from group "best practices" to individualized leadership of our employees. Participants will learn to determine if their organization's leaders/managers have the skillsets required to lead teams into the future as well as the impacts to diversity, equity and inclusion strategies and how to avoid losing ground in these areas. Those attending will learn how to include their teams in defining new norms and practices and ponder the 3 P's (philosophies, policies, practice) and what must change/evolve going forward.

Learning Objectives:
Recognize the fundamental shifts of workplace models and employee mindsets
Identify the leadership skills that must evolve to ensure organizational success
Drive conversations within your organizations about your readiness for the future of work
Off-Script: Mastering the Art of Business Improv
Course Level: Basic
Field of Study: Business Management & Organization
Credit Hours: Participants can earn up to 2 hours of CPE
Prerequisites: None
Advanced Preparation: None
Delivery Method: Group Live
Going OFF SCRIPT doesn't come naturally to most organizational leaders. Those managing accounting firms naturally want to control the narrative, ensure ideal outcomes, script the conversations, manage the problems, predict the future, and win (negotiations, new business, market share, and more). But what if good leaders could become better leaders by doing the opposite — by letting go of the control, by going "off script" in their conversations and negotiations, by being present instead of rushing to the future, and by collaborating in authentic, empathetic ways?
Learning Objectives - by the end of this course, participants will be able to:
Recognize opportunities to push conversations forward and explore new possibilities
Plan strategies to tackle delicate situations and improve internal and external negotiations
Manage personal and organizational change
Develop and deliver impactful presentations
PRESENTERS
Kassi Rushing, APR is a communication and people strategist. She collaborates with organizations to intentionally craft and clearly articulate the vision for their workplace culture. She specializes in connecting the functions of recruiting, learning and leadership development, communication, and employee engagement to create a powerful, unified story. The result is a place where people want to work, and a company that other businesses want to work with. For the past 18 years, Kassi has been bridging the strategies between business and people. She focuses on developing, executing and measuring initiatives in the areas of: workplace culture, diversity, equity and inclusion, leadership/pipeline development, employee engagement, internal communication and public relations. She previously served as the director of people growth and engagement for a Top 100 public accounting firm and as a corporate communicator focused on employee relations for a multi-billion-dollar financial institution. She also worked as a development consultant for a national women's non-profit organization.
Peter Margaritis, CPA, CGMA, CSP is a keynote speaker, communication strategist, and improv virtuoso. Peter is the author of two other books, Improv Is No Joke: Using Improvisation to Create Positive Results in Leadership and Life and Taking the Numb Out of Numbers: Explaining and Presenting Financial Information with Confidence and Clarity. Peter works with financial professionals to help adapt their mindset and believes that strong communication skills are the most effective way of delivering technical knowledge and building strong business relationships. The underlying premise in everything Peter does is the power of applied improvisation. He focuses his strategies using two powerful words, YES AND along with the concept of listening to understand. This strategy promotes a better connection with customers and clients leading to higher profits and higher retention of employees. Peter has delivered over 500 keynote speeches and workshops in 38 states in the U.S. and across Canada and the Caribbean. His clients range from Fortune 500 companies to family-owned businesses, national, regional & local public accounting firms, and national and state associations. Peter earned his Bachelor's in Business Administration from the University of Kentucky, a Master's Degree in Accountancy from Case Western Reserve University and he is a licensed, non-practicing, CPA in Ohio. He has worked for companies such as Price Waterhouse, Victoria Secret Catalogue (not as a model), two large banking institutions and has managed restaurants in his day. He was also an assistant professor of accounting and taught in the MBA program at THE Ohio Dominican University. Peter is also a blogger, writer, humorist and a podcaster. His podcast, Change Your Mindset can be found on his website, along with iTunes, Stitcher and Google Play. You can visit his website (petermargaritis.com) to watch his videos and read his promotional resources which include a variety of magazine articles, along with his weekly blog.

CPE
CPA Firm Management Association is registered with the National Association of State Board of Accountancy (NASBA) as a sponsor of continuing professional education on the National Registry of CPE Sponsors. State boards of accountancy have the final authority on the acceptance of individual courses for CPE credit. Complaints regarding registered sponsors may be submitted to the National Registry of CPE Sponsors through its website: www.nasbaregistry.org.

COST
$89 per attendee from any member firm
$139 per attendee for Non-members
Non-members are encouraged to join the association prior to October 31 and receive a $100 credit towards their dues and early access to the Black Friday sale for CONNECTIONS2022

Registrants will receive breakfast, snacks, lunch, a copy of "Off Script: Mastering the Art of Business Improv", all course materials as well as a promo code providing the Association's Black Friday discount on CONNECTIONS2022 early. Registrations are transferrable at any time. Refunds, less a $25 processing fee, are provided until 5:00 PM ET on October 22, 2021. For more information regarding refund, complaint and/or program cancellation policies, contact CPAFMA at (937) 222-0030.
LOCATION
Hotel Arundel Preserve
Preserve Town Center
7795 Arundel Mills Boulevard
Hanover, MD 21076
Directions
SPONSORS




The Maryland Association of Certified Public Accountants offers the conferences, major seminars, and unique membership events to move your career and our profession forward, together.

The Business Learning Institute is the strategic learning partner and talent management consultancy for organizations worldwide. BLI is a center facilitating the development and sharing of competencies and strategic knowledge required for leadership in today's rapidly-changing business environment. BLI delivers competency-based curriculum, courses, content, and community to maximize career trajectories and grow intellectual capital for organizational and executive leadership.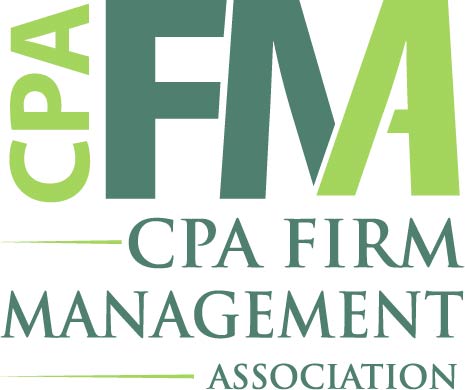 CPA Firm Management Association is leading CPA firm practice management by empowering all CPA firms to thrive while expanding knowledge, sharing experiences, achieving through collaboration, influencing leadership and envision possibilities. This online event is sponsored by the Association's Washington D.C. and Baltimore Chapters.