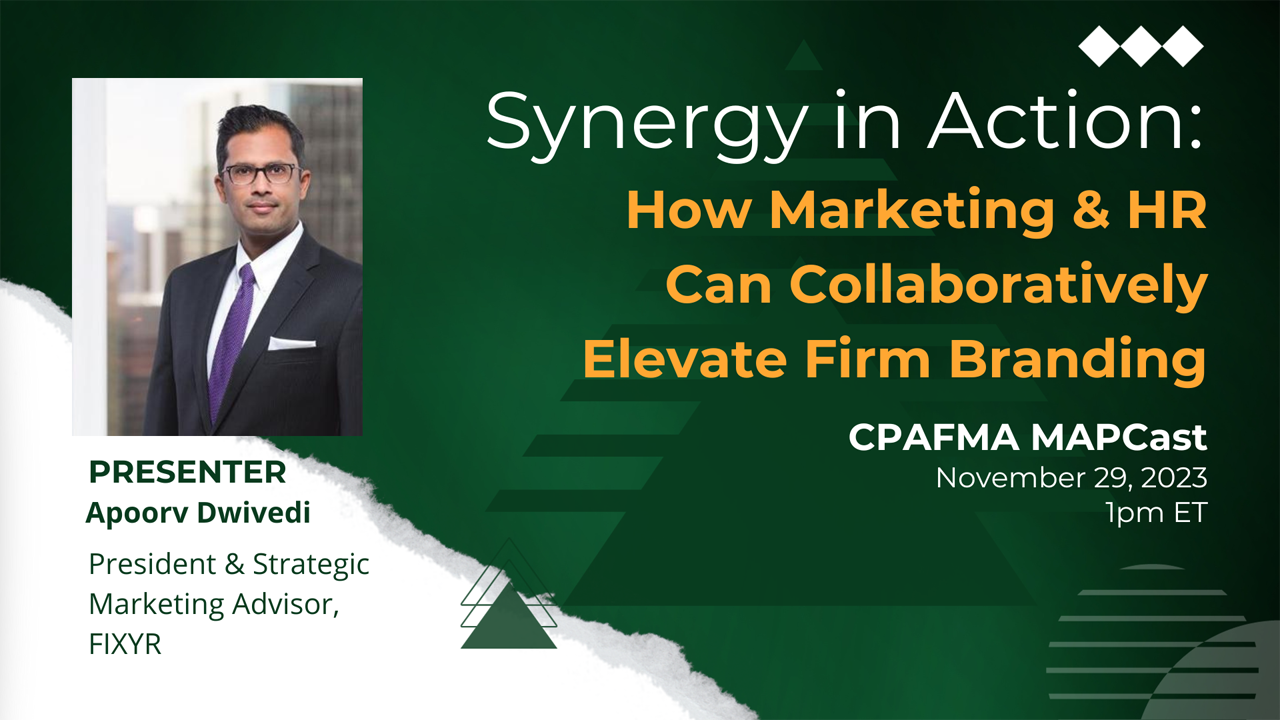 Synergy in Action: How Marketing & HR Can Collaboratively Elevate Firm Branding
November 29, 2023 1:00pm - 2:00pm
Cost(s): $25.00 Member / $40.00 Non-Member
In the world of accounting, a firm's reputation - aka brand - is paramount. However branding is no longer solely the responsibility of the Marketing department; the experiences and voices of your employees play an equally pivotal role. Dive into creating powerful synergy between your Marketing and HR departments. A robust employer brand not only elevates your market presence but also attracts quality talent, ensuring your firm's continued growth and success. Recognize how seamlessly employer branding complements marketing efforts, creating a holistic image that resonates both internally and externally. Discover actionable strategies to harness this collaboration, amplifying both your firm's employer branding, and market positioning in the process.
Learning Objectives:
Understand the role of traditional marketing-led branding and employer branding in modern accounting firms.
Learn best practices for fostering effective collaboration between Marketing and HR departments, ensuring that both teams work in tandem to project a unified brand image.
Delve into strategies that leverage strong employer branding to attract and retain quality talent, enhancing the firm's competitive edge.
Understand the role of employees as brand ambassadors and discover techniques to empower them to positively influence the firm's market reputation.
Gain insights into tools and metrics to evaluate the success of your employer branding initiatives and their direct impact on marketing outcomes and overall firm growth.
Presenter and Moderator Bios
Presenter: Apoorv Dwivedi, PMP CIP, President & Strategic Marketing Advisor, FIXYR
Apoorv Dwivedi is that rare marketer that's been in the trenches and understands what businesses really need. With 20+ years senior marketing and strategy experience at leading high growth financial firms, he's managed over >$40 million in marketing spend, had P&L responsibility and was responsible for recruiting, leading and coaching over 200 marketers, research analysts, communications professionals and business development staff. He has developed and delivered over 50 speaking engagements and workshops across North America.