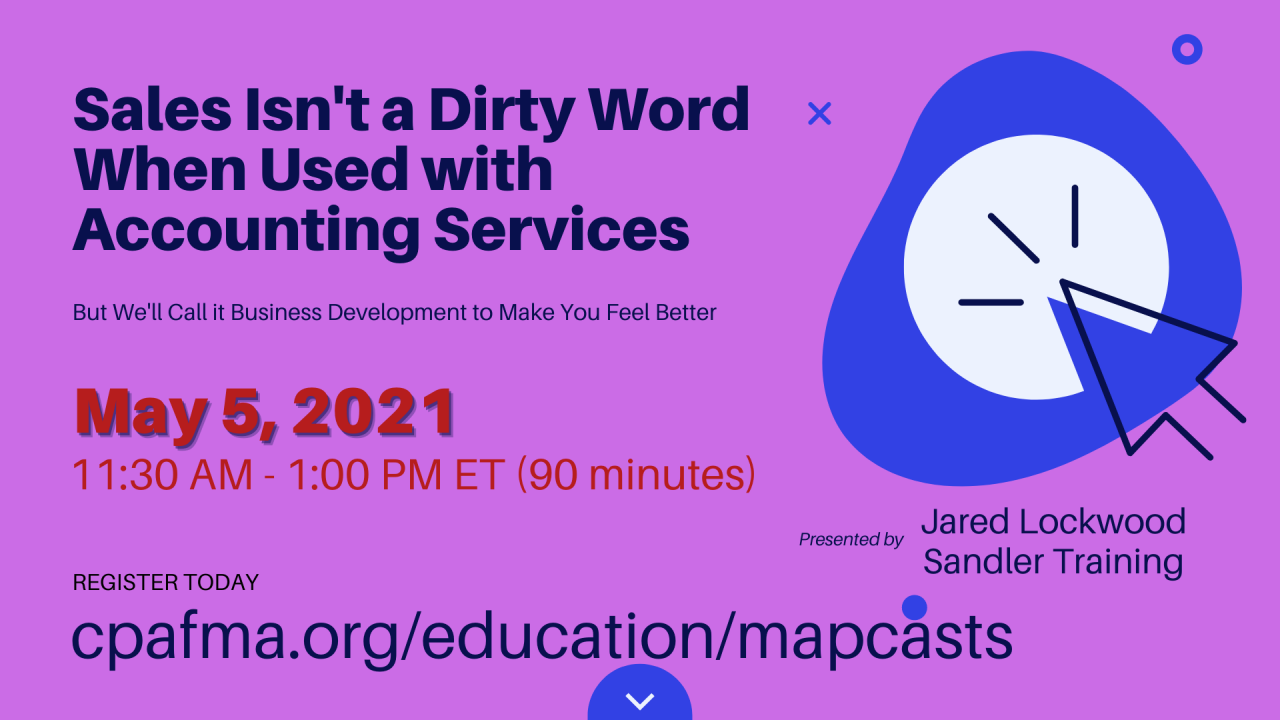 Sales Isn't A Dirty Word When Used with Accounting But We'll Call It Business Development To Make You Feel Better
May 5, 2021 11:30am - 1:00pm
Location Information:
Online

Cost(s): $25.00 CPAFMA Member / $40.00 Non-members
Field of Study: Communications and Marketing
Program Level: Intermediate
CPE Credit: 1.0
Delivery Method: Group Internet-Based

This 90-minute MAPCast for those responsible for the management of a CPA firm and for the continued development of business for the firm will provide insights as to why "sales" should not be seen as a dirty word when used in the accounting profession. Accounting influencers have instilled the term business development into the profession, but in reality, accounting professionals "sell" their services every day. In order to grow your practice, you have to exchange money for services and, this is selling.
This MAPCast is for anyone in a CPA firm who wants to gain new clients, increase billable hours or value-based hours, and take their firm to the next level. Join us as Jared Lockwood with Sandler presents this 90-minute workshop that provides strategies participants will be able to immediately implement to grow their firms in a strategic and intentional manner.
Do any of these take place in your firm?
Do you spend lots of time providing recommendations then never hear back?
Are you frustrated about justifying the price and value of what you do?
Are you losing clients that you should be closing, but you do not find out until it is too late?
Do you continually hear "we need to think about it" and don't know what to do?
Are you tired of "winging it" and want a "business development" system that gives your firm more predictable results?
This workshop outlines the traditional business development approach for professional services and the buying process used by clients in today's environment. You might be familiar with these; you just do not know it until you see them. When these approaches come together, they cause the various problems that can occur between those within the CPA firm and clients.
You will learn an effective system for dealing with the various challenges. Join us to experience a workshop that provides a new found sense of inspiration, optimism, and professionalism.
Speaker Bio
Jared Lockwood is a Principal with Sandler Training and has been with Sandler for more than 11 years. Sandler helps business owners and entrepreneurs who are concerned with the lack of results in their sales efforts, frustrated with longer and longer sales cycles and disappointed because of shrinking margins due to several roadblocks. Jared specializes in working with firms to help foster a better method of communication which helps them to build trust quickly with their prospects and build an efficient, repeatable sales process that gets them to the truth faster, so they can spend time with clients who are serious about doing business and stop chasing those who are not. Jared specializes in sales training, sales management training, client development, and sales force recruiting and hiring. His clients tend to be small to medium-sized local businesses, ranging from solo entrepreneurs to local divisions of global corporations. Jared's goal is to help others find growth in places they never thought it could exist. Too many business professionals walk around with excess baggage and mental programming that is keeping them from really excelling...it is his job to help them face, overcome, and reprogram that head trash. His specialties include sales coaching, training, salesforce motivation, business development manager hiring, professional services client development, speaking engagements, and individual personal growth. Jared graduated with a bachelor's degree from Northern Kentucky University and an MBA from Xavier University.