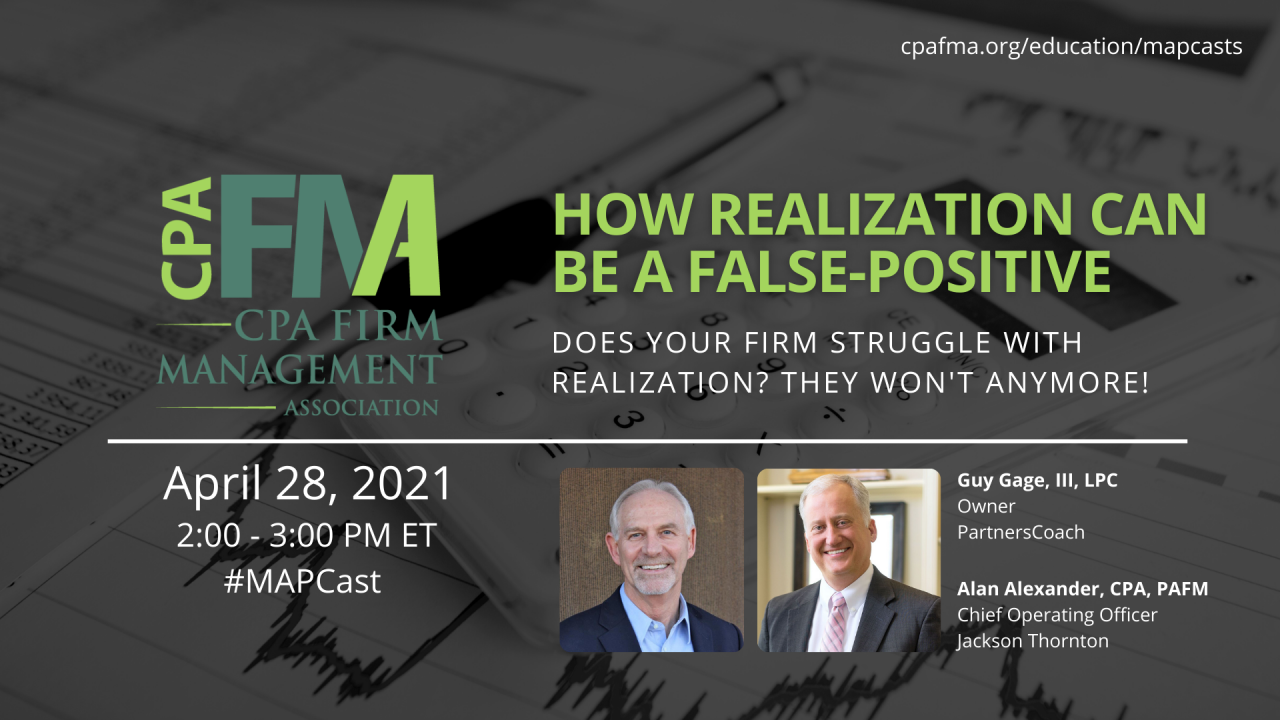 How Realization Can Be a False-Positive
April 28, 2021 2:00pm - 3:02pm
Location Information:
Zoom

Cost(s): $25.00 Members / $40.00 Non-Members
Trending thought leaders today dismiss realization as something non-important, yet so many firms still use the metric as central to their firm's management and compensation.
In this 60-minute MAPCast led by a nationally recognized consultant, Guy Gage of PartnersCoach and Alan Alexander, Chief Operating Officer of Jackson Thornton, participants will hear about an approach that uses realization differently. Instead of it being a measure of economics, it is really a measure of client health. Realization is actually an indicator of the alignment of client mix, processes to do the work, and pricing factors. If realization is high, it means these three elements are aligned. If realization is low, it means there is a misalignment. This MAPCast will include a couple of case studies showing the model and how it breaks through "just talking" or "worrying about it" to actually "doing something about it."
Guy Gage, III, LPC, Owner, PartnersCoach®
Holding a license in counseling with an emphasis on human motivation and performance, Guy has consulted with and coached CPAs and CPA firms for over 25 years. Guy began his career as a therapist and, after a decade, transitioned his practice to concentrate on training and consulting with professional service firms. In 1999, he expanded his private practice further by holding the position of Lead Instructor for The Rainmaker Academy. While in this position, he also served on the staff of a 4-office CPA firm, responsible for recruiting, hiring and developing staff to partner. In July 2009, Guy left both organizations and launched PartnersCoach®, working exclusively with CPAs and CPA firms, focusing on individual and organizational change. When asked about how he likes his new venture, he says, "It fits perfectly. It's what I do; it's who I am."
Alan Alexander, CPA, PAFM, Chief Operating Officer, Jackson Thornton
In his role with the firm, he directs and oversees the Administrative, Financial, Human Resources and Internal Technology areas of the firm. Alan works closely with the managing principal and the firm's executive committee to implement the firm's strategy and vision. Prior to joining Jackson Thornton, Alan's career of 29+ years has seen distinct paths which together give him a unique perspective on public accounting firms. For the first 12 years, Alan was in a tax service role providing compliance and consulting services for both private and public companies. For the next 13 years, he was the COO/CFO of Sellers, Richardson, Holman & West, LLP. Upon Sellers acquisition by RSM US, LLP in May 2015, Alan began working with the RSM US Alliance. He specialized in the areas of tax services, CPA firm operations and profit enhancement. In his role, Alan frequently visited with member firms to assess tax needs, operational issues, and overall practice management.