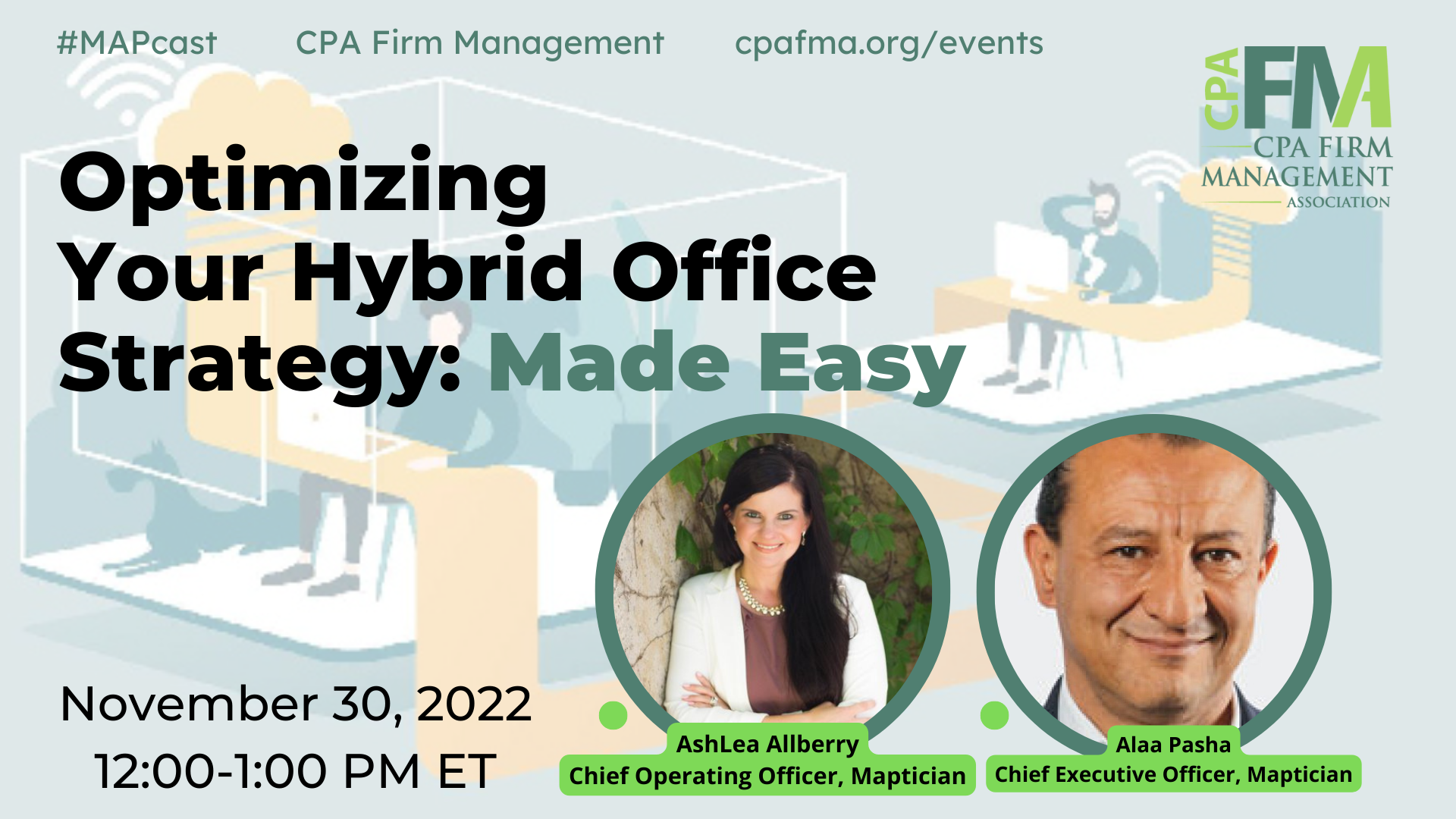 Optimizing Your Hybrid Office Strategy: Made Easy
November 30, 2022 12:00pm - 1:00pm
Cost(s): $25.00 Member / $40.00 Non-Member
CPE: 1 Credit Hour
Field of Study: Business Management & Organization

According to the PWC US Remote Work Survey, 69% of financial services companies expect to allow up to 60% of their staff to work remotely at least one day per week. Prior to the pandemic only 29% of financial services companies would allow such. Hybrid operations are here to stay, but building a hybrid office strategy that is successful, enabling professionals to maximize connection and collaboration in the office while also optimizing cost and space utilization is a challenge. Until now. Maptician is the end-to-end solution for the hybrid advisory firm. Maptician empowers advisory firms to make great decisions about people and space while helping professionals connect and collaborate in the office. The company makes it easy with a simple, user-friendly UX and quick implementation.
Join this 60-minute session with Alaa Pasha, CEO and AshLea Allberry, COO of Maptician to learn about this innovative technology and some of the key benefits powering CPA firms' hybrid strategies including: Scenario planning. Their unprecedent mapping engine puts space planning at your fingertips; Presence. Their integrations will help you automatically see who is in the office or working remotely; Flexible seating, hoteling, reservable seats and more.
Maptician will help you simplify even the most complex structures with just a click of a button.
Conference Room Signage. Live office maps, find room search, and see conference room furnishing details at a glance.
Vital office space usage analytics and reporting from map engine, occupant usage data, and supplemental data sources (leases, departments, etc.) to provide exceptional insight and visibility into capacity trends and cost.
Learning Objectives:
Learn how to manage the hybrid workspace
Receive information on the analytics regarding vital office space and usage
Learn how to develop hybrid strategies to retain your workforce
Speaker Bios:
Alaa Pasha is the CEO of Maptician and has over 25 years of executive experience leading technology companies with a proven track record of revenue growth and market penetration. As a CEO of four successful companies ranging from a software subsidiary of NCR Corporation serving leading enterprise brands globally in the hospitality sector to PE/VC-backed SaaS startups, Alaa has extensive experience of establishing company vision, product market fit, and talent leading to successful exits. Alaa's career history demonstrates outstanding communication and leadership skills as well as extensive experience in business development, P&L management, sales and marketing, and revenue optimization.
AshLea Allberry is the COO of Maptician and is an Information Technology leader. Maptician, Inc. is a software as a service firm and focuses on space and occupancy management as well as the hybrid workplace. Within her role, she leads operations across the business in software implementation, marketing, human resources, investor relations, and general business strategy. Prior to joining Maptician, Inc., AshLea was the Chief Operating Officer for Nanonation, Inc., a digital signage and interactive software firm, based in Lincoln, Nebraska. Additionally, AshLea was part of the executive team with a software services company, Xpanxion, LLC, headquartered in Atlanta, Georgia and Pune, India. As a result of rapid growth of the business model, AshLea was able to co-found a small subsidiary company, which is fully operational today as part of the larger organization.