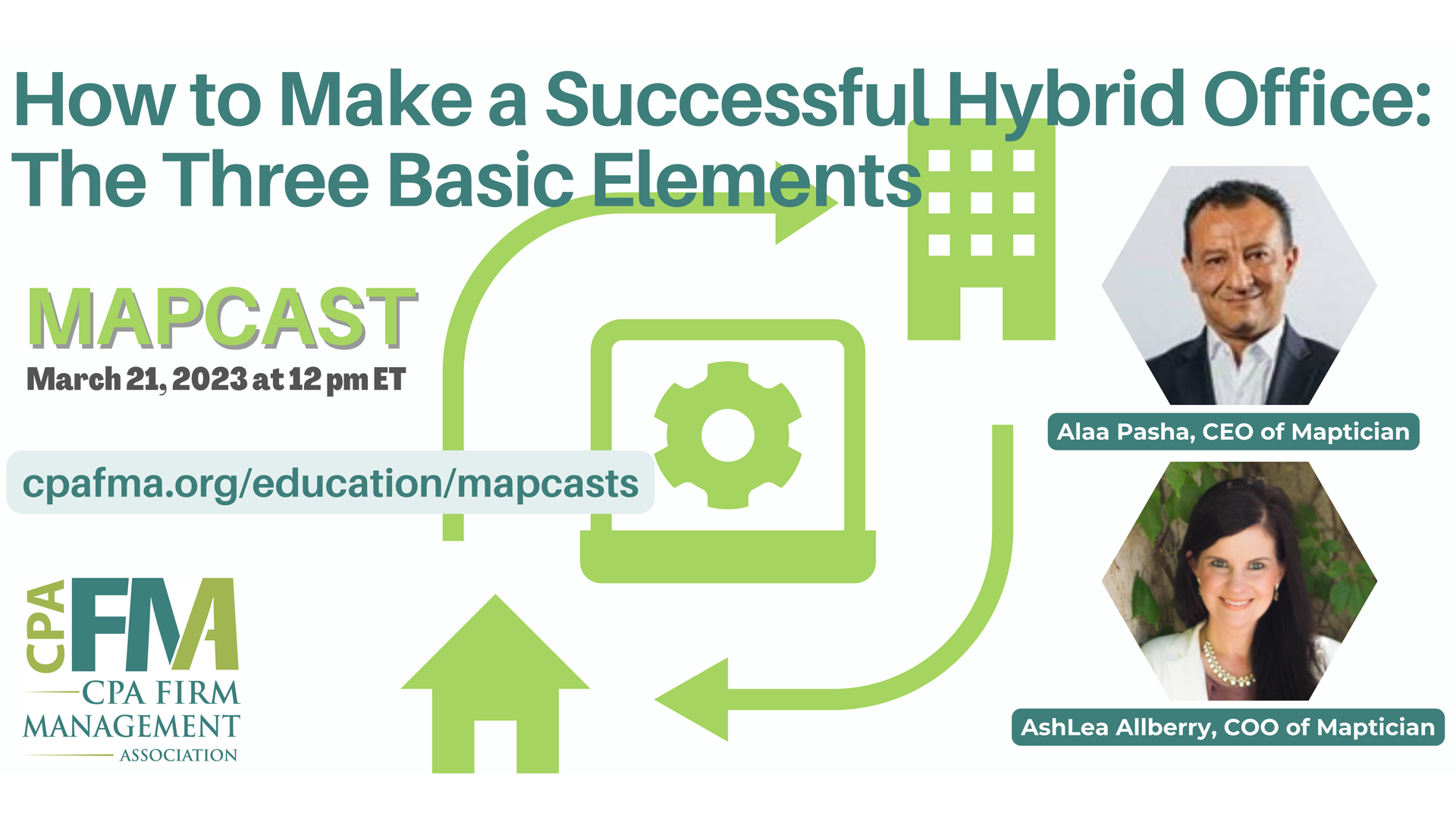 How to Make a Successful Hybrid Office: The Three Basic Elements
March 21, 2023 12:00pm - 1:00pm
Cost(s): $25.00 Member / $40.00 Non-Member
Since the pandemic hit, many accounting and advisory firms have had to rapidly pivot to a new way of working. Now In 2023, many of these firms are looking for a future that balances remote and in-office work. Of the 216 accounting firms that participated in the 2022 ATAWW Survey, 97% allowed their talent to choose where they work, while 94% offer flexibility in when people are working.
In this session, you'll learn hybrid can be successfully and quickly implemented when guided by three simple elements. Join in to explore the strategy for building a successful hybrid office that helps you optimize space and enables accountants to connect and collaborate when they are in the office.
Objectives:
Recognize the business mandates of the hybrid office.
Identify the three simple, fundamental elements of a successful hybrid strategy.
Discover new, innovative technology that enables space optimization and accountant connection.
Employ metrics that will help your firm create hybrid strategies.
Describe case study examples of peer advisory and accounting firm success stories and accountant experiences.
1 CPE Credit Hour
Presenter and Moderator Bios
Presenter: AshLea Allberry

AshLea Allberry, COO of Maptician, has worked with software firms for nearly 15 years, building their operations, and positioning them for growth. Her executive experience working with internal employees and operations, and directly with clients, enables rapid and successful software implementations and long-term client relationships.
AshLea Allberry is COO of Maptician, an innovative cloud technology that is taking the legal industry by storm and which was featured in Bloomberg News. Maptician is helping law firms intelligently transform their offices into continuously space-and-human-optimized operations that meet modern and future business needs.
Additionally, AshLea is Maptician's legal industry expert, a thought leader in space optimization, and spends the majority of her time with Maptician's legal clients. Hybrid office strategy, planning, and software deployment are her focus areas.
Webinars:
IFMA Legal Industry Counsel Webinar "Moving Beyond the Pandemic" - https://www.forrestsolutions.com/events/moving-beyond-the-pandemic/
IFMA Legal Industry Counsel Webinar "Return to Office, Hoteling and Space Planning" - Maptician IFMA LIC Webinar HD 1080p - YouTube
Articles:
Ask Your Managers What They Really Need (cioreview.com)
Nelnet Experiences What It's Like to Go Back to the Office | by AshLea Allberry | Medium
Presenter: Alaa Pasha

Alaa has over 25 years of executive experience leading technology companies with a proven track record of revenue growth and market penetration. As a CEO of four successful companies ranging from a software subsidiary of NCR Corporation serving leading enterprise brands globally in the Hospitality sector to PE/VC-backed SaaS startups, Alaa has a extensive experience of establishing company vision, product market fit, and talent leading to successful exits. Alaa's career history demonstrates outstanding communication and leadership skills as well as extensive experience in business development, P&L management, sales and marketing, and revenue optimization.
Brief career highlights:
CEO, Instant Financial (2018 – 2021)
Instant financial is a leading company in the Earned Wage Access space enabling employees to access a portion of their salary daily resulting in improved financial wellbeing for the staff and higher retention and loyalty to the employer. During my tenure with Instant, we increased the company revenue by 4x and increased the enterprise value to $100M.
CEO, Vivonet (Exited to Infor) (2015-2018)
Led business transformation by focusing on a specific market sector while being a leader in the hospitality industry. Carried out an add-on acquisition to enhance product offering and drive add-on revenue from existing clients. Recruited a new management team and established new processes to drive a high-performance culture which resulted in a successful exit.
CEO, MacromatiX (Exited to TPG) (2008-2013)
Established MacromatiX from a local Australian business with $1.0M ARR to a global business with $14M ARR supporting multi-national clients in 30+ countries resulting in an acquisition by TPG growth capital.
General Manager, Compris – A Subsidiary of NCR Corporation
As a general manager for NCR, Alaa was responsible for P&L, product roadmap, and professional services globally. During my tenure as General Manager for Compris, we consistently maintained growth and profitability and expanded the product footprint globally with prestigious clients in 40+ countries.