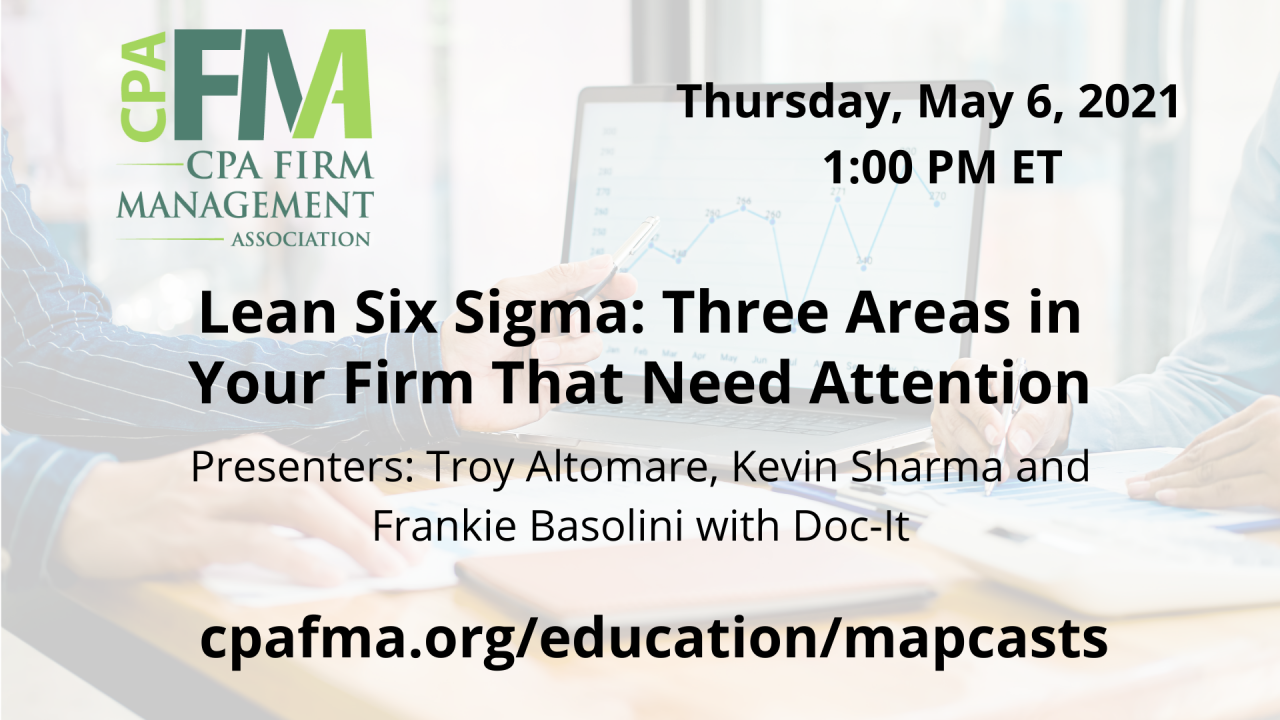 Lean Six Sigma: Three Areas in Your Firm That Need Attention
May 6, 2021 1:00pm - 2:00pm
Location Information:
Online

Cost(s): $25.00 CPAFMA Member / $40.00 CPAFMA Non-Member / $0.00 PAFM
Join Troy, Kevin and Frank from Doc.IT for this interactive MAPCast as they introduce Lean Six Sigma and the tax process. Those interested in a first look a Lean Six Sigma or if you want to incorprate this framework into your firm.
Presenters: Troy Altomare, Kevin Sharma, Frankie Basolini
Troy Altomare- Prior to Doc.It, Troy served as IT Manager for Gregory, Sharer & Stuart, P.A.. In addition to being certified as an LSS Green Belt, Troy has extensive experience with large infrastructure projects, project management, network infrastructure, network switching, server virtualization, server configuration, software optimization, policies and procedures, and IT documentation.
Kevin Sharma- Kevin is the Director of Sales and Marketing at Doc.It. Since 2012, he has helped hundreds of accounting firms improve efficiency, enhance data security and elevate their client service with Doc.It's suite of document management, workflow, PDF Editor, and web portal tools.
Frankie Basolini- Frankie is a Business Development Representative for Doc.It. He provides guidance to firms to help them find the solution that best fits their unique needs.