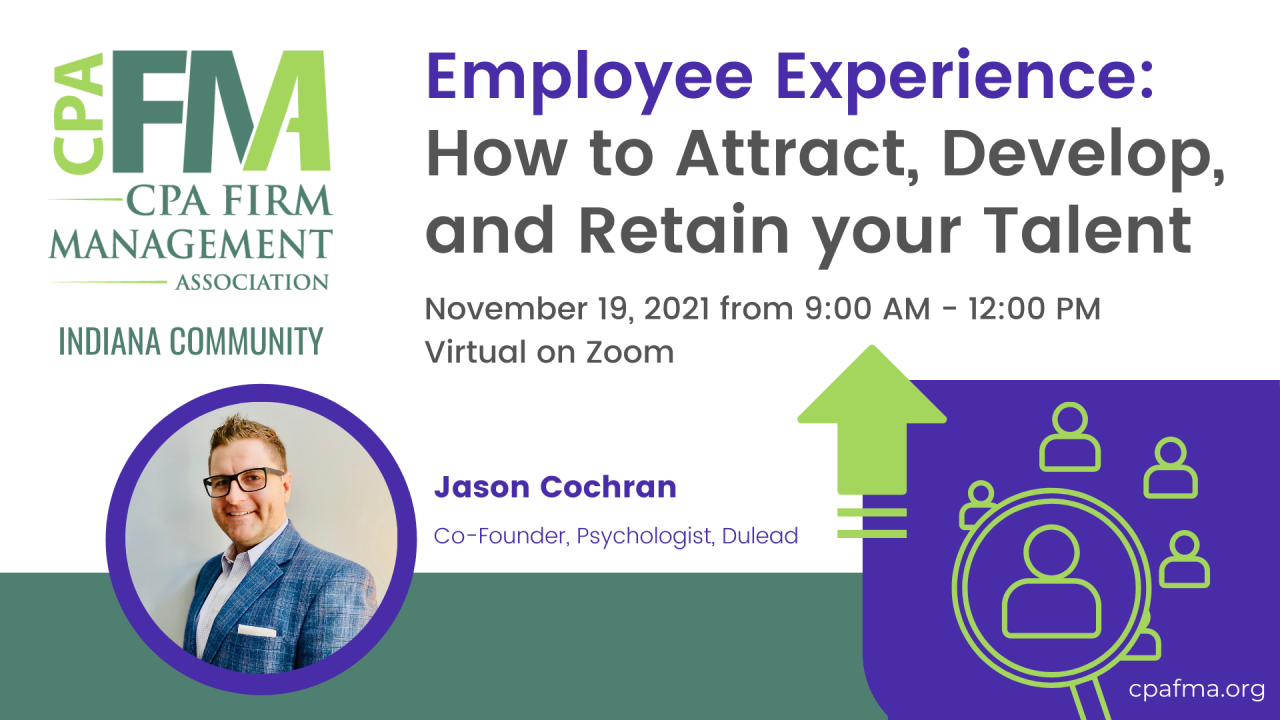 Indiana Chapter: Employee Experience: How to Attract, Develop, and Retain your Talent
November 19, 2021 9:00am - 12:00pm ET
Location Information:
Zoom

Cost(s): $0.00 CPAFMA Member / $45.00 Non-Member / $0.00 First Time Guest to CPAFMA Event
November 19, 2021
9:00 AM - 12:00 PM ET
Zoom

Field of Study: Personnel/Human Resources
Program Level: Basic
CPE Credit: 3 Credit Hours

CPAFMA Indiana Chapter invites you to join its upcoming event, Employee Experience: How to Attract, Develop, and Retain your Talent, presented by Jason Cochran, Co-Founder/Psychologist at Dulead. For years, finding and retaining top talent has been the primary concern of management at accounting firms, and has become even more prevalent following the workforce changes brought upon by the pandemic. In this discussion we will cover why the employee engagement model has failed, the new focus on employee experience, and the 7 core elements necessary to consistently attract, develop, and retain your talent in this new world.
A roundtable session will follow the speaker's presentation.
About the Speaker:
Jason Cochran is a licensed psychologist of 15+ years and the co-founder of technology companies iAspire and Dulead in Indianapolis. Fascinated with the exploration of human potential, Jason has devoted his life to building scalable solutions that attract, develop, and retain talent. He also has hands-on experience working with organizations in education and business leading people, change, process improvement, and digital transformation in consulting roles.
Jason devised the 4 Principles of Connection ™ model (connecting with self, others, role, and organization) which is used to design impactful employee and leadership experiences throughout the employment lifecycle - addressing the innate needs for why people desire meaningful work in their lives. His passion is to help organizations build growth cultures where people elevate to their potential and organizations fulfill their missions in the world.
More recently, he joined top 50 global HR thought leader Ira Wolfe as co-host on the Geeks, Geezers, & Show where they interview global thought leaders concerning the convergence of the wired, tired, and technology and its impact on the future of work, jobs, careers, business, and HR.