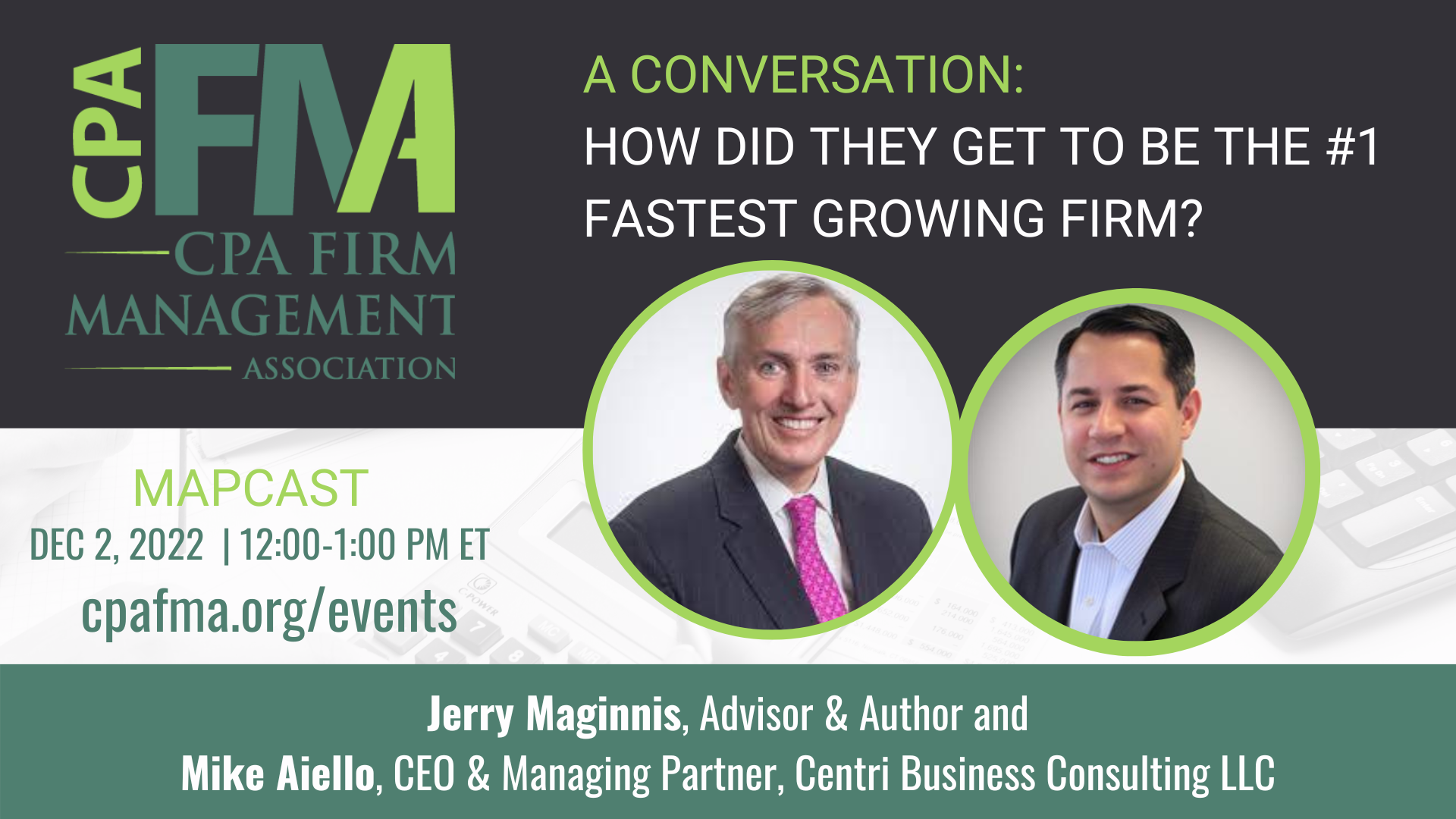 How Did They Get to Be the #1 Fastest Growing Firm?
December 2, 2022 12:00pm - 1:00pm
Cost(s): $25.00 Member / $40.00 Non-Member
Centri's agile mindset and eagerness to bring a wealth of industry backgrounds and diversity of thought to the table has resulted in vast growth and unprecedented success in recent years. In addition, CEO and Managing Partner, Mike Aiello has assembled an advisory board – whose experiences range in areas including professional services, finance and operations, private equity, and human capital – that works closely with Centri internal leadership. They advise on all matters relating to the company's growth, opportunities in the firm's existing business internally and across the industries it serves, and the success of Centri's future direction. Collectively, the Advisory Board members currently serve or have served on Boards of more than 25 public companies or private companies, ranging in size from Fortune 500 Companies to venture capital backed startups. These leaders bring a variety of experiences and proven track records for driving transformative change. This 60-minute MAPCast will feature one of Centri's Advisory Board members facilitating a conversation with Mike Aiello and identifying what it takes to be recognized as Accounting Today's "#1 Fastest Growing Firm" while its CEO is named as a Managing Partner Elite for 2022. Centri has grown vastly in recent years and the firm now includes 150+ employees and numerous clients located nationally and globally, ranging from startups to multi-billion-dollar companies. In 2021, Centri grew its top-line revenue by 87% and the number of employees at the firm by 50% from the year prior. This conversation will provide insights into the paths taken by Centri and its leadership team and how the firm is continually developing its team of professionals to exceed expectations from a client list many firms would be eager to emulate.
Presenter and Moderator Bios
Presenter: Jerry Maginnis, CPA, Author, Advice for a Successful Career in the Accounting Profession
Jerry Maginnis began an advisory relationship with Centri in October 2020, bringing his deep expertise in accounting, advisory and financial services to advise across the firm's practices, with a focus on strategic growth initiatives. In this capacity, he provides advisement to senior management and provides guidance to the already rapid growth of the organization. Previously, Jerry spent 36 years with KPMG in Philadelphia, retiring in September 2015. He served as the Managing Partner of the Firm's Philadelphia Office, which had over 1,100 partners and employees, from 2006 through 2015. Previously, he spent 5 years as the Partner in Charge of the Firm's Audit practice in Pennsylvania, overseeing operations in KPMG's Philadelphia, Harrisburg, and Pittsburgh offices. Since retiring from KPMG, Jerry has joined the Boards of Cohen & Steers Mutual Funds based in New York City. Cohen & Steers is a global investment manager specializing in liquid real assets. He serves as the Chairman of the Audit Committee for the Funds, 9 of which are publicly traded on the New York Stock Exchange. Jerry also serves as a member of the Board of Directors and the Audit Committee Chairman of inTEST Corporation, a publicly held Technology Company (NTSE: INTT). The Company is a global supplier of precision-engineered solutions for use in manufacturing and testing across a wide range of markets including automotive, defense/aerospace, energy, industrial, semiconductor and telecommunications. He is also a Board Member of the Faith in the Future Foundation and continues to serve on the Pennsylvania Early Learning Investment Commission. Jerry also serves as an Executive in Residence at Rowan University in Southern New Jersey where he chairs the University's Accounting Advisory Board. Previously, Jerry served as the President of the 22,000-member Pennsylvania Institute of Certified Public Accountants (PICPA), a member of the Board and Executive Committee of the Greater Philadelphia Chamber of Commerce, a member of the CEO Council for Growth, a member of the Board of Trustees of Gwynedd-Mercy University and Saint Joseph's Preparatory School and on the Boards of the Historical Society of Pennsylvania, the American Institute of Certified Public Accountants (AICPA) Foundation and the Union League of Philadelphia. Jerry received the Father of the Year award from the Philadelphia Chapter of the American Diabetes Association in 2009. In 2011, he received the Distinguished Public Service Award from the PICPA as well as the Breath of Life award from the Cystic Fibrosis Foundation. In 2015, he received the Heart of Philadelphia award from the American Heart Association and in 2017 he received the Medal of Excellence award from Rowan University's Rohrer College of Business. In 2018, Jerry received the Taoiseach Award for exceptional business leadership and compassion from the Irish American Business Chamber & Network of Philadelphia. Jerry graduated with a Bachelor of Science in Accounting from St. Joseph's University and is a Certified Public Accountant.
Presenter: Michael Aiello, CPA, CEO & Managing Partner, Centri Business Consulting LLC
Mike Aiello has more than 19 years of public and private accounting experience. Since June 2011, he has been the Managing Partner of Centri Business Consulting, LLC, a rapidly growing consulting firm that assists public companies with the preparation of periodic reports required to be filed with the Securities and Exchange Commission and compliance with Section 404 of the Sarbanes Oxley Act of 2002. The firm also assists its clients of varying shapes and sizes with IPO Readiness, Technical Accounting Research, Valuation, and Transaction Advisory services. Prior to his time with Centri, he was Capital Gold Corporation's Corporate Controller from 2007 until their sale to Gammon Gold in a $420 million deal in 2011. During this period, the Company had tremendous growth and included continuous due diligence efforts on its acquisitions as well as an uplisting and bell-ringing on the New York Stock Exchange. In this role, his responsibilities also included functioning as Director of Internal Controls as well as Director of Financial Reporting. In this position, he also developed procedures and work paper packages in order to close the books on a timely basis at both the Corporate and International locations. He developed, implemented, and documented all internal controls entity-wide. In addition, he completed testing of the International internal controls and coordinated testing of the corporate internal controls. He also prepared quarterly and annual financial statements for inclusion in the Company's SEC filings of Form 10-Q and Form 10-K. In addition to preparing the aforementioned documents for filing with the SEC, he also prepared proxy filings associated with Annual Meetings as well as Mergers & Acquisitions. Prior to his time with Capital Gold, he was an Assurance Manager with BDO USA, LLP where he managed several large public and private engagements across various industries including Life Sciences, Technology, Manufacturing, and Real Estate, just to name a few. In addition, Mike was the office expert on Section 404 of the Sarbanes Oxley Act of 2002 and managed the office's largest clients. Prior to his time with BDO, Mike was an Audit and Accounting Senior at Maillie, Falconiero & Company. He received a B.S. in Accounting from the Pennsylvania State University and is a Certified Public Accountant. He is a member of both the American and Pennsylvania Institute of Certified Public Accountants.