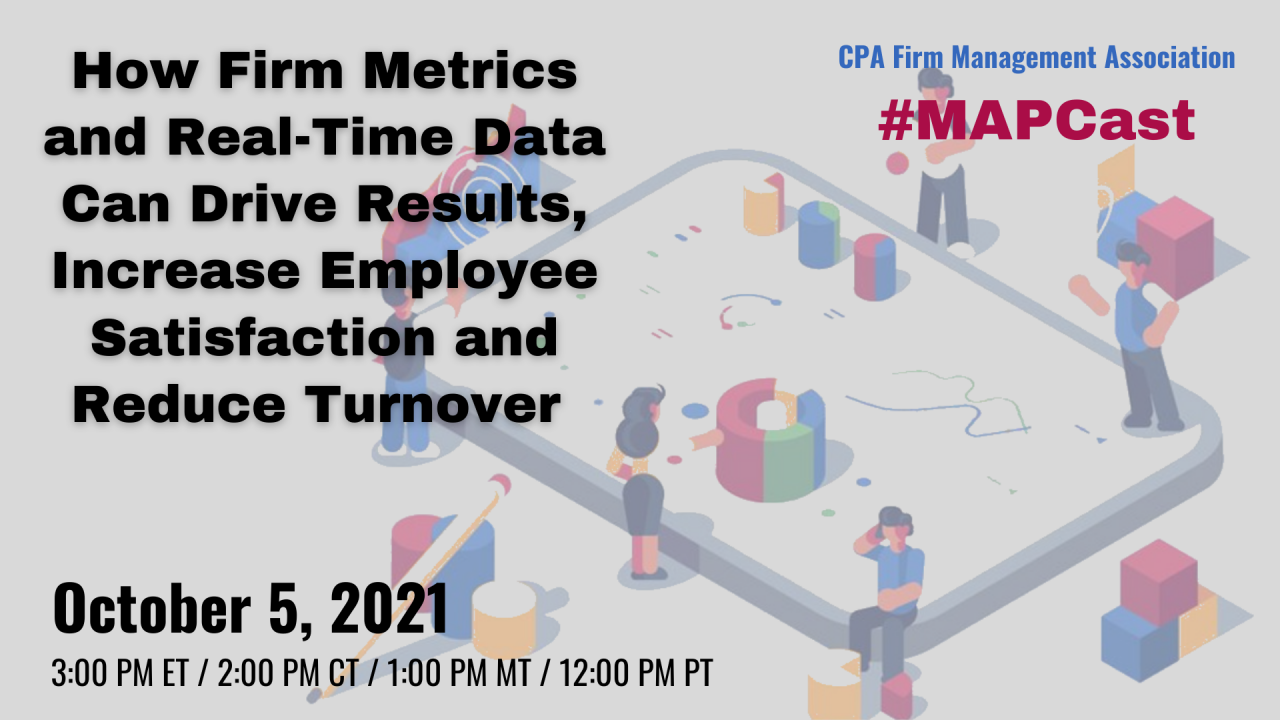 How Firm Metrics and Real-Time Data Can Drive Results, Increase Employee Satisfaction and Reduce Turnover MAPCast
October 5, 2021 3:00pm - 4:00pm
Location Information:
Zoom

Are you feeling challenged by increased staff turnover and high employee burnout due to Covid-19? You're not alone. Many firms are facing unprecedented challenges during these trying times, and need real time data on key employee/firm metrics to drive results, increase employee satisfaction, and grow employee retention.
If you are interested in how you can lighten your workload, and create a more productive and efficient workspace, please join us for our upcoming webinar! Attendees will learn how to employ real time data analytics on key metrics to assist you in having better conversations with your staff, based on data vs. gut feeling.
Register now to learn how INSIGHTS Solution can help your firm navigate these challenges, and stay on top!
About the Speakers:
Since joining Abdo, Eick & Meyers in 1991, Steve McDonald has helped governments, nonprofits, businesses, and individuals throughout Minnesota find their path to success. After graduating from Minot State University, he came right to work for AEM. Under Steve's leadership, Abdo, Eick & Meyers has experienced exceptional growth. With over 30 years of experience, Steve understands how a quality, highly trained staff can take an accounting firm—and its clients—to the next level.
As the Chief Operating Officer for Abdo, Eick & Meyers, LLP, Jana Cinnamon serves her firm's Leadership Team and leads their Human Resources, Firm Administration, and Technology functions. Jana has been with AEM for 9 years, and her priorities are based on attracting, developing, and retaining the very best people to help her firm thrive.