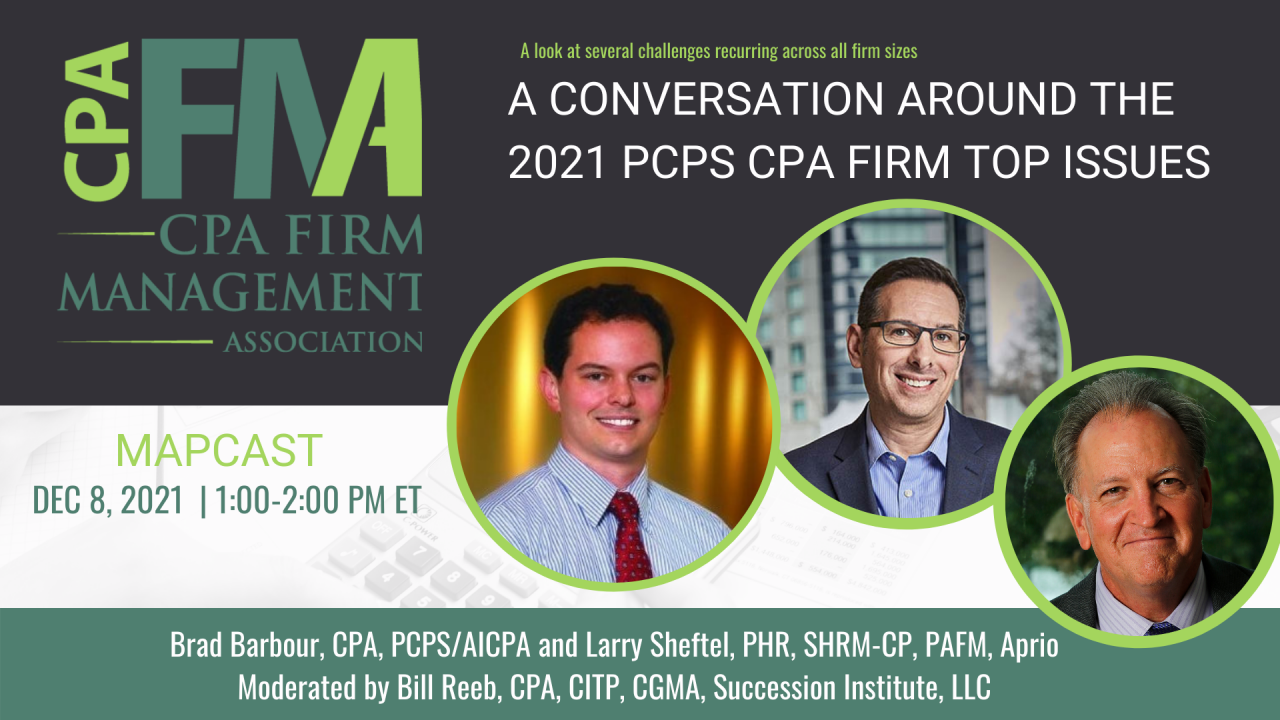 A Conversation Around the 2021 PCPS CPA Firm Top Issues
December 8, 2021 1:00pm - 2:00pm ET
Location Information:
Zoom

Cost(s): $25.00 CPAFMA Member / $40.00 Non-Member / $0.00 PAFM
The 2021 PCPS CPA Firm Top Issues survey revealed several challenges recurring across all firm sizes. This facilitated conversation will help turn many of these challenges into opportunities for your firm by providing insight, experience, and resources available through the CPA Firm Management Association and PCPS. Each year, the survey reveals those issues that consume time for those involved with managing an accounting firm, in some cases hampering growth and preventing firms from realizing their goals and potential. This one-hour MAPCast will discuss those issues recurring across firm sizes and cultures including but not limited to:
Finding and retaining qualified staff
Keeping up with changes and complexity of tax laws
Developing the next generation of firm leadership
Seasonality/layering of deadlines
Keeping up with changes in technology and managing associated costs
Effective staff utilization and management
Managing work/life balance initiatives
Participants will have the opportunity to ask questions, seek examples and hear what can be developed in the way of ideas to change the issues into opportunities.
Presenter Bios:
Brad Barbour, CPA, Manager, Firm Services, AICPA
Brad is current a Manager of Firm Services with the AICPA's Private Companies Practice Session (PCPS) and currently works on the group's Succession Planning Resource Center, AICPA's Small Firms page and the annual Top Issues survey among other projects. Brad joined the AICPA in 2020 after spending 9 years assisting clients in recruiting and retaining top accounting and finance professionals on a temporary and permanent basis. He took a systematic approach to recruiting including observing the corporate culture, in-depth inquiries and his knowledge of accounting and finance principles. Prior to that, Brad spent five years in public accounting, both as an auditor and tax return preparer, gaining insight and knowledge of exactly what firms needed and how best to recruit for certain positions with the firm as well as to certain industries. Brad's experience lends success in the industries of healthcare, manufacturing, public accounting/CPA firms and non-profit.
Larry Sheftel, PHR, SHRM-CP, PAFM, Vice President Human Resources, Aprio
Larry brings almost two decades of human resources and operations experience to Aprio. As Aprio's vice president of human resources, Larry provides a wealth of technical understanding on internal process development. He also helps pioneer and implement new methodologies and ways of thinking within the firm. In his role at Aprio, Larry directly supports employee satisfaction by implementing programs and processes to instill company culture, improve employee engagement and encourage life/work balance. By helping the firm's employees thrive, Larry ensures that Aprio clients get the best service from the best people. Larry has established himself as a thought leader within his professional network and earned top accolades for his work in HR, including being the nominated recipient for the "HR Excellence Award" from the Society of Human Resources Management (SHRM). In addition to serving on the board of directors of CPA Firm Management Association (CPAFMA), Larry has also served as president of the Atlanta Chapter of FMA and has served as the scholarship chairman for SHRM Atlanta. Larry has been recognized for leading efforts for other awards in the workplace, including "Atlanta's Best Places to Work" by the Atlanta Journal Constitution and the Atlanta Business Chronicle.
Bill Reeb, CPA, CITP, CGMA, Chief Executive Officer, Succession Institute, LLC and AICPA Chair 2019-2020
Bill has been consulting for three decades to all sizes of businesses, from Mom and Pop operations to Fortune 100 companies, primarily in the areas of strategy, leadership and change management. He decided to add the credentials of CPA behind his advisory work and became a CPA in 1986. Prior to his life as a CPA, he worked for IBM in sales back in the late 70's. As an entrepreneur, Bill has founded seven small businesses, he had two ladies clothing stores, one retail computer software store, a software development firm, a computer consulting firm, a CPA firm and his current management consulting firm – Succession Institute, LLC. As an award-winning public speaker, Bill lectures throughout the U.S. and Canada to thousands of executives and CPAs each year. In addition, he has been featured on numerous video-taped and live television programs. As an award-winning author, Bill is internationally published with hundreds of articles and columns to his credit. He currently authors a bi-monthly column called "In the Bill-iverse" which is distributed by a number of State CPA Societies as part of their Practice Management e-newsletter. Bill is an active volunteer within his profession, having served in many leadership roles. To name a few, he is past Chair of the Board of the AICPA, is a current and past member of the Board of Directors and Council, and past Commissioner on the National Accreditation Commission. He also serves as an advisory board member to several organizations, including CPAFMA.