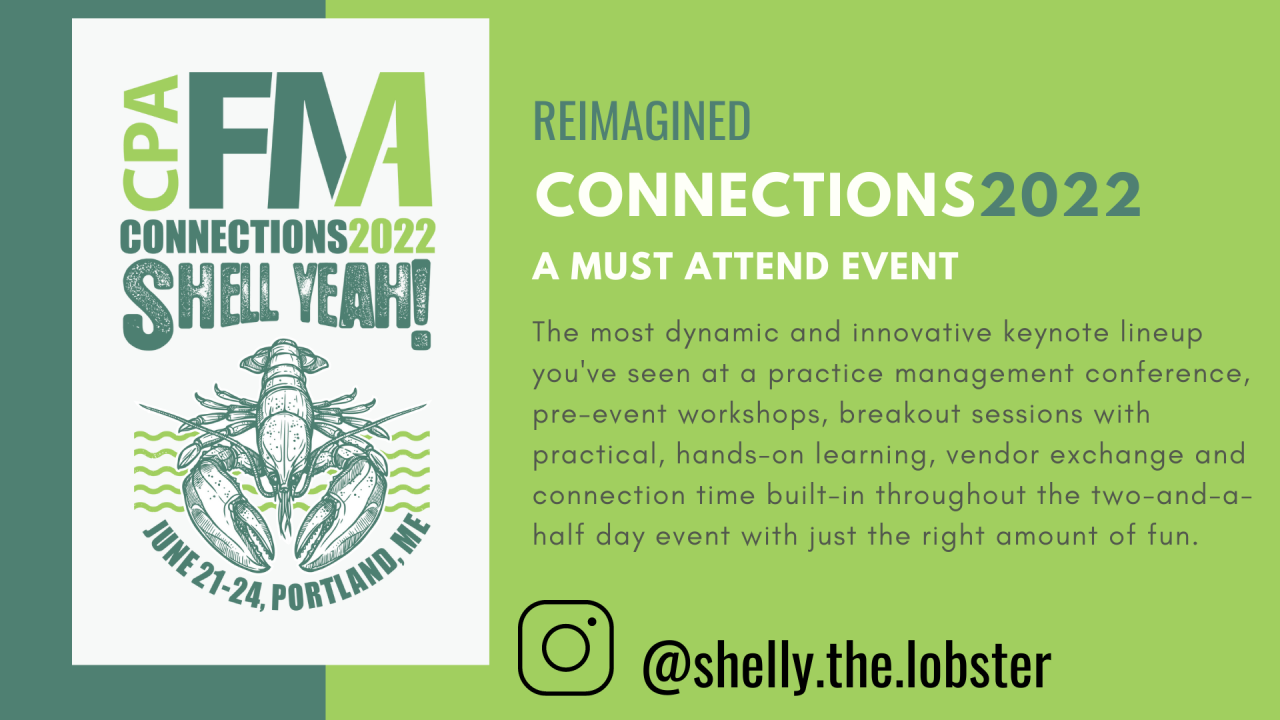 Connections 2022
June 21, 2022 5:00pm - June 24, 2022 11:45am ET
Location Information:
Holiday Inn by the Bay
88 Spring Street
Portland, Ma 04101
United States

CONNECTIONS2022
The transformation of the CPA firm since 2020 has been the result of unforeseen challenges, unprecedented times, unwanted pressures and unwavering dedication by those responsible for firm operations, the organization's culture and most importantly its people. Depending on your personal skill set, resources and leadership style, you either embraced these last two years as challenges and found yourself leading a successful firm or you struggled a bit because you didn't quite have all of the pieces in place in time. At CONNECTIONS2022 we will not only celebrate the tremendous success seen by firm managers throughout the profession as we find that next new normal but we will look at the transformation that is taking place and share what the future holds.
This event will help participants define a clear path for the future by providing each with the latest learning, tools and technological information to keep their firms on the cutting edge while helping them gain knowledge on timely topics and issues. Those attending will be able to explore the emerging technologies, and how the dramatic shifts have changed the way business will be conducted going forward. Each will have the opportunity to uncover new marketing and business development techniques that will help their firms better focus on where they want to go, and how they will get there.
Portland, Maine is where it will take place. The event has been exclusively designed to help participants professionally manage accounting firms of varying sizes. The two-and-a-half day educational extravaganza has been strategically planned to connect those managing firms at different levels - there is something for everyone. The event includes sessions that range from the beginner to the advanced level. From the high-level practice management sessions to the smaller breakout sessions led by firm managers and geared to specific problem-solving and information exchange, CONNECTIONS2022 has sessions for accounting firm managers with one year of experience to COOs and managing partners with over 30 years of experience.
This year, CPAFMA is offering the conference virtually as well for those unable to attend in person. Educational sessions held between June 22 and June 24 will be streamed.

The overall program is designed to enhance the skills of even the most experienced firm manager through a wide variety of top-notch and timely sessions led by professionals and experts from around the country.

You should attend if you are . . .
• responsible for management of an accounting practice.
• responsible for the quality and profitability of your firm.
• supervising and/or training staff in an accounting firm.
• interested in developing a network of outstanding professionals.
• ready to promote your firm in today's marketplace.
• new to the profession or an experienced manager.

In the past, CPAFMA's Conference has attracted professionals representing firms with 4 to 1,000 people. Whether you are new to the profession or someone with a great deal of experience, you will leave Portland with skills and resources you never dreamed possible, ones that will help you and your firm prosper and grow, regardless of what change 2022 and beyond brings.


HOTEL INFORMATION

CONNECTIONS2022 will take place at the Holiday Inn By the Bay in Portland, Maine.
Accommodations
Holiday Inn By the Bay
88 Spring Street
Portland, Maine 04101
(207) 775-2311
Hotel Room Rate: $259 single/double occupancy plus tax (currently 9% subject to change)
Hotel Cutoff Date: May 29, 2022
Check-In Time is 3:00 PM and Check-Out Time is 11:00 AM
Hotel reservations should be made directly with the hotel, letting them know you are with the CPAFMA Conference. Accommodations for overflow hotels have been made. It should be noted that June is peak season in Maine and rooms will go quickly. Participants are encouraged to make hotel reservations early.

Call the hotel at (207) 775-2311 and reference Group Code: CPA or make your reservations online by using this link. Note online hotel booking does not accommodate those who wish to arrive early or stay late to enjoy the Portland area. Contact the hotel by telephone for reservations outside of the conference dates.
Amenities

• Complimentary Wi-Fi access in all public areas and sleeping rooms
• Complimentary parking for overnight guests


FEATURED SPEAKERS INCLUDE

Alex Dorr, Speaker and Vice President of People Evolution, Reality-Based Leadership
Alex envisions a world where work is effortless, and teams are drama-free. Standing side-by-side since 2015 with NY Times Bestselling author and thought leader Cy Wakeman, Alex collaborates with organizations and leaders globally to help them ditch the drama from the workplace, hardwire accountability in their teams and turn excuses into results. Everything that Alex does is designed to help people understand that success and happiness is their natural state as a human being – once the drama is gone. With this core belief, Alex's passion is revealing to those he works with that once people carve away drama from their lives – the same job they found themselves upset with today, becomes the job they look forward to and love tomorrow. As a keynote speaker and trainer, he helps organizations exchange the endless argument for a DIFFERENT workplace reality for a shifted perspective that enables them to start achieving more success and fulfillment in their CURRENT workplace reality. In addition to sharing the Reality-Based philosophy from the stage, Alex is also a quintessential part of Cy Wakeman's content creation and media team spreading the ditch the drama message online. Over the last three years, his expertise, insights and execution have helped to balloon her online community of raving fans from 15,000 to 150,000 followers across platforms. As the host of The Carvery Podcast with Alex Dorr (available on Apple iOS, Google Play and Simplecast), he shares his journey, stories, and insights as a Reality-Based speaker and practicing drama defuser to help others carve away their own drama and start calling those they lead to greatness. Although Alex stands in at 6'6" tall and is commonly told at events, "you look a lot taller up close," he prides himself on being down to earth or better yet, grounded in reality. An advocate for mental minimalism and former professional basketball player, Alex holds a MSc International Business from the University of Derby (England).
William (Bill) Pirolli, CPA/CFF/PFS, CGMA, Partner, DiSanto Priest & Co., CPAs
Over his 40-year career, Bill has served in several volunteer roles within the AICPA and currently serves as chair of the American Institute of CPAs. He is a partner at DiSanto Priest & Co, CPAs, a multi-disciplinary accounting and financial services organization in Warwick, Rhode Island and maintains an active client base and focuses on trusted advisor services such as estate and succession planning, mergers and acquisitions, financing and litigation support, as well as traditional tax, accounting and advisory services. Bill is past president of the Rhode Island Society of CPAs, where he served on numerous committees during 20 years of volunteer service. He was president of the Central RI Chamber of Commerce and served on the board of The Kent County Mental Health organization. Bill earned a Bachelor of Arts in business with a concentration in accounting from Bryant University and recently received the AICPA Sustained Contribution Award for 20 years of continued volunteer service to the profession.
William (Bill) Reeb, CPA, CITP, CGMA, Chief Executive Officer, Succession Institute, LLC
Bill has been consulting for three decades to all sizes of businesses, from Mom and Pop operations to Fortune 100 companies, primarily in the areas of strategy, leadership and change management. He decided to add the credentials of CPA behind his advisory work and became a CPA in 1986. Prior to his life as a CPA, he worked for IBM in sales back in the late 70's. As an entrepreneur, Bill has founded seven small businesses, he had two ladies clothing stores, one retail computer software store, a software development firm, a computer consulting firm, a CPA firm and his current management consulting firm – Succession Institute, LLC. As an award-winning public speaker, Bill lectures throughout the U.S. and Canada to thousands of executives and CPAs each year. Besides being published by various magazines, journals and newspapers, Bill and his partner, Dom Cingoranelli, have co-authored two books on Succession titled, Securing the Future: Building Your Firm's Succession Plan with its companion field guide called, Securing the Future: Implementing Your Firm's Succession Plan. He and his partner also co-authored the Succession Resource Center website materials for PCPS in 2008 and the fourth edition of their consulting book called, Becoming a Trusted Business Advisor, How to Add Value, Improve Client Loyalty, and Increase Profits. Finally, Bill's newest book is titled, The Overachiever's Guide to Getting Unstuck: Replan, Reprioritize, Reaffirm. All of their books have been published by the American Institute of Certified Public Accountants (the AICPA). Bill is an active volunteer within his profession, having served in many leadership roles. To name a few, he is past Chair of the Board of the AICPA, is a current and past member of the Board of Directors and Council, and past Commissioner on the National Accreditation Commission. He also serves as an advisory board member to several organizations, including CPAFMA. Bill has been honored by being named as a CPA Ambassador, was presented the Pathfinder Award and served as the Texas Vision Delegate. Accounting Today has recognized his efforts by listing him as one of the Top 100 Most Influential CPAs, CPA Magazine has named him as one of the Top 100 Most Influential Practitioners, and Inside Public Accounting has listed him as one of the top 10 most recommended CPA firm consultants.
Jennifer Wilson, Co-Founder and Partner, ConvergenceCoaching, LLC

Jennifer is co-founder and partner of ConvergenceCoaching, LLC, a national consulting firm dedicated to developing leaders and transforming teams. Jennifer's ultimate goal is to make a transformational difference in the lives of her clients and in their businesses. Named as one of Accounting Today's 100 Most Influential People in Accounting, INSIDE Public Accounting's Top 10 Most Recommended Consultants, and CPA Practice Advisor's Top 25 Thought Leaders and Most Powerful Women in Accounting, Jennifer has worked in both the public accounting and industry sectors before cofounding ConvergenceCoaching, LLC. As a partner for the top ten accounting firm, BDO USA, Jennifer ran the National Financial Solutions Group practice with nearly 100 consultants providing financial systems selection, implementation, and support services to clients. Jennifer is a member of the CPA Firm Management Association, Association for Accounting Marketing (AAM), American Marketing Association, American Institute of CPAs (AICPA), Society for Human Resource Management (SHRM), and International Coach Federation. Jennifer is a member of the New Horizon Group, CPA Consultants' Alliance, and CPA Practice Advisor Thought Leaders, all forums for leading consultants to the accounting profession. She is a regular guest columnist and blogger for Accounting Today, Accounting Tomorrow, and AICPA CPA Insider with many recently published articles on leadership, the next generation firm, partner development, talent management, and business development. She is a nationally recognized speaker, teacher, and facilitator delivering leadership and management programs to associations, state societies, and firms.
John Garrett, Corporate Culture Catalyst

John Garrett is a nationally recognized speaker and emcee who draws on his condition as a recovering Big Four CPA to deliver messages that hit home with audiences. This professional member of the National Speakers Association is on a mission to shatter the definition of "stereotypical professional" and in the meantime, show organizations how to create a stronger culture that attracts and then retains top talent. His book, What's Your "And"?: Unlock the Person Within the Professional, was released in 2020 by Page Two Publishing. John's clean, customized performances and observations of everyday Corporate America help teams break down barriers, foster unity, and strengthen bonds. With over 2,000 performances, he consistently gets rave reviews from conference planners and organization leaders alike for his lasting impact on morale and culture. Recognizing how consumed people are in their jobs, the hilarity of everyday Corporate America and how humor transforms the morale and camaraderie of those around him, John left his cubicle to speak at events across the country. Since then, John has performed for leading companies ranging from "Big Four" accounting firms to banks to technology companies to professional associations seeking an outside-of-the-box way to engage their audiences. Tracks from his comedy album, "Outside the Box," can be heard on several channels on SiriusXM Satellite Radio and Pandora. He's also been heard on The Bob & Tom Radio Network, featured in the New York Times, seen in concert with Train, opened for Louie Anderson at resort casinos and has been invited to perform at several comedy festivals. He's even written two Emmy-nominated awards shows!

Sam Allred, Director, Upstream Academy

Sam is a director at Upstream Academy, an international association of CPA firms, and was the central figure in the development of a consulting methodology now practiced by hundreds of CPA firms and consulting organizations around the country. Sam is also the founder of LeaderSkills Institute which develops professional training materials to help CPA firms teach and promote leadership skills internally. Sam has been regularly recognized as one of the major influencers of the accounting profession and has been listed for the past three years as one of "IPA Most Recommended Consultants." His hobbies include spending time with his family, fly fishing and golf. Sam and his wife Marlene have seven children. Visit our fun stuff page to see proof of some of his fish stories. Sam interacts with hundreds of CPA firms around the world every year via conferences, partner retreats, management presentations and training sessions. He speaks and writes extensively both in the U.S. and abroad. In high demand as a facilitator for CPA firm retreats, Sam energetically and creatively engages all of the partners in the discussion, using proven processes and their firm's strengths to successfully navigate challenges the firm may face. He is viewed as one of the top strategic thinkers in the profession.

SCHEDULE (subject to change)

Monday, June 20, 2022

8:30 AM-5:00 PM - CPAFMA Leadership Institute Day *

Tuesday, June 21, 2022

1:00-5:00 PM - Optional Pre-Conference Studio: Talent in the Next Better, How is it Going?
3:30-5:00 PM - Optional Managing Partner Conversation: A Casual Conversation with Three Former AICPA Chairs (managing partners only)
5:30-7:00 PM - Wicked Celebration with our Vendahs

Wednesday, June 22, 2022

6:00 AM - Fitness Walk to the Hahbah with Right Networks
7:00 AM-6:00 PM - CONNECTIONS2022 Registration
7:15-8:00 AM - Connection Breakfast with Our Vendahs
8:00-8:15 AM - Welcome and Early Lobstah Prizes
8:15-9:45 AM - Ditching the Drama, Moving Teams Beyond Ego and Turning Excuses into Results
9:45-10:45 AM - 10 in 60 Vendah Connections
11:00-12:15 PM - (A) A Deeper Dive into Turning Excuses into Results
11:00-12:15 PM - (B) How Marketing and HR Should be Working Better to Increase the Employer Brand
12:30-1:30 PM - Lunch and Learns with Abdo Compass and Once Accounting
1:40-2:55 PM - CPA Technology-Optimization and Innovation
2:55-3:10 PM - Connecting with Our Vendahs
3:10-4:10 PM - (D) The Evolution of the Firm Manager Role
3:10-4:10 PM - (E) Succession Planning for the Firm Manager
3:10-4:10 PM - (F) How the Firm Manager Role Transforms with Firm Growth
4:15-5:30 PM - The State of Accountability in CPA Firms
6:00-9:00 PM - Lobstah Bake: A Wicked Good Time

Thursday, June 23, 2022

6:00 AM - Fitness Walk to the Hahbah with Right Networks
7:00 AM-5:00 PM - CONNECTIONS2022 Registration
7:30-8:30 AM - Connection Breakfast with Our Vendahs
8:40-10:00 AM - The Remote and Blended Workforce: What Does It Look Like a Year Later?
10:00-10:30 AM - Connecting with Our Vendahs
10:30-11:45 AM - (F) Let's Talk - Making Every Conversation Count
10:30-11:45 AM - (G) How Leaders Shape Culture to Strategy
10:30-11:45 AM - (H) New Recruiting Practices to Improve Your Talent Pool
11:45 AM-1:15 PM - LUNCH WITH YOUR STUDIO EXCHANGE (<=25 People, 26-50 People, 51-75 People, 76-120 People, 121+ People)
1:30-2:45 PM - (I) Boost Your Firm's Profitability Without Hiring
1:30-2:45 PM - (J) Firm Structure, Roles and Responsibilities
1:30-2:45 PM - (K) Burn Out - There is an Escape Route
2:45-3:15 PM - Connecting with Our Vendahs
3:15-4:45 PM - Shatter the Stereotype While Prioritizing Culture
4:45-5:30 PM - A Wicked Recognition of the Firm Manager
8:30-10:30 PM - Sponsored Night Cap at the Cumberland Club With Shelly Leading the Way
Friday, June 24, 2022
7:00 AM-12:00 PM - CONNECTIONS2022 Registration
8:20-9:05 AM - Final Connection with Our Vendahs
9:15-10:00 AM - Celebrating the Role of the Firm Manager and the Association: Where Do We Go from Here?
10:00-11:30 AM - Managing a CPA Firm Today: What Has Really Changed?
11:30-11:45 AM - Shell Yeah! Join Shelly for the Top 10 Reasons to Join Us in 2023
* Separate program

REGISTRATION DETAILS

Fees
Full Conference Member registration fee ($1895) includes all sessions, conference materials, two continental breakfasts, one full breakfast, refreshment breaks, two lunches, two wicked celebrations, a happy hour and the lobster bank event. Hotel accommodations and travel expenses are not included.
Full Conference Non-Member registration fee ($2295) includes all sessions, conference materials, two continental breakfasts, one full breakfast, refreshment breaks, two lunches, two wicked celebrations, a happy hour and the lobster bank event. Hotel accommodations and travel expenses are not included.
Pre-Conference Workshop registration fee ($199) includes the workshop, course materials, lunch, refreshment break and the wicked celebration on Tuesday, June 21 (should the registrant not be registered for the full conference).
Virtual Participation registration fees are the same as Full Conference Member or Non-Member fees above and include all sessions June 22-24.
Discounted Fees

- There is a $100 discount for those holding the PAFM credential.
For information on vendor and sponsor fees, please see the exhibitor/sponsor prospectus.
Cancellation Policy
You may cancel without penalty if written cancellation requests are received by May 2, 2022. Due to financial obligations incurred by the CPAFMA, a credit voucher less 50% of the registration fee will be issued for written requests received between May 3 and May 27, 2022. No refunds or credits will be issued on cancellation requests received after May 27, 2022. Registrations are transferrable without penalty. For further information, contact CPAFMA at info@cpafma.org or (937) 222-0030.

Payment

The Association accepts credit cards or checks, made payable to the CPA Firm Management Association, for conference registration payments.
Registration Desk
The CPAFMA Registration Desk will be open during the following times, local time:

Tuesday, June 21 | Noon – 5:30 p.m.
Wednesday, June 22 | 7:00 a.m. – 6:00 p.m.
Thursday, June 23 | 7:00 a.m. – 5:00 p.m.
Friday, June 24 | 7:00 a.m. – 12:00 p.m.
Confirmations
Each registrant will receive a written confirmation with their registration. Badges and other materials will be available at the registration desk.
Special Assistance
CPAFMA's staff will be happy to assist registrants with any special needs, including dietary needs or restrictions. If special assistance is needed, please notify CPAFMA in writing prior to Monday, June 13, 2022, so that your needs can be properly accommodated.
Attire
Conference participants should wear casual and comfortable attire. Please be sure to bring a sweater or light jacket as meeting room temperatures tend to vary. The CPAFMA lobster bake event will be casual and comfortable attire (note it does get cool on the water and on the island in the evening).
How to Register
There are several registration options:

Online Option - You may submit your registration form through this online event. On this site, you will find a complete registration form that will process your registration with a credit card payment via a secure server.
Mail Option – If you prefer to mail a registration with a check, complete the registration form included online, print the form and mail it with your check to: CPAFMA, 7946 Clyo Road, Centerville, OH 45459.
ACH - If you prefer to ACH payment for your registration, contact CPAFMA HQ and an invoice with ACH instructions will be sent.

PORTLAND, MAINE

CONNECTIONS2022 will take place at the Holiday Inn By the Bay in Portland, Maine.
Getting There
The hotel is approximately 4 miles from the Portland International Jetport.
The hotel is approximately 105 miles (1 hour and 50 minutes) from Boston's Logan International Airport
What Is There to Do?

Looking for things to do? The diverse coastal area is centrally located, where nearby regions welcome visitors with their own distinctive Maine experiences. It's all at your fingertips - visit the Convention and Visitor's Bureau.

SPONSORS
Opportunities are still available to be a sponsor of CONNECTIONS2022 events and activities and to display your products and/or services through the event. Contact CPAFMA HQ at 937-222-0030 or click here for more information.


RECOMMENDED CPE HOURS OFFERED

Conference participants can earn up to 18.5 CPE credits in a variety of fields of study plus any credits offered for pre-conference workshops.
The CPA Firm Management Association is registered with the National Association of State Boards of Accountancy (NASBA) as a sponsor of continuing professional education on the National Registry of CPE Sponsors. State boards of accountancy have final authority on the acceptance of individual courses for CPE credit. Complaints regarding registered sponsors may be addressed to the National Registry of CPE Sponsors through its website: www.learningmarket.org. No pre-requisites and/or advance preparation is required for this program. The delivery method is Group-Live.
The use of this seal is not an endorsement by the HR Certification Institute of the quality of the program. It means that this program has met the HR Certification Institute's criteria to be pre-approved for recertification credit.
Those participants with the Public Accounting Firm Manager (PAFM) designation can earn up to 18.5 continuing education credits by attending sessions CONNECTIONS2022 in addition to credits for any pre-conference workshops.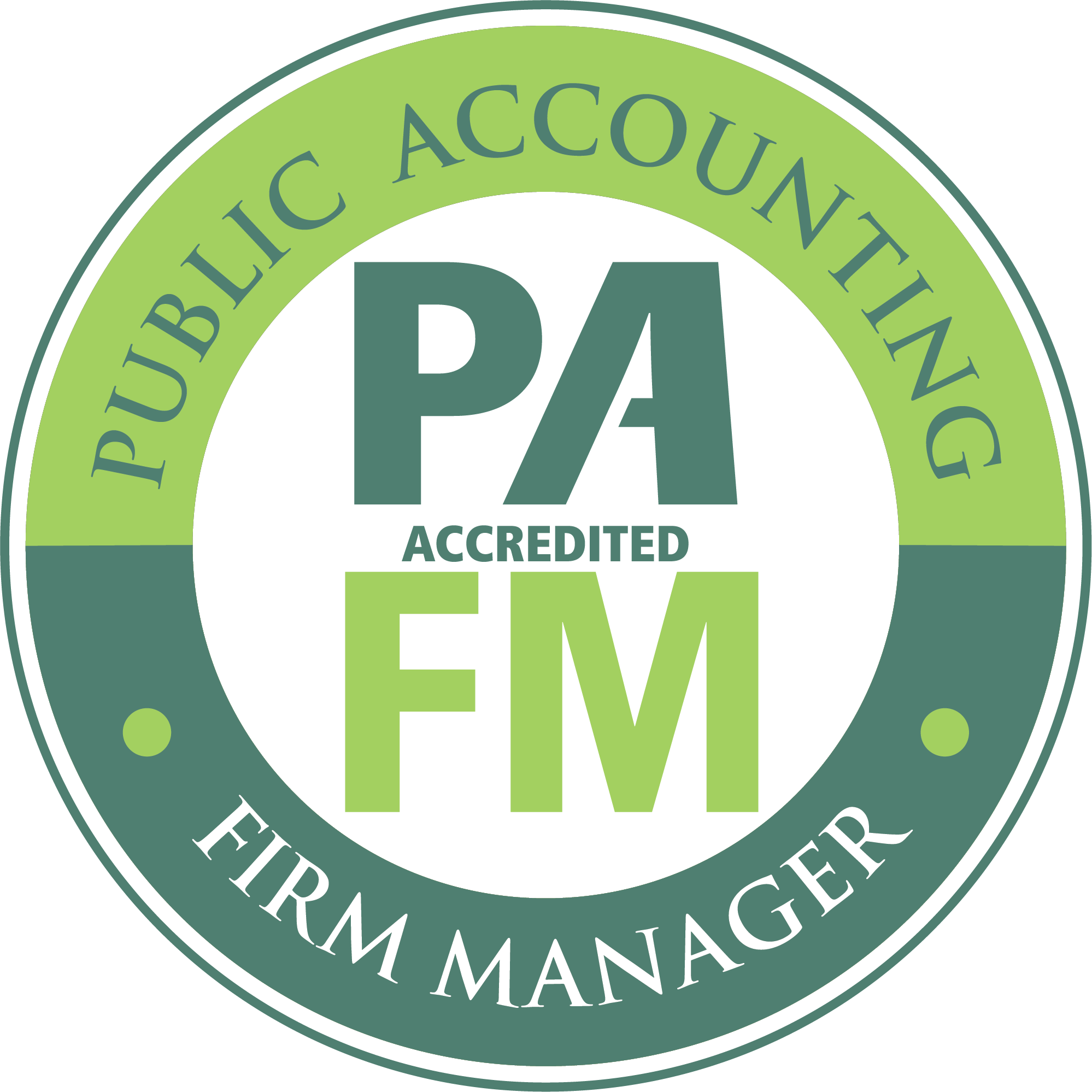 CONTACT US
If you have any questions regarding registration, refund, complaint and program cancellation policies, contact us at:
CPAFMA HQ
7946 Clyo Road, Suite A
Centerville, OH 45459
(937) 222-0030 | info@cpafma.org