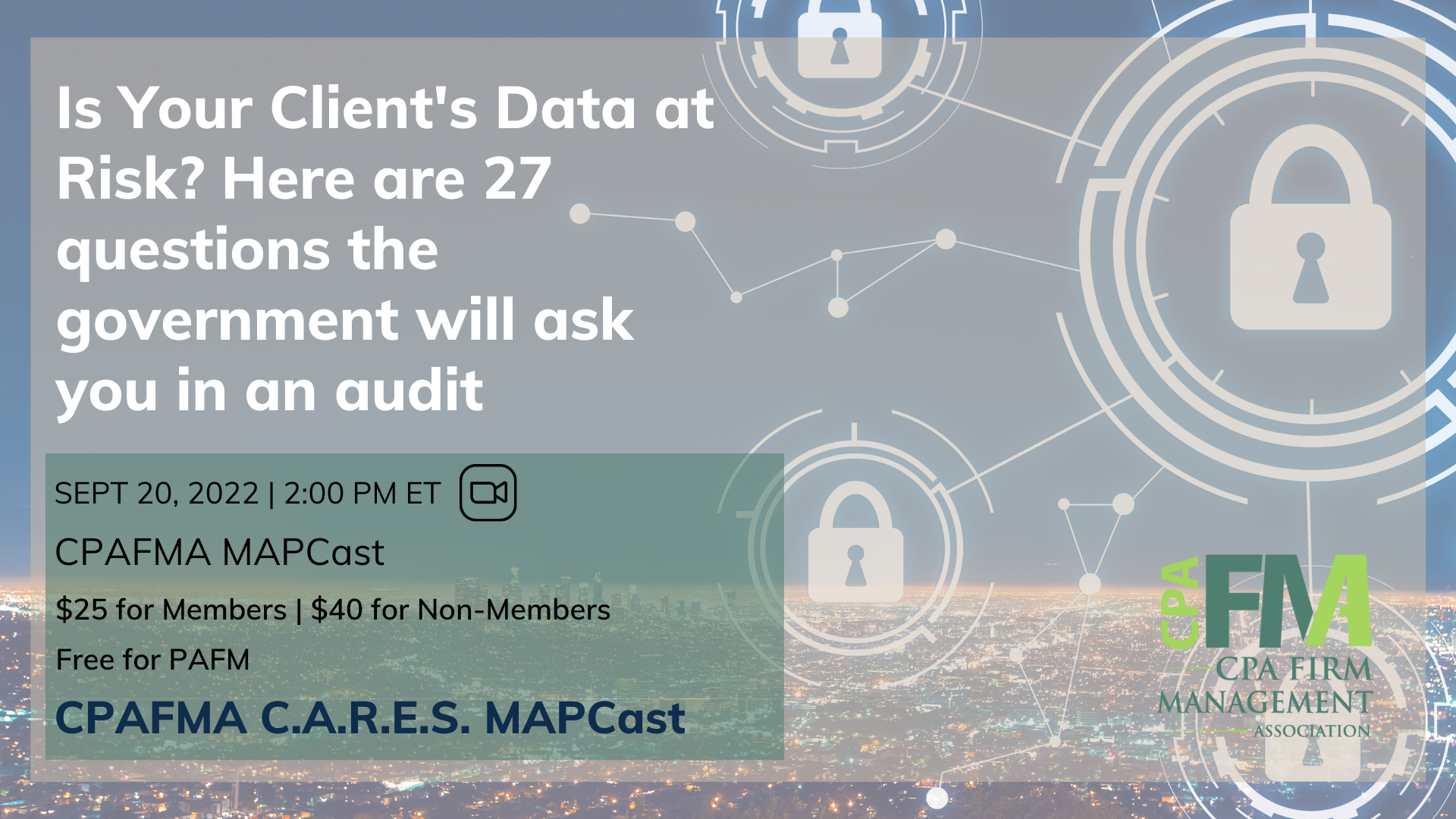 Is Your Client's Data at Risk? Here are 27 questions the government will ask you in an audit
September 20, 2022 2:00pm - 3:00pm
Cost(s): $25.00 Member / $40.00 Non-Member
Register Now
CPE: 1 Credit Hour
Field of Study: Information Technology
As an accounting and tax professional, you are responsible for your client's sensitive information and its security. It is not only a matter of ethical compliance but also regulatory compliance and practical concern. Having a structured data security plan and execution either costs beyond affordability or the trust of the client. In this situation is there a feasible solution for the small to medium-sized firm to ensure data security and support clients?
This 60-minute MAPCast provides a structured approach to a successful data security plan. It is aimed to cater to the customizable solution that even small firms can adopt.
Learning Objectives:
Learn about 27 questions you will be asked in a Cyber security audit
Learn 7 crucial steps to utilize cloud computing to ensure there are no issues in an audit
Tax Preparers working from home lead to an uptick in Ransomware attacks and loss of data. Learn how to ensure your team is working securely in such situations.
This MAPCast will provide ideas as to how you can approach the mammoth task of data compliancy with simple solutions.
Dan Fusco, Founder and IT Consultant, InnerPC Computer Solutions
Dan Fusco is the Founder of InnerPC Computer Solutions. He started InnerPC with the mission to help tax professionals scale their businesses with secure IT systems. He has spoken on cyber security and
Cloud computing nationwide to organizations that include: NCCPAP, Tax Growth Con, AICPA, MYCPA.com, and NATP. He is a consultant for tax professionals and firms and is responsible for the design and IT infrastructure for hundreds of firms throughout the country.