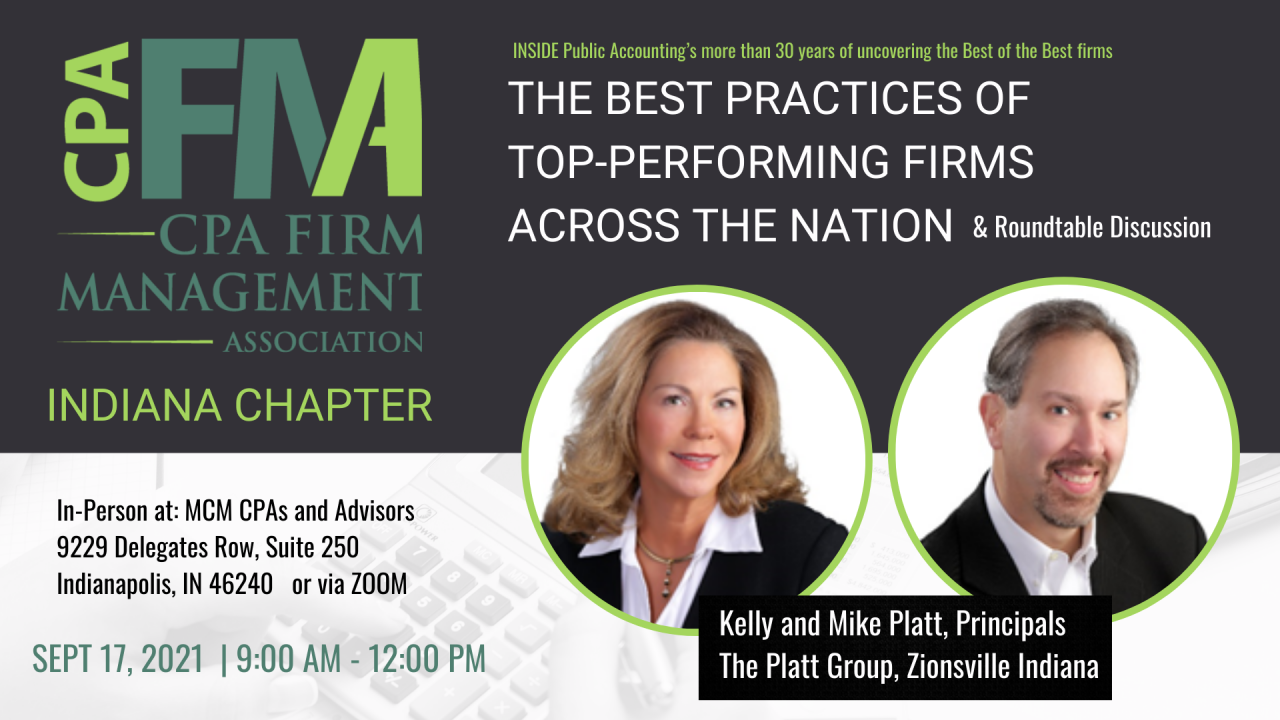 The Best Practices of The Top-Performing Firms Across the Nation
September 17, 2021 9:00am - 12:00pm
Location Information:
In-Person at MCM CPAs and Advisors OR via ZOOM
9229 Delegates Row, Suite 250
Indianapolis, IN 46240
United States

The Best Practices of The Top-Performing Firms Across the Nation
Kelly and Mike Platt, Principals
The Platt Group, Zionsville Indiana
Session Description: INSIDE Public Accounting's more than 30 years of uncovering the Best of the Best firms, those high-performing firms across the nation leads to many ideas that other firms can implement to be more successful. Through surveys, interviews, and an awareness of what these firms are doing differently, INSIDE Public Accounting will share ideas and best practices of the Best of the Best, empowering all firms to strive to be better.
About INSIDE Public Accounting (IPA): Indiana-based The Platt Group / INSIDE Public Accounting (IPA) is a leader in practice management resources for the public accounting profession. Those resources include: the monthly practice management newsletter, the annual practice management benchmarking reports, pulse surveys for current trends, and corresponding reports, consulting, and training.
IPA is dedicated to helping leaders and their firms achieve their ultimate potential. Whether we are researching the latest trends, benchmarking leading firms, or working with leaders to share and garner knowledge, we are always looking for ways to empower people. IPA has assisted firms across North America grow and thrive since 1985.

***A "Roundtable" session will follow the speaker's presentation.
Membership fees cover meeting costs. An alternative employee may attend in place of a chapter member.
Guests are welcome to attend one meeting for free; otherwise, non-members may register and pay our $45 meeting fee by completing below and forwarding a check payable to the Indiana Chapter of CPAFMA addressed to:
Jeremy Cole, CPA c/o Somerset CPAs, 3925 River Crossing Pkwy, Suite 300 Indianapolis, IN 46240.

Registration Form