BDO Alliance Workshop & Networking Event
June 10, 2019
More Details
MAPCast: The Accountants Exposure To Litigation In Failure To Detect Fraud
March 21, 2019
More Details
MAPCast: How to Prepare for a Deposition
May 7, 2019
More Details
MAPCast: Building a Better Marketing Budget: How Much to Spend and What to Spend it on
May 15, 2019
More Details
Missouri Chapter Round Table Meeting
May 16, 2019
More Details
Indiana Chapter Meeting
May 17, 2019
More Details
Ohio Chapter Meeting
May 17, 2019
More Details
Northeast Chapter Boston Harbor Cruise
July 26, 2019
More Details
Missouri Chapter Round Table Meeting
August 15, 2019
More Details
Missed a MAPCast?
PODCast archives are available.
Order Now
BDO Alliance and CPAFMA Workshop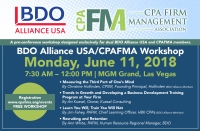 June 11, 2018 7:30am - 12:00pm

Location:
MGM Grand Hotel & Casino
Las Vegas, NV

Contact Name:
Joyce Arthur, PAFM
Contact Phone:
(407) 244-7179
Contact Email:
jarthur@bdo.com
Cost(s):
$0.00 Dual BDO Alliance/CPAFMA Member
This workshop will take place just prior to the CPAFMA National Practice Management Conference being held in conjunction with AICPA ENGAGE, June 11-14, 2018.

BDO Alliance USA/CPAFMA Workshop Agenda
7:30 AM – 8:00 AM
Check-In and Breakfast
8:00 AM – 8:05 AM
Welcome
By Michael Horwitz, Executive Director, BDO Alliance USA
8:05 AM – 8:15 AM
Overview
By Joyce Arthur, Alliance Client Services Support Manager, BDO Alliance USA and Kim Fantaci, President, CPA Firm Management Association
- Why this workshop
- Overview of the morning
- Overview of the week
8:15 AM – 9:15 AM
It's all Conative: Build Stronger, Happier Teams by Understanding the Three Parts of the Mind
By Christine Hollinden, MBA, CPSM, Founding Principal, Hollinden

Ancient philosophers and modern psychologists agree on one thing: people have a three-part mind with separate domains for thinking, feeling, and doing. The conative, or doing, contains the striving instincts that drive a person's natural way of taking action. This is the unique set of innate strengths and talents every person has which remain unchanged from birth. Your natural instincts affect the level of patience you have with people asking too many questions or not providing enough information for a project. It affects whether you are distressed by last minute changes or have the need to make lists before you dive into a new assignment. Throughout school and our careers, we've taken tests to measure our cognitive strengths (SAT) and affective mind (DISC or Myers Brigg), but how can we understand what drives us to act? Our natural instincts? By understanding the third part of our mind, the Conative. During this presentation marketer and Certified Kolbe Consultant, Christine M. Hollinden, CPSM, will share real world examples of teams who have broken down due to people ignoring their natural instincts and teach you ways to overcome differences at your firm. Unlock the secret to build stronger, more successful teams.

9:15 AM – 9:30 AM
Networking / Refreshment Break
9:30 AM – 10:30 AM
Trends in Growth and Developing a Business Development Training Program at Your Firm
By Art Kuesel, Owner, Kuesel Consulting

Join us as we take a look at the growth landscape in our profession to see where the biggest opportunities lie for our firms. Then, as organic growth is a core component of every firms' growth strategy, we'll discuss how business development training can significantly influence your organic growth. Success in business development has been proven as one of the accelerators of a career path in public accounting, and at most firms it's a requirement to become a partner. Together we'll discuss the core curriculum necessary in an effective business development training program as well as a variety of different delivery methods. Walk away with a better understanding of what you could do to bring a better approach to business development training at your firm.
10:30 AM – 10:45 AM
Networking / Refreshment Break
10:45 AM – 11:50 AM
Building a Dream Team
By Ann White, PAFM, Human Resource Regional Manager, BDO USA LLP

This session will explore how a change in your thinking can change your firm's employee engagement so that you can build a dream team and create a highly motivated culture.

11:50 AM – 12:00 PM
Wrap Up / Box Lunches