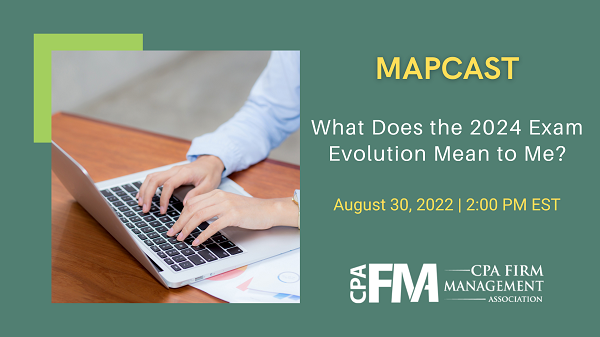 What Does the 2024 Exam Evolution Mean to Me?
August 30, 2022 2:00pm - 3:00pm
Cost(s): $25.00 Member / $40.00 Non-Member
Register Now
CPE: 1 Credit Hour
Field of Study: Business Management & Organization
This 60-minute MAPCast will arm participants with tips and best practices that can be brought into their firms to better support a flexible workforce along with the knowledge and understanding of what the CPA exam in 2024 will look like and offer. UWorld Roger CPA Review collaborates with accounting firms worldwide to provide dedicated full-service CPA Exam preparation services. Offering varying levels of partnership based on the needs of your firm, UWorld can help you improve your firm's CPA Exam pass rates and prepare your new hires for successful careers – a program can be tailored to fit your firm's needs now and as the future look of the exam is changing.
Learning Objectives:
Learn how to tailor a CPA exam review program to meet your firm's future strategy.

Learn what anticipated changes are in store for the 2024 CPA exam

Learn how you can better support your teams when it comes to the CPA exam review and passage
Rob Dewey, Senior Manager of CPA Education, UWorld
Rob Dewey is the Senior Manager of CPA Education at UWorld where he leads a team of 20 content developers focused on creating exceptional questions, videos, and textbooks for those preparing to take the CPA Exam. The team is composed of CPA professionals from practice and academia with expertise in all content areas, including topics that will be added to the CPA Exam in 2024. Rob has over 30 years' experience in academic publishing, including 10 years as Editor-in-Chief of the Accounting, Tax, and Business Law textbooks at Cengage. His authors at Cengage had some of the best-selling textbooks in the college market. As an editor and editorial manager, Rob worked extensively in product management, author management, market research, educational technology development, marketing, and sales. He has been a member of the American Accounting Association for more than 15 years.

Janice Stoudemire, Founder/President of Palmetto Academic Consulting Services, Inc.
Janice Stoudemire is recognized as a leader and advocate for outcomes assessment. She is well-known for her workshops and conference presentations as well as the hands-on assistance she provides to faculty and institutions world-wide regarding student learning. After 25 years of teaching, Janice retired from Midlands Technical College (MTC), located in Columbia S.C. She actively served the college in various leadership roles including the co-director of MTC's Assessment Institute, chair of the curriculum committee, director of the college's SACS self-study, chair of the ACBSP self-study, and chair of faculty council. However, Janice is best known at MTC for her commitment to provide a quality educational experience for students and successfully prepare them for the workplace. Her dedication and contributions to education over the years resulted in the accumulation of more than twenty teaching and service awards at the local, state, and national level. Janice's credentials include CPA, CGMA, ABA, ATA, professional work experience, and a master's in accountancy, specializing in taxation. Over the years, Janice has developed learning resources in accounting and taxation for publishers. Since 2019, she is a content development specialist for UWorld/ Roger CPA. Janice is a past president of Accreditation Council for Business Schools and Programs (ACBSP), a global accrediting body for high-quality baccalaureate and associate-degree business programs. She chaired the associate-degree commission and served on the association's Board of Directors and Accreditation Governance Board. In addition, she has been a site evaluator for ACBSP and the Southern Association of Colleges and Schools and a member of the national committee responsible for designing the first Educational Testing Center's (ETS) Major Field Test for two-year business programs.