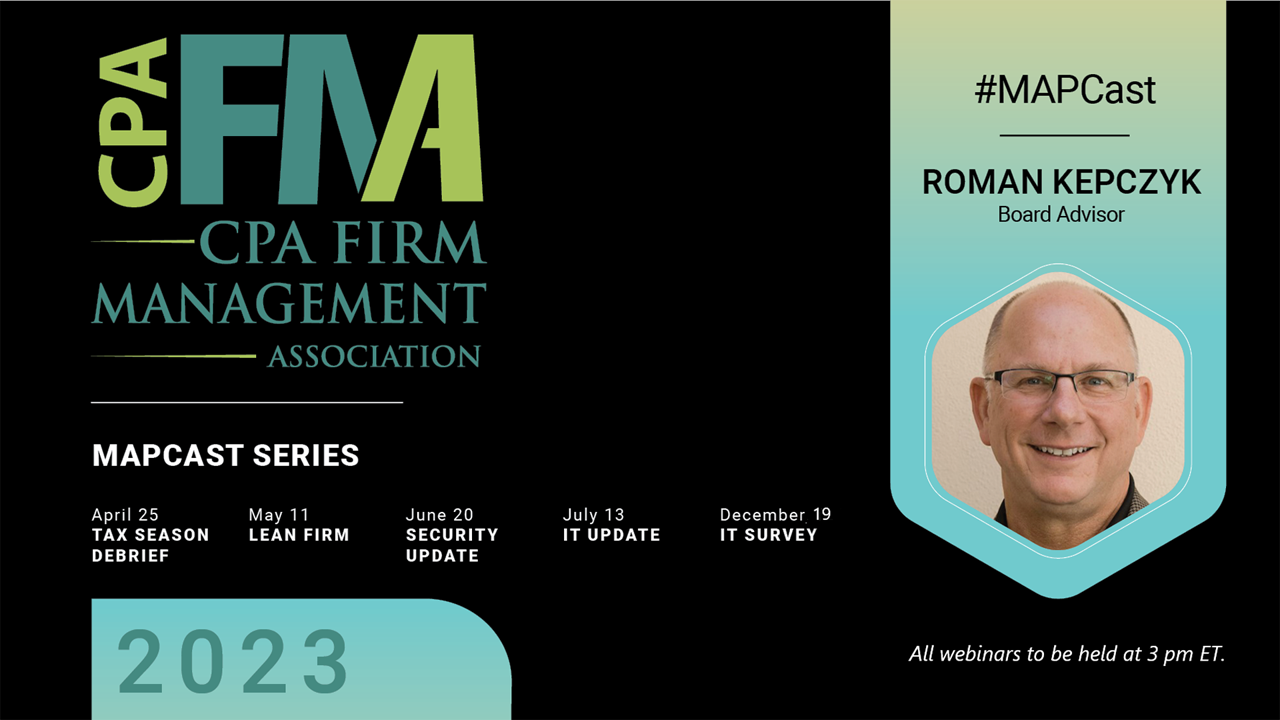 2023 Technology MAPCast Series
April 25, 2023 3:00pm - December 19, 2023 4:00pm ET
Location Information:
Zoom

Entire Series - Register for the entire series and SAVE OVER 30%!
$85 Members | Free PAFM | $190 Non-Members
Single MAPCast
$25 Members | Free PAFM | $40 Non-Members
The accounting profession is quickly transforming due to technological innovation. However, this shift requires both accountants and firm managers to acquire new skill sets. The 2023 Technology Series will include FOUR educational sessions presented by Roman Kepczyk, CPA.CITP, CGMA, PAFM, and will explore topics essential to optimizing your firm's productivity and efficiency. Topics include: Tax Season Debrief, Lean Firm, Security Update, and IT Update.
Your Tax Season Debrief - Register for this Individual MAPCast Here!
April 25, 2023 | 3:00 PM EST
Want to optimize your firm's tax production processes? The first step is debriefing how this busy season went and identifying opportunities to fine-tune and improve your firm tax production processes in alignment with today's proven technologies.
Roman will walk through best practices in conducting a tax season debrief meeting including specific facilitation skills to guarantee input and success! He will also incorporate key future indicators and disrupters that all firms should be aware of to plan for next year and beyond, all backed by the CPAFMA IT Survey findings. Roman will also highlight specific examples within the tax production cycle where "Lean" principles can be successfully applied to optimize your firm's production!
Lean Firm - Register for this Individual MAPCast Here!
May 11, 2023 | 3:00 PM EST
Want to learn how taking a "Lean" approach can significantly improve your firm's production processes? Lean Six Sigma Black Belt Roman Kepczyk has partnered with more than 425 CPA firms to optimize their internal production processes and take advantage of technology solutions that are transforming today's practices.
Roman will build on the recommendations made from the tax season debrief and highlight specific examples within the various production departments where "Lean" principals can be successfully applied. Roman will also integrate the latest CPAFMA IT and Digitally Driven Firm Survey results so you can identify if your firm is on the "bleeding, "stable" or "lagging" edge.
Security Update - Register for this Individual MAPCast Here!
June 20, 2023 | 3:00 PM EST
Roman will walk through a checklist of the necessary components of an accounting firm's security including the latest information breach statistics and the specifics of how to minimize your firm's greatest exposure: YOUR PERSONNEL.
Security is consistently listed as one of the AICPA's Top Technology concerns, but few accounting firms take it seriously until they have been impacted by a breach. Roman will walk through a checklist of the necessary components to protect your firm including the latest IRS "legal" requirements. He will also apprise attendees on the latest threats and share security resources to minimize the firm's exposure and educate firm personnel.
IT Update - Register for this Individual MAPCast Here!
July 13, 2023 | 3:00 PM EST
Do you know what equipment you should be buying to allow your personnel to perform at their optimum? Roman will provide a comprehensive information technology update covering key technologies as well as significant trends impacting the accounting profession.
Roman will make specific equipment recommendations for optimizing accounting productivity and integrate the findings of the CPAFMA IT Survey so you can see where your firm stands. He will also share the latest tech "gadgets" that may one day find their way into your home or your firm including those on the "bleeding edge" and beyond belief!
IT Survey - Register for this Individual MAPCast Here!
December 19, 2023 | 3:00 PM EST
The CPAFMA 2024 Digitally Driven Firm Survey closed earlier this week and Roman Kepczyk with Right Networks would like to share the results, recognizing the evolving trends in digital operations.
This important resource will be shared via MAPCast on December 19, 2023 from 3:00 PM - 4:00 PM ET. The results will provide you with the valuable, consistent benchmarking that we've all come to rely on through the CPA Firm Management Association. See what others are doing and where the digital operations trends will take the profession in 2024. Participants will be able to ask questions to gain further insights.
CATCH IT ON-DEMAND
All CPAFMA members and registered guests will receive links to view the webinars on-demand, so that you can still have access to all content, even if you miss one of the live broadcasts. Replays are available for all sessions even if you purchased the series after the date of the live broadcast.
Register for the whole series and save over 30%!
Topics include: Tax Season Debrief, Lean Firm, IT Update and Security Update