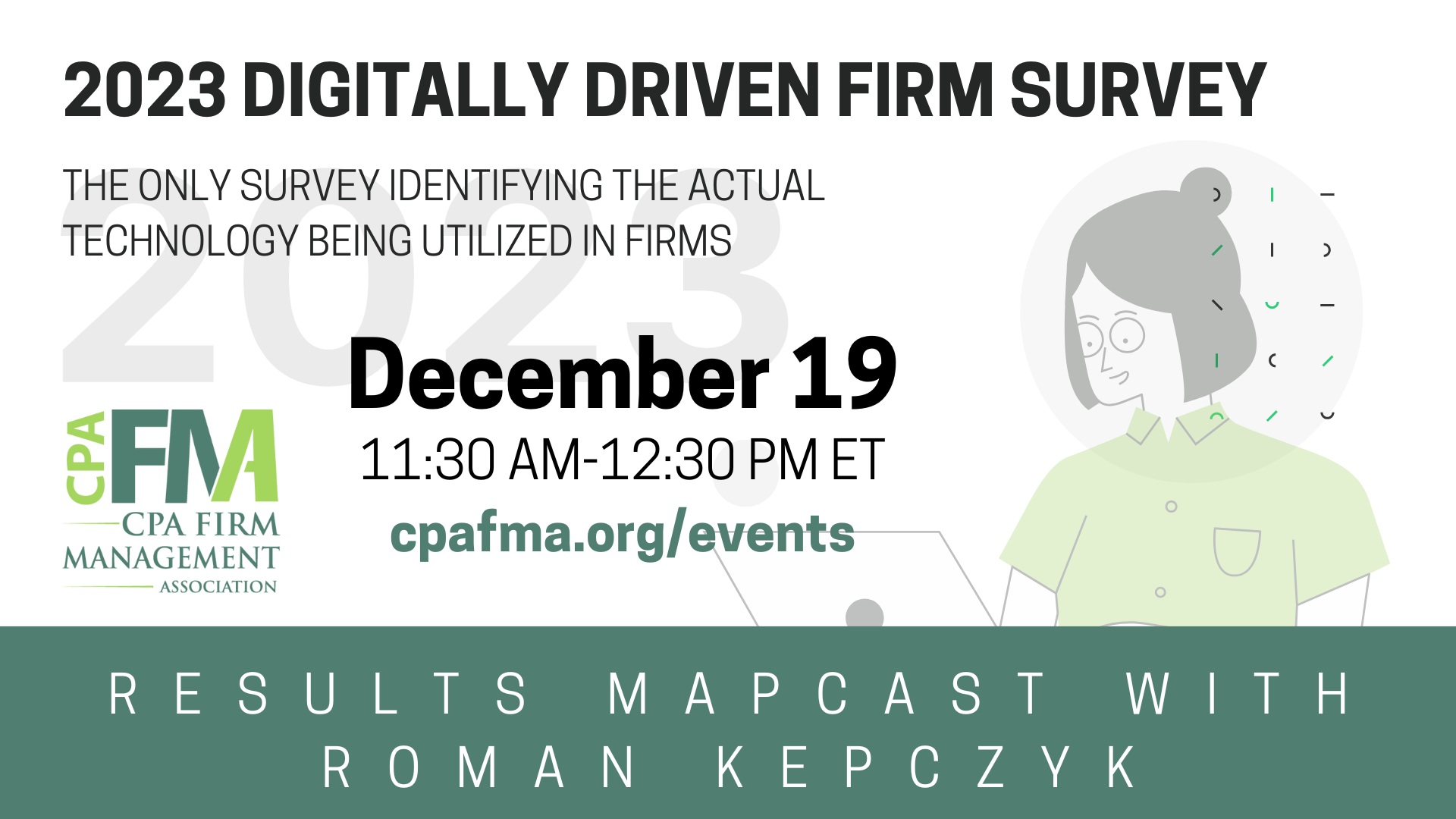 2023 Digitally Driven Firm Survey Results
December 19, 2022 11:30am - 12:30pm
Cost(s): $25.00 Member / $40.00 Non-Member
Register Now
CPE Credit Hours: 1.0
Field of Study: Business Management & Organization
Want to know what technology you should be using for the upcoming year? CPAFMA has asked its members to complete the 2023 Digitally Driven Firm Survey to identify the actual technology being utilized in CPAFMA member firms and to identify future relevant topics. This survey championed by Roman H. Kepczyk, CPA.CITP, PAFM will provide the profession with the best and most timely information out there.
This MAPCast will review the results and highlight the trends happening in firms of all sizes and structures. All registrants will receive a copy of the survey results in addition to the ability to ask questions and gain further insights.
Learning Objectives:
Identify the actual technology being utilized by CPA firms.
Receive the data needed to make sure your firm is on the cutting edge with respect to technology
Determine how your firm compares to others when it comes to being a digitally driven firm
Speaker Bio:
Roman Kepczyk, CPA.CITP, CGMA, PAFM is Director of Firm Technology Strategy for Right Networks and partners exclusively with accounting firms on production automation, application optimization and practice transformation. He has been consistently listed as one of INSIDE Public Accounting's Most Recommended Consultants, Accounting Today's Top 100 Most Influential People, and CPA Practice Advisor's Top Thought Leaders.