In this era of information overload, knowledge is a more critical differentiator than ever. Top-performing firms win and keep clients by demonstrating deeper, broader levels of expertise and adaptability-- both of which require an ongoing commitment to education at all levels.
As a leader in accounting education for 35 years, Surgent is the partner you need to realize all the benefits of an investment in professional education. From our adaptive learning-based Exam Review courses through our industry-leading CPE programs, we'll help you ensure that everyone from your newest associate through your most experienced professional is learning, growing, and performing at their peak levels of performance.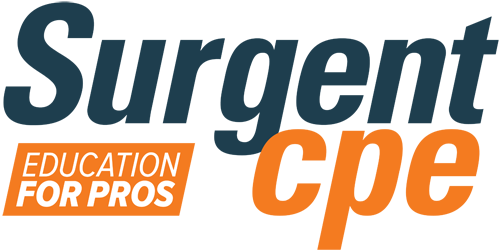 Surgent CPE
Today's professionals simply must stay on top of the key tax, accounting, and technology changes that affect their firms and clients, while also earning the continuing education credits they need to stay compliant. Surgent makes it easy to do both. That's because we offer the widest variety of courses for CPAs. Our up-to-date courses make even tough concepts clear and relevant, while our comprehensive schedule of both live and on-demand formats makes it easy to fit even the busiest schedule.
Making CPE Easy for Everyone with Many Convenient Ways to Buy, Attend and Track CPE
Our Flexible Access program is a cost-effective, convenient option for firms with 10 or more CPAs. This program includes a bank of CPE hours that may be used by anyone in your firm. Via the Surgent Portal, users can choose live webinars and self-study CPE courses from our full catalog, while administrators can track usage, monitor compliance, and add more hours as needed.
Live Webinars: Get the benefits of live seminars without leaving your office or home. Attend any of our 1,200+ public webinars or work with us to develop a custom webinar. Purchase individually or via the Flexible Access program.
Self-Study CPE: Our Self-study program provides flexibility to learn on any schedule and at any pace. Formats include on-demand webcasts, downloadable PDFs, and printed textbooks. Self-study courses may be purchased individually.
Content Licensing: Have your own in-house instructors but not enough time to develop CPE materials? Use Surgent's top-rated materials and PowerPoint presentations with your own instructors.
Advanced Firm Capabilities with Customizable Staff-Level Training Programs
Surgent Staff-Level Training Programs include highly-practical sessions, organized into suggested curriculum according to staff experience levels. All are available online and many may also be delivered via in-person live instruction. In addition, firms may choose to purchase Surgent's materials and use their own instructors.
20% Off Surgent CPE
Promo Code: CPAFMA20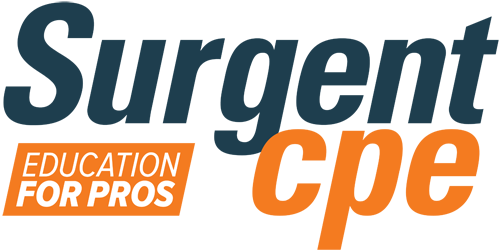 Surgent Exam Review

For staff who are not yet credentialed, Surgent offers a suite of Exam Review courses powered by an intelligent, AI-backed software that generates fully customized learning plans that are proven to better prepare candidates for their exams while actually reducing study time.
Surgent Exam Review courses are complemented by Firm360, an organizational dashboard that empowers HR and Learning & Development teams to better coach their staff through the study process. Firm360's reporting capabilities allow administrators to track cohort progress, measure coaching effectiveness, and much more. Learn more about Firm360.
A.S.A.P. Technology
While traditional review courses recommend the same chapter-by-chapter study plan for each student, Surgent takes a different approach. Our intelligent, adaptive learning software assesses each student's knowledge of exam content and generates hyper-customized study plans to match. The result is an efficient, effective exam prep that gets candidates exam ready up to 916 4847 8907
A.S.A.P. Technology powers the following prep courses:
CPA Review | CMA Review | EA Review
CIA Review | CISA Review
How A.S.A.P. Technology Works:
Assessment - Students complete a series of quizzes with content pulled from all exam categories. At the end of the assessment, students receive a diagnostic report detailing their starting strengths and weaknesses.
Study - Our software continuously analyzes each student's scoring patterns and builds a custom study plan, focusing them on the specific content they need to learn to pass the exam. Meanwhile, real time algorithms optimize their study plan along the way, ensuring they remain on their fastest path to success.
Review - Unlimited practice exams --designed to match the actual exam-- ensure students will be totally ready come exam day. And with our award-winning ReadySCORE feature, students know when they're ready to pass.
The Surgent method is proven to work. Our students…
Achieve pass rates far higher than the national average-- an 88% CPA Exam pass rate, compared to the national average of roughly 50%.
While reducing study time-- Our CPA Review students get exam-ready in 46 hours, on average (80% faster than other courses!)
Can estimate their exam score with 99% accuracy, thanks to ReadySCORE.
"I've been out of school for over 20 years. With Surgent CPA Review's adaptive learning software I'm able jump back into accounting with some sense of direction. It provides a way for you to know exactly where you stand. I love how it caters to me and gives me exactly what I need to get me back up to speed. This is by far the best review that I've taken." - Nicole B.
Firm360
For many Learning & Development teams, coaching staff through exam prep can be an arduous process, especially when relying on candidates themselves to manually log or report back on their study progress.
With Firm360, administrators and mentors will benefit from:
An organizational dashboard-- Allowing real-time access to each candidate's study progress and detailed diagnostic reports.
Comprehensive reporting-- Track cohort progress, measure the effectiveness of coaching sessions, and discover knowledge trends across candidate groups.
Sophisticated administrative capabilities-- User management and segmentation ensure the appropriate administrators can access specific reporting and dashboarding for their designated cohorts.
Learn how you can incorporate Surgent's industry-leading professional education solutions at your firm today. Email us at rastatterj@surgent.com