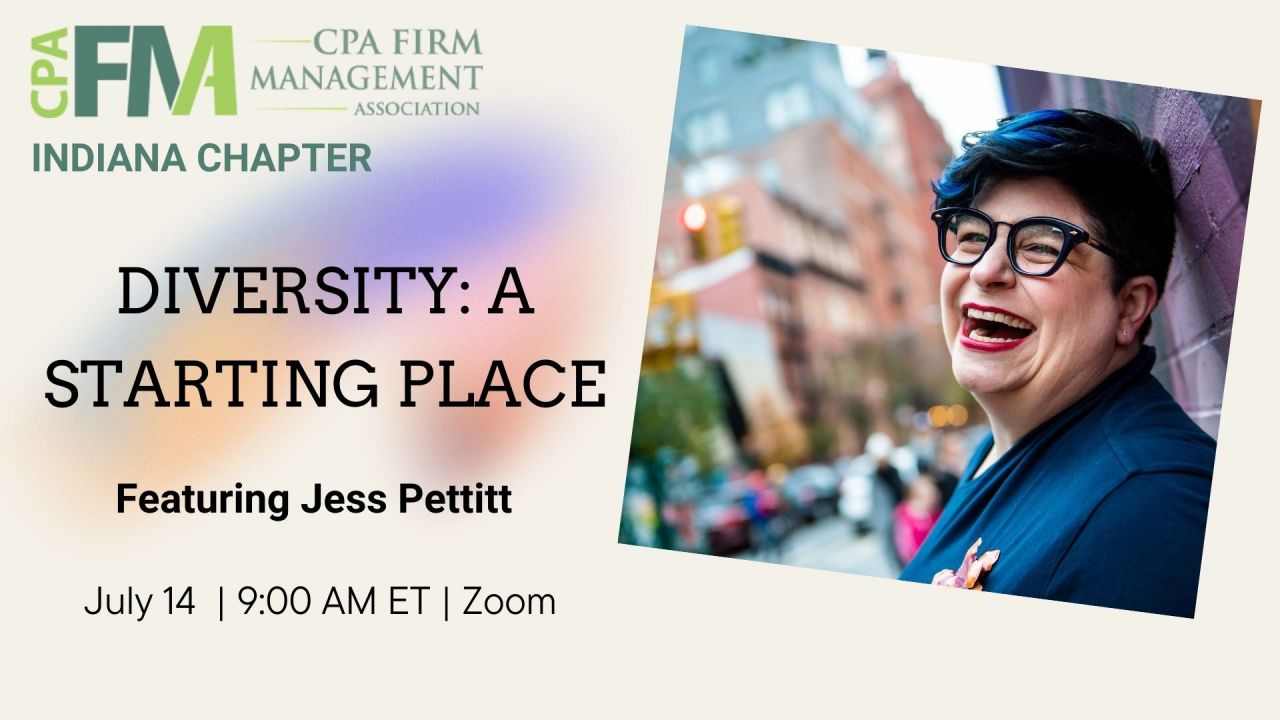 Indiana Chapter Event: Diversity-A Starting Place
July 14, 2022 9:00am - 10:00am ET
Location Information:
Zoom

Cost(s): $20.00 Event Registration
CPE: 1 Credit Hour
Field of Study: Personnel/HR
Unlike other online diversity trainings, this course introduces concepts that the user or learner can utilize in their own lives immediately. Regardless of each participant's identities and lived experiences, the concept of how we coexist, interact, and impact one another is imperative to build better teams, better connections, and deeper relationships.
Spend an hour reflecting on how you fit into the conversation of diversity. Coming to terms with our own unique positive and negative bias as well as how that intersects with our responsibility of perception and sense of entitlement to validation is the foundation of social justice work. Our experiences, choices, and impact, both intentional and unintentional, matter. This is the starting place.
Learning Outcomes
* Recognizing difference and engagement habits
* Personal reflection and seeking out new experiences
* Feeling safe and prepared
* Conscious and Unconscious Bias, both positive and negative
* Recruitment, Retention, and Fit
* The role of Curiosity, Generosity, Authenticity, and Vulnerability
Jess Pettitt, MEd, MBA, CSP
Jess is a recognized facilitator and educator in the Diversity and Inclusion space and has spent the past decade coaching, teaching, and motivating thousands of people around the world. Combine this with her expertise in business leadership development and workplace culture – Jess is PERFECT at building understanding and driving ownership of diversity, equity, and inclusion initiatives.
Jess combines irreverent humor, storytelling, current events, and historical patterns so that participants can break through and do the best they can with what they have.
Over her career, audience members report that they are:
– Inspired to have challenging conversations
– Work together better
– Take responsibility for who and how they show up
– Able to stand up and take action