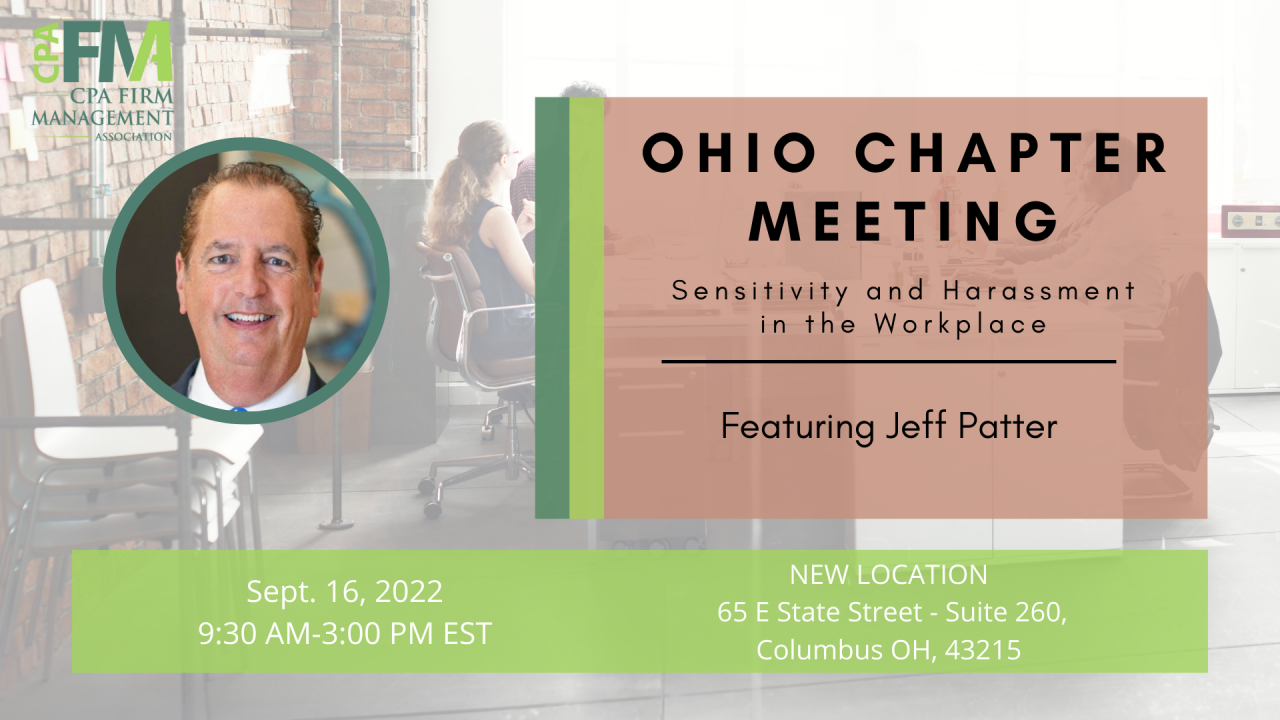 Ohio Chapter Meeting: Sensitivity and Harassment in the Workplace Featuring Jeff Patter
September 16, 2022 9:30am - 3:00pm ET
Location Information:
65 E State Street - Suite 260,
Columbus, OH 43215
United States

Cost(s): $0.00 Members / $0.00 Non-members
Register Now
This meeting will include an interactive and educational presentation regarding "Sensitivity and Harassment in the Workplace" and an open forum for Q & A regarding attendees' HR issues and matters featuring guest speaker Jeff Patter!
Lunch is included and free for all attendees!
The schedule at a glance:
9:30 am - 10:00 am - Networking/Continental Breakfast
10:00 am - 12:00 pm - Speaker Presentation (2 Hours CPE)
12:00 pm - 1:00 pm - Lunch & Business Meeting
1:00 pm - 3:00 pm – Roundtable
Jeff Patter, Partner
Jeff is an experienced business attorney focusing primarily on business transactions, business services, and mergers and acquisitions. Throughout his career, he has represented businesses of all sizes and has negotiated numerous multimillion dollar sales and acquisitions of corporate entities. Jeff is also an experienced employment and labor law attorney representing businesses in all aspects of employment law.
In addition to his business and employment law acumen, Jeff is regularly involved in a wide array of litigation matters, in particular relating to his business and employment law skill, and he has experience with the discovery of electronically stored information. He has also headed projects involving real estate, international law, intellectual property, corporate compliance, and corporate governance.
As a result of his diverse business and corporate skills, Jeff additionally focuses on the organization and management of corporate legal affairs services for corporate clients. He previously served as General Counsel and Chief Legal Officer for Honda of America Mfg., Inc., where he was responsible for directing all of the corporation's diverse legal matters, including directing and managing all company-related litigation.