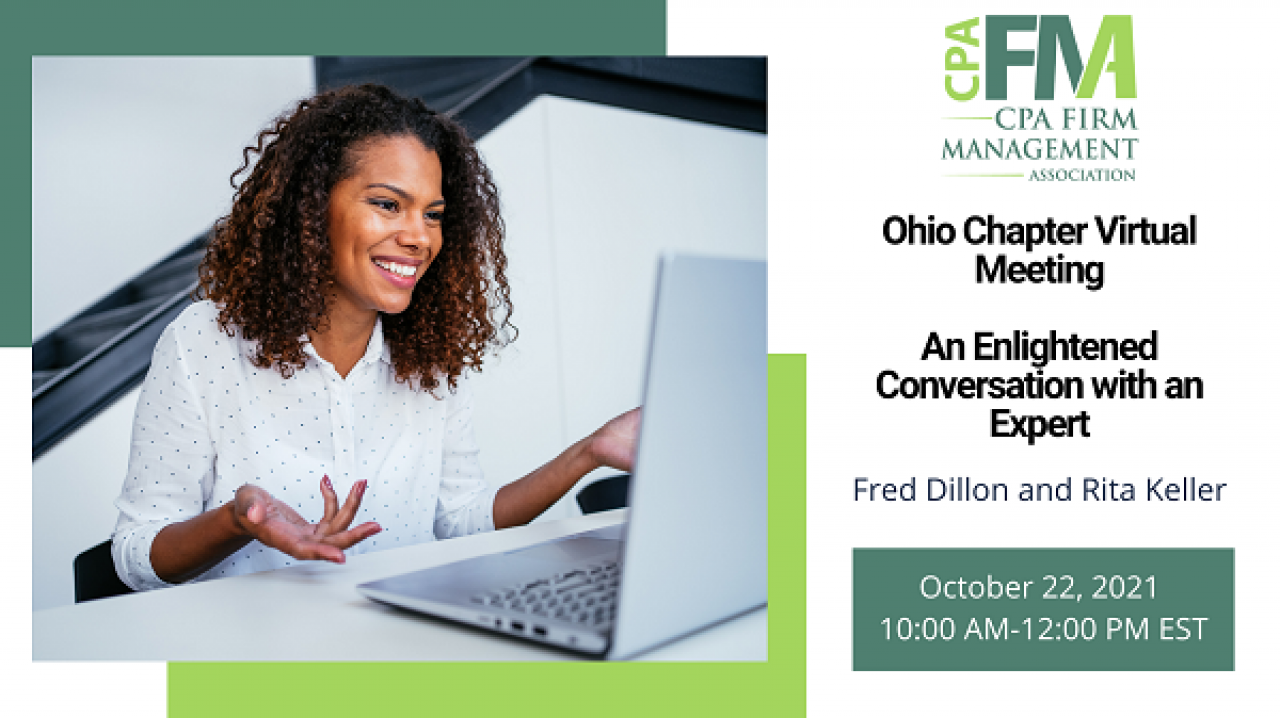 Ohio Chapter Meeting: An Enlightened Conversation with an Expert
October 22, 2021 10:00am - 12:00pm ET
Location Information:
Zoom

Cost(s): $0.00 CPAFMA Members / $0.00 CPAFMA Non-Members
Field of Study: Business Management and Organization
CPE: 2 Credit Hours
FREE FOR MEMBERS AND NON-MEMBERS!
Session Description:
Many CPAFMA Ohio Chapter members know Fred Dillon well. His expansive knowledge of the internal workings of a CPA firm and his humor have made him an icon within the Association. Fred also served many years on the CPAFMA Board of Directors and served as National President.
The good news for Fred is that he is now retired. The good news for CPAFMA members is that he will be sharing the knowledge he has gained in his 34 years in the world of CPA firm management. This special session will be a conversational interview with Fred Dillon conducted by Rita Keller. Join Fred, Rita and your peers for some lively conversation, and for some exclusive insight on how to enhance your leadership skills and improve the productivity of your firm!
After the conservational interview, attendees will take part in a brief, 10 minute chapter business meeting, followed by a roundtable.
Learning Objective:
To gain valuable insight and tips for day to day operations of a successful accounting firm
About the Presenters:
Fred Dillon, SPHR, SHRIM, PAFM, is a highly respected presence in the world of CPA firm management, with 34 years of experience at his firm, Dixon Hughes Goodman LLP. Before his retirement in 2021, Fred was responsible for management of all business operations of his firm, including budgeting, preparation and review of monthly financial statements, human resource management, purchasing, scheduling, strategic planning, and marketing. Fred graduated with his Bachelor of Science is Business Administration (Accounting) from West Virginia University in 1975, and over the years worked his way up from Administrative Assistant of the Department of Finance to COO of Regional Operations. Fred is a widely recognized speaker, and served many years on the CPAFMA Board of Directors and as CPAFMA National President.
Rita Keller, AAAPM, PAFM, is an award-winning and respected voice to CPA firm management. She is a management consultant, speaker, and author and has over 30 years' experience in CPA firm management. Keller's clients are local and regional firms across the country. She also works with the AICPA and various state societies to help practitioners enhance their management and leadership skills. As a facilitator and speaker, Rita has been featured at almost every major CPA management conference. As an author, her articles appear in numerous CPA profession publications. Keller has been repeatedly named to Accounting Today's Top 100 Most Influential People in Accounting. Her award-winning daily blog is devoted to CPA firm management and widely read by those working in public accounting.