BDO Alliance and CPAFMA Workshop
June 11, 2018
More Details
2018 CPA Firm Management Association's National Practice Management Conference in partnership with AICPA ENGAGE
June 11 - 14, 2018
More Details
MAPCast: Retirement Planning: Will I Ever be Able to Retire?
June 19, 2018
More Details
MAPCast: Where are You Exposed? Mitigating Your Firm's Risk of Litigation
June 26, 2018
More Details
MAPCast: Be a Retirement Superhero to Your Clients
July 10, 2018
More Details
MAPCast: Hot Topics for HR
July 18, 2018
More Details
Freedom to Fail
July 20, 2018
More Details
MAPCast: BDO Alliance USA and CPAFMA Connection: Is There a Business Developer Hidden in Your Firm?
July 26, 2018
More Details
MAPCast: Beyond Technology: What Your Team Needs to Thrive as a Firm of the Future
August 15, 2018
More Details
MAPCast: Engaging Next Gen Clients with Convergence Coaching and BDO
August 28, 2018
More Details
Missed a MAPCast?
PODCast archives are available.
Order Now
The Ohio Chapter keeps detailed minutes of each meeting.
Read Minutes
Ohio Chapter Meeting
February 16, 2018 9:30am - 3:00pm

Location:
Ohio Society of CPAs
4249 Easton Way, Suite 150
Columbus, OH 43219

Contact Name:
Tammy Boring
Contact Phone:
(740) 654-9989
Contact Email:
tboring@snydercpas.com
Cost(s):
$35.00 Member / $35.00 Non-Member
Managing Your Offerings: Innovation Drives New Revenue
Who in your firm is responsible for managing your service offerings? Chance are it isn't a part of anyone's job description, but it should be. As firms work to drive top-line growth and profitability of a firm, it's instrumental that firms embrace this business function. From understanding where your service offerings are in their life-cycle to productizing your offerings to bringing new offerings to market, this session will walk you through the product management function as it applies to CPA firms. Understanding what you're selling, knowing how to sell it and implementing proven strategies, will help you drive new revenue into your firm. This session will show you how to work with firm leaders to measure and innovate your offerings so you can help launch quality offerings in less time and with a higher rate of profitability and success.
Speaker – Katie Tolin, Chief Growth Guide and Founder of CPA Growth Guides, LLC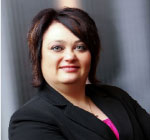 Before founding CPA Growth Guides, Katie Tolin spent nearly 20 years in professional services marketing having worked in local, regional, super-regional and national firms. She has a proven record developing firm and niche marketing strategy, providing business development support, spearheading content and inbound marketing strategies and driving product management. Today, she helps CPA firms drive top-line revenue and profitability through data-driven marketing strategies.
A past president of the Association for Accounting Marketing, Katie was twice named to Accounting Today's top 100 most influential people in accounting list, and she was one of CPA Practice Advisors' Most Powerful Women in Accounting. An inductee into the Accounting Marketing Hall of Fame, Katie is a former Accounting Marketing of the Year and has won a total of 12 Marketing Achievement Awards from the Association for Accounting Marketing. Katie is also a contributing author to Bulls-Eye: The Ultimate How-To Marketing & Sales Guide for CPAs.
9:30 am - 10:00 am - Networking/Continental Breakfast
10:00 am - 12:00 pm – Speaker Presentation (2 Hours CPE)
12:00 pm - 1:00 pm - Lunch & Business Meeting
1:00 pm - 3:00 pm - Roundtable