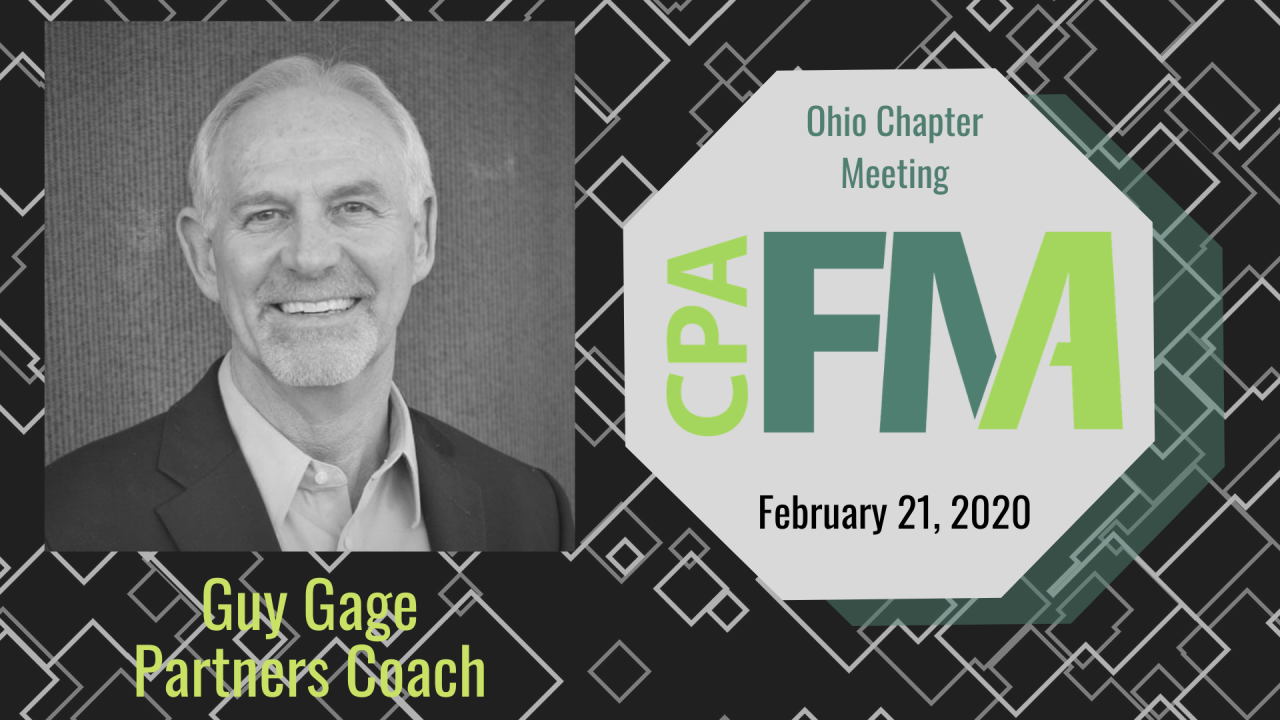 Keys to Employee Engagement
February 21, 2020 9:30am - 3:00pm
Location Information:
Ohio State Society
4249 Easton Way, Suite 150
Columbus, Oh 43219
United States

Cost(s): $35.00 Member / $35.00 Non-Member
Join the Ohio Chapter of CPA Firm Management Association on February 21, 2020 as they host Guy Gage with Partner's Coach as he focuses on firm engagement strategies.
Friday, February 21, 2020 (CPE Credit 2.0)
Location for this meeting:
Ohio Society of CPAs
4249 Easton Way, Suite 150
Columbus, OH 43219
Firm Engagement Strategies: No more Rabbits!

Firm leaders have struggled with instituting the latest activity, reward or benefit in order to improve the engagement of their people. Sometimes their efforts work, but too often they fall short. One managing partner stated that she has no more rabbits in her hat, a sentiment that many firm leaders share. Their attempts to improve employee engagement are met with "meh" instead of energized commitment and discretionary effort. Why is it so difficult to get people motivated to care?
This presentation draws on human motivation science and behavioral economics to explore the concept of employee engagement and to offer practical suggestions of how your firm can be more effective in creating an engaging environment that entices your people to engage.
Guy Gage, Partner's Coach
Guy Gage, MA, LPC, is the owner of PartnersCoach®, a coaching and consulting firm equipping staff and partners of accounting firms to become high-contributing professionals. Holding a license in counseling, he has coached CPAs and firm leaders for over 25 years, equipping them to increase their effectiveness and career fulfillment. His experience working in a 4-office accounting firm for almost 8 years has given him an appreciation of the real-life challenges and obstacles CPAs face.

With a background in human behavior and motivation, Guy trains and coaches accountants and firms to be highly engaged and contributing professionals and leaders. His coaching identifies the perspectives, behavior and dynamics that interfere with achieving results and how to break through them. His processes, tools and performance aids equip people and teams to achieve outstanding results consistently.
Agenda

9:30 am - 10:00 am - Networking/Continental Breakfast
10:00 am - 12:00 pm – Speaker Presentation (2 Hours CPE)
12:00 pm - 1:00 pm - Lunch & Business Meeting
1:00 pm - 3:00 pm - Roundtable